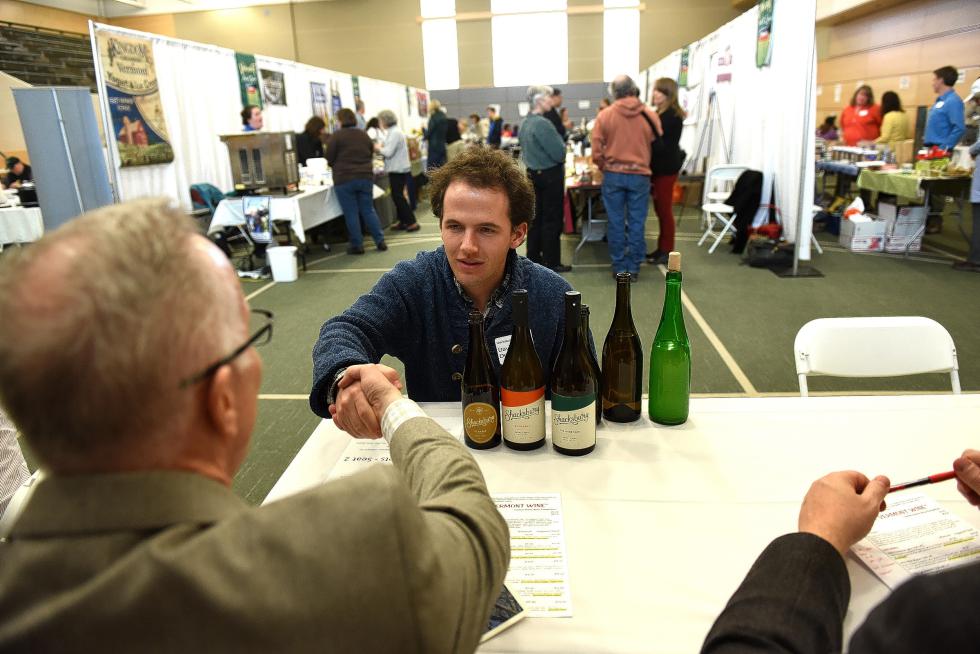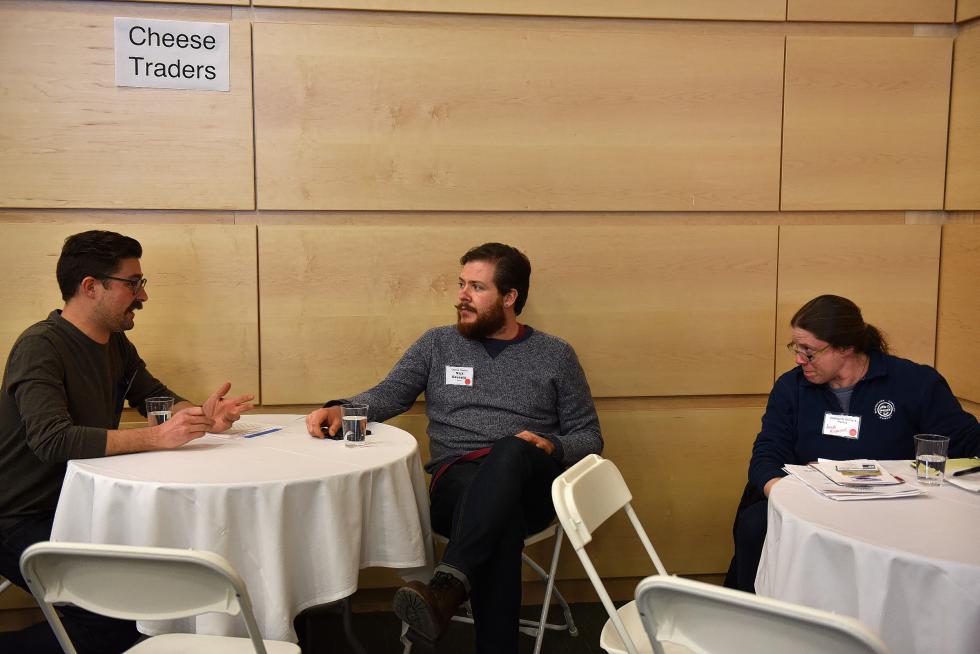 Randolph — With mucky fields peeking out from under the fast-melting snow, it won't be long before this year's crops start sprouting up across the Upper Valley. And as hunger for local food grows, an event last week connected Vermont food producers and prospective buyers.
The "matchmaker" food show at Vermont Technical College featured a version of speed dating, pairing 56 food makers and farmers with all sorts of organizations looking to buy local. Part courtship dance, part information-gathering session, the eight-minute "match opportunities" help buyers and sellers understand one another's needs.
It's part of the learning process, said Meghan Sheradin, executive director of the Vermont Fresh Network, one of the event sponsors. They're building this new food system, "trying to figure it out."
In addition to the formal "matches," the schedule allotted two hours to mingling. Conversations commonly involve quantities, prices, insurance requirements and distribution methods, which help people understand the system, Sheradin said. "They get to have all those questions out in the open."
Previously held at Shelburne Farms in Shelburne, Vt., the statewide event is offered periodically, Sheradin said.
Wednesday's show attracted 30 buyers, among them schools, food distributors, and retailers, with a number of co-ops and chain supermarkets represented. Throughout the day, they traveled from booth to booth, looking over displays and thoughtfully nibbling samples. There was a lot to choose from.
Sellers from across the state were hawking everything from fresh basil to mead, smoke-infused maple syrup to sunflower oil. The crowd included several local business owners eager to network.
Lindsay Harris, who owns Mountain Home Farm with her family, called the event "great way to connect with people who might buy the food."
She and her family recently moved to the Tunbridge property from Hinesburg, Vt., where they also farmed. Now, they're in the process of building a new customer base for their butter, buttermilk and ricotta, made with milk from their grass-fed cows. She's also looking for a place willing to buy their pork — they raise just one pig a month — and trying to figure out the best way to deliver products to customers. Her dance card for the afternoon included a catering company, a produce wholesaler and a co-op.
"I'm learning," Harris said, smiling. "I'm doing a lot of learning."
She wasn't alone.
Terry McDonnell had trotted out his new vegetarian dinner kits in search of feedback and exposure. As buyers wandered through the hall, he got both.
One box, plus added vegetables, makes a meal for two. But the first purchaser he talked to said that with a retail price of $9.99, the product was too expensive.
"If we could get it to $7.99, a lower price point would open up a bigger market," but the ingredients make that a tough prospect, said McDonnell, who makes the kits in his store, Sustainable Farmer in Windsor. "If you want to eat better food, it's going to be more expensive."
He'd designed the meals with health in mind, after his doctor suggested he improve his diet. He and his wife have five children, ages 8-18, and convenience also factored into the creation of the lentil-, noodle- and quinoa-based meals, which take about 20 minutes to prepare.
"We're not the cook-from-scratch family," he said, grinning.
Reflecting on what the buyer had said, McDonnell said part of his mission will be helping people understand the value of eating highly nutritious food. "It's not like getting a pizza," he added.
Diversifying their offerings to include local products may require extra effort, but from the buyers' perspective, there are myriad reasons to do so.
As the time for the match neared, Hannaford representative Chelsea Wagner took a seat at the small round table assigned to her. The supermarket has a long history of working with local food producers, Wagner said, and several years ago it began highlighting local sellers through its Close to Home program, which helps customers identify locally sourced products.
A common misconception is that only large operations can work with the company, but that's not true, said Wagner, a specialist with the program. In fact, vendors work directly with individual stores, which each carry different local products.
Often lacking economy of scale, locally produced items can be more expensive. But, Wagner said, that's not always the case. And the market can bear the cost.
"We understand it's a premium price, but we have customers that want it," she said. And others who can't afford to afford to buy all local products may choose to shop at Hannaford because it supports local producers.
Deb LaRose, a purchasing agent with the state's Department of Buildings and General Services, said the legislature has asked the department to buy local whenever possible, and they're working to bump up the percentage of food that comes from Vermont. "We want to do it to bring the economy up in the state."
If they can buy locally and save money, helping the taxpayers, "we need to do that," LaRose said. "And Vermont companies are taxpayers."
Health also plays a role in purchasing decisions.
"A lot of nutritionists … come in to work with us on menus," she said. "Our corrections facility inmates are getting older, so we need to make sure everyone is getting a good balanced diet."
After she checked out the offerings Wednesday afternoon, an idea sprang to mind, prompting her to email a question to one of the state's prisons: "Have you ever thought about kale chips?"

Aimee Caruso can be reached at acaruso@vnews.com or 603-727-3210.