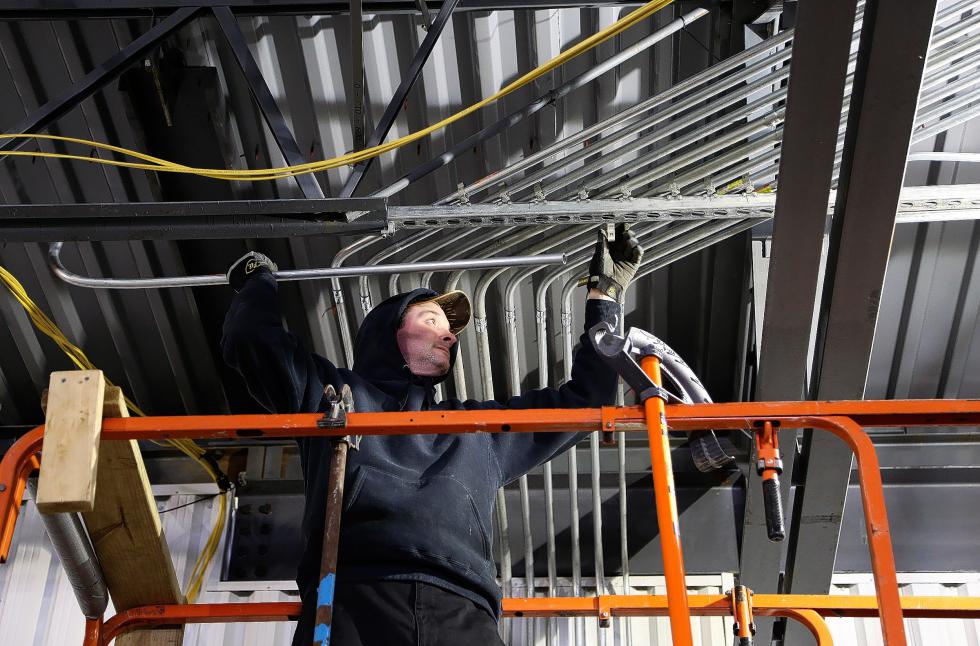 Jason St. Onge, of Tilton, N.H., installs conduit last month at the Tractor Supply store being built in Lebanon. Construction of the 19,000-square-foot store is scheduled to finish in May.
A year after the Lebanon Planning Board approved design plans for a new Tractor Supply outlet along Miracle Mile, construction is now underway for the farm and garden superstore. Ground was broken on the 19,000-square-foot building on Dec. 22 and is tentatively scheduled to open by Memorial Day, the Tennessee-based company said in a news release. The store, located at 360 Miracle Mile, will employ 15 full- and part-time workers and is accepting employment applications at http://www.tractorsupply.jobs. Tractor Supply has 18 outlets in New Hampshire — the nearest is in Claremont — and six in Vermont, among its more than 1,360 stores nationwide. It employs more than 21,000 workers in 49 states and has annual revenues of about $5.7 billion.
Solmate Socks, which was founded in the mid-1990s by Marianne Wakerlin and operated from the second floor of her South Strafford home, has moved its operations office to the Emerson House on Main Street in downtown Norwich. Solmate Socks, which designs and knits mismatched socks, hats, scarves, mittens and fingerless mittens, signed a lease with Sudlow Limited Partnership LLC for the space, located across the street from Dan & Whit's general store. Solmate Socks has other operating centers around the country, and has sales in North and South America, along with Europe and Asia, according to a news release from Lang McLaughry Commercial, which represented the landlord. ReMax Group One assisted with the introduction of the tenant, the release said.
Valley Flower Co., of White River Junction, was recognized recently as one of the top floral designers in the U.S. by Martha Stewart Weddings magazine. Under the heading "What We Love," the magazine wrote: "Morgan Perrone (the owner of Valley Flower Co.) gets excited when couples bring ideas for atypical items, like decor for walls, cars, boats, and floral collars for pets."
A record-setting number of exhibitors, including GW Plastics, Darn Tough Vermont, IBM and My Web Grocer, participated in the recent Career Fair held at Vermont Technical College in Randolph. Some 97 employers exhibited at the March 4 event, far surpassing previous career fair averages of 65-75 exhibitors. "The drastic rise in employer exhibitors demonstrates the growing demand for Vermont Tech graduates, not only in the state, but around the region as well," the college said in a news release. The Career Fair gave students and employers a chance to begin relationships before graduation, "with networking becoming an increasingly integral part of the job search process," the college said. "We were very excited to have so many businesses attend this year," said Karry Booska, director of career development at Vermont Tech. "One of the most encouraging aspects for the students was the vast amount of Vermont Tech alumni sitting behind the tables." Booska said the college will increase the size of next year's Career Fair to approximately 109 exhibitors to accommodate anticipated growth and employer need.
StartDate Labs Inc. has leased a 5,000-square-foot office at 10 Water St., Lebanon. StartDate Labs was founded by Tim McKegney and Chris Forman. The company "incubates new ideas, technologies and businesses that aim to transform talent acquisition and human capital," according to a news release from Lang McLaughry Commercial, which represented the landlord and assisted the tenant in the transaction. The building is owned and operated by S&W Investment Co. of Lebanon. Other tenants include Simbex and Signal Quest.
ARC Mechanical has moved from Suite 204 to 201 in the Glen Road Plaza shopping complex in West Lebanon. The company said the larger suite has double the office space plus a conference room to accommodate an increase in its commercial and residential heating, air conditioning, plumbing and refrigeration work in the Upper Valley. ARC moved to the Glen Road Plaza in 2012 after almost four years on Mechanic Street in Lebanon.
The River Valley Workforce Investment Board is seeking employers to exhibit in the fourth annual River Valley Employment Fair, which is scheduled to be held from 1-5 p.m. on May 20, at the Riverside Middle School gymnasium in Springfield, Vt. The fair is a joint effort between the River Valley Workforce Investment Board, the Vermont Department of Labor, Creative Workforce Solutions, Springfield Regional Development Corp. and the River Valley Technical Center. The event is aimed at connecting local job seekers with seasonal and permanent jobs in the area and to showcase resources and training programs that will help job seekers attain employment. Fair organizers are actively looking for local employers with job opportunities, especially those that gear up in the spring and summer. Information is available on the River Valley Workforce Investment Board Facebook event page. Employers may also contact Suzanne Groenewold, employment fair director, at 802-885-8310 or by email at sgroenewold@rvtc.org.
The 82nd annual League of New Hampshire Craftsmen's Fair will be held Aug. 1-9 at the Mount Sunapee Resort in Newbury, N.H., and is expected to draw some 30,000 attendees and more than 350 crafters. This year's fair will feature an on-site display of the 1866 Peppersass Cog Railway train engine — billed as "the first mountain-climbing cog railway engine in the world" — presented by the Mount Washington Cog Railway, which is the lead sponsor of the fair. Also scheduled are daily craft demonstrations and workshops, three fine craft exhibitions, free tours and seminars, and entertainment. For more information, call 603-224-3375, email nhleague@nhcrafts.org, or visit http://www.nhcrafts.org. Tickets will be available for online purchase in early June.
Items of interest to the local business community are published weekly in the Business & Money section of the Sunday Valley News, and are also collected on the Company News page of Enterprise. Email submissions to: biznotes@vnews.com. All items are subject to editing.