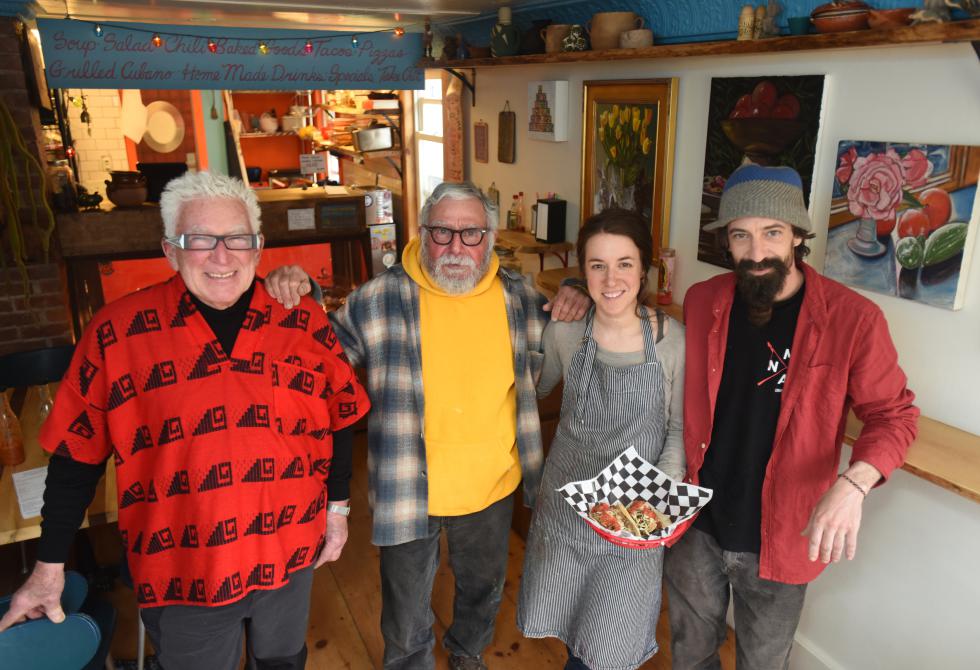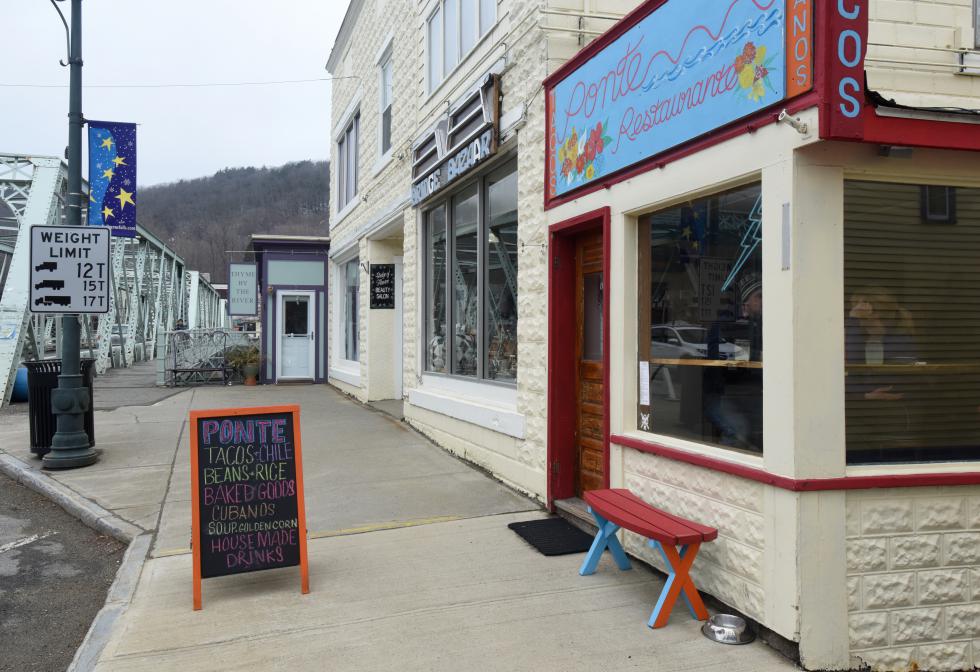 SHELBURNE FALLS — Shelburne Falls has Bridge Street, the Iron Bridge and the Bridge of Flowers. Now it has a new little eatery near all these bridges.
"Ponte" is Spanish for "bridge," and Ponte Restaurante , set up by former Green Emporium restaurateurs Chef Michael Collins and Pacifico "Tony" Palumbo, offers Mexican-style dishes, tacos, baked goods, soups, chili, cubanos and made-to-order sodas like ginger fizz or apple soda. Working with Collins and Palumbo are baker Nicole Vezina and Paul Forth of Colrain.
Vezina had started a catering/bakery business in New Bedford before moving to Colrain, where she worked at the Green Emporium for a year, before that restaurant closed. Forth is a stone artist and cook.
Like the Green Emporium, Ponte is also a gallery for Palumbo's work, which this month are his paintings of Italian-American scenes, inspired by family photographs from the 1950s and '60s.
Located at 8 Bridge St., in the space formerly occupied by La Luncheonette, the little eatery has new black locust counters made by Forth, Mexican crockery and green chairs that were used in the old Green Emporium.
All the dishes use local ingredients whenever possible. This includes Jamaican meat pies that are made with local Highland Cattle beef and veggie root pies. The cubanos are grilled Cuban sandwiches on homemade bread. They include roasted pork, ham, swiss cheese, Real Pickles-brand pickles, Mother's of Shelburne Falls' maple mustard and jalapeno peppers.
Tacos are priced from $3 to $3.95 and they come on authentically made, hand-stretched corn tacos.
"We found a wonderful purveyor for our Mexican supplies," says Collins, who still gives a recipe-of-the-week on WHAI.
When the Shelburne Falls Farmers Market opens, Ponte plans to get local produce and may add salads to its offerings. They will also be getting fresh fish from New Bedford, and are planning to offer such items as ceviche (a South American seafood dish), scallops, sea bass and lobster in their soups and tacos.
Also, a future plan is to build a commercial wood-fired oven in which to bake bread and Sicilian-style pizza to be sold in this little shop.
Last year, Collins and Palumbo had proposed opening a larger Mexican restaurant in Shelburne Falls, but they are happy with their "little place with the big taste" — a slogan they printed on their takeout menus.
"I really like it here on the sunny side of the street," Collins said.
For now, Ponte Restaurante is open Monday through Saturday, but will probably open Sundays later this spring. The current hours are Monday through Wednesday from 11 a.m. to 4 p.m.; Thursday through Saturday from 11 a.m. to 9 p.m. Take-out is also available; call 413-489-3062.