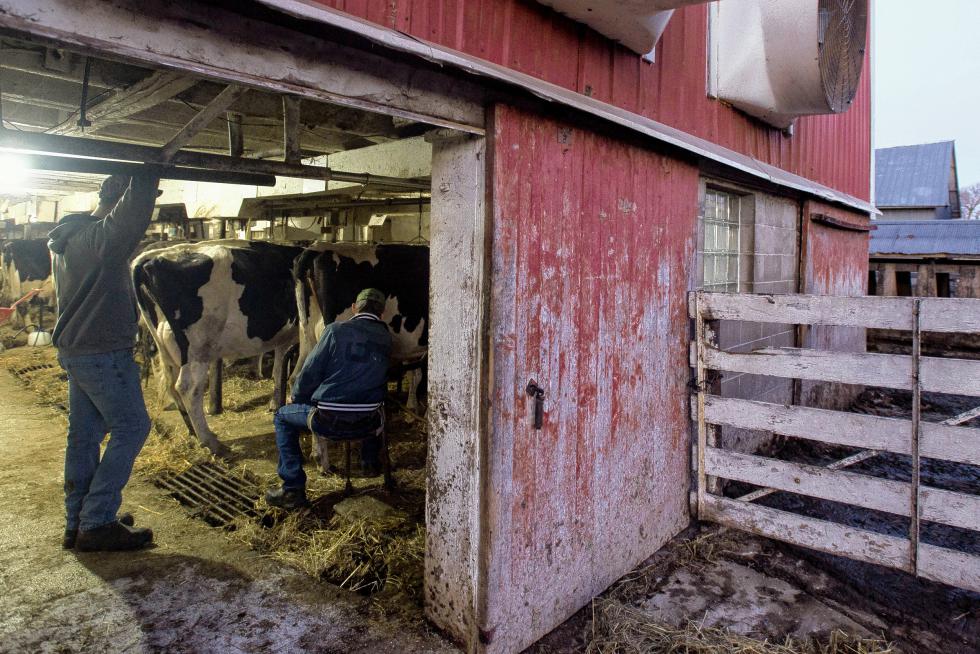 Cologne, Minn. — Mark Wickenhauser stood in the doorway of his weathered 1910 barn and viewed the dark soil that will soon sprout a pasture rich with alfalfa and other grasses. He has worked all his life at the family dairy farm here but switched from conventional to organic farming in 2005.
"It wasn't the popular thing to do, but I guess I didn't care," he said. "It just made a lot of sense to me."
Organic dairy has come a long way since then. Americans spent more than $5 billion on organic dairy products in 2014, with double-digit annual growth during much of the past decade, according to the U.S. Department of Agriculture.
Supply has not been able to keep up with demand, especially during the past year, said Meg Moynihan, organic program administrator for the Minnesota Department of Agriculture.
"I am hearing from just about everybody that supply is very tight, that all of the dairy processing companies are looking for new farmers and that they're having trouble filling their orders with retailers," she said.
Luke Friedrich, spokesman for grocer Cub Foods, said demand for organic products is strong at Cub's 76 stores in Minnesota. In January, the company expanded its Wild Harvest organic line and shelf space, he said, because customers want more organic products.
Most Cub stores have two or more cases of organic milk, Friedrich said, in addition to organic butter, eggs and other products.
But even with its growing popularity, organic milk represents only about 5 percent of the total milk produced nationally in 2014, according to federal estimates. As far as prices, the retail cost of organic milk is about twice that of conventional milk. For example, in late March the national average price for a half gallon of milk was $1.76 for conventional milk and $3.44 for organic milk, according to the USDA.
What consumers get for the extra cost is milk that has been certified as organic and meets all federal regulations. That means it's from cows that eat organic feed and that are not given hormones, antibiotics or other unapproved medication. It also means that the cows eat in a pasture for at least 120 days a year and do not feed on anything grown from genetically modified seeds or that has been sprayed with pesticides and synthetic fertilizers.
One reason for the rapid growth of organic dairy sales is that the largest grocery chains – responding to consumer interest – are now selling it, said Organic Valley Vice President of Farmer Affairs Travis Forgues.
"I can't tell you enough what it matters to have a Costco or a Target or a Wal-Mart really embrace organics," he said. "It's a demand drive on an amount of milk that's just not there right now."
That may be good news for the organic dairy industry, Forgues said, but it's also causing disruptions and changes.
Moynihan said that dairy farmers, organic and nonorganic, typically have a relationship with a single buyer, such as a cooperative or a cheese manufacturer. The largest buyers of Minnesota organic milk are Organic Valley of La Farge, Wis.; Westby Cooperative Creamery of southwestern Wisconsin; and Horizon, owned by a Colorado firm. The companies process the milk into fluid milk, cheese, yogurt and other dairy products that make their way to consumers in grocery stores.
Organic Valley, founded in southwestern Wisconsin in 1988, is the largest organic dairy cooperative in the nation with more than 1,800 farmer members, most of them dairy producers.
While demand is up, the supply of organic milk from co-op farmers has stayed fairly flat for the last few years — for several reasons, Forgues said.
Generally high prices for conventional milk have kept those dairies in profits, he said, with little incentive to switch to organic. Higher prices for organic feed also tightened profit margins and made it more difficult for some organic dairies to stay in business, he said. And as baby boomer organic farmers retire, Forgues said, the high price of land and other costs often mean that conventional dairy owners seeking to expand, not organic producers, are the ones who can afford to buy.
Wickenhauser, who milks 42 cows and grows alfalfa and grasses on about 150 acres, said it took five years for him to convert to organic, and he's glad he made the change.
"I was seeing a lot of breakdowns and health problems with the cows, and my fertility on the fields was all based on advice from other sources, rather than knowing it for myself," he said.
After his farm passed all the inspections and paid fees and it was certified organic in 2005, he signed a contract to work exclusively with Organic Valley. His is the only organic dairy farm in his county, he said.
Every other day, a tanker truck stops by the farm and sucks the milk from Wickenhauser's gleaming silver bulk tank, then rolls off to St. Paul to be processed and bottled.
Ken Larson, another Organic Valley farmer who lives in west central Minnesota, said he started milking in 1983 but switched to organic in 2006 mainly to avoid the unpredictability of conventional milk prices that fluctuate monthly, sometimes dramatically. Because of the limited market, organic prices are often set by the processing companies, and producers are pretty well locked in for a year at a time with stable prices.
Larson, who milks about 55 cows, said organic was also attractive because he never believed in some of the conventional dairy practices.
"Hormones, antibiotics, herbicides, pesticides. We used them, but reluctantly," he said. "Once we found there was an alternative way, it fit our beliefs better."