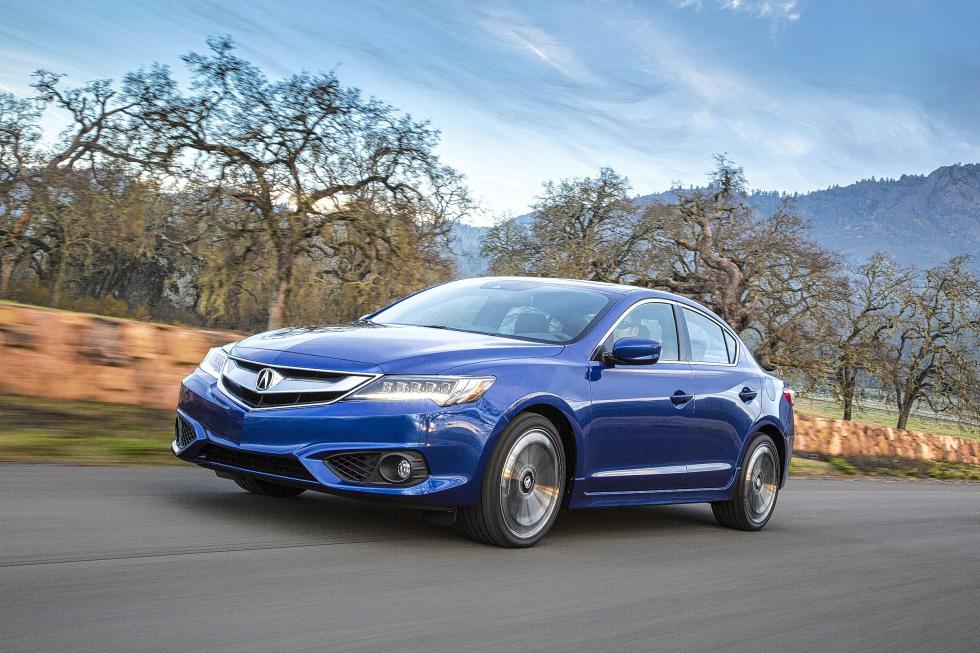 The competition for the hearts, minds and wallets of car buyers often begins with the superficial. It's a gut response to how it looks. Whether that's sporty or elegant, the exterior is subliminal shorthand for how we hope to be perceived.
Take the Acura ILX, which, for its 2016 refresh, strives for the pre-parent market with a compact sedan that is subtly sexy yet practical, athletic yet modestly upscale.
Similar to the newly redesigned Toyota Camry and the most recent upgrade of the Honda Civic, Acura has embraced the idea of a more dramatic commuter car entrance with an overhaul of the front end. Gone are the humdrum headlights in favor of bejeweled almondine LEDs that beckon drivers to the optical illusion that it is wider, lower, more capable of slaloming through traffic with style.
It's a design that squarely targets millennials who, having clawed their way into the work force while the economy was in ruins, are now driving the white-hot market for cars with a luxury pedigree and affordable price.
It's one thing to look sporty, of course. It's another thing to deliver a truly sporty character, especially in a highly competitive market that pits the $27,900-plus ILX against Mercedes' enormously successful $31,500-plus CLA250 and Audi's $29,900-plus A3. Japan's response to German performance: up its game under the hood and play its fuel economy trump card.
For 2016, the ILX remains front wheel drive, but those wheels are now slightly larger and powered with a 2.4-liter, direct-injected four-cylinder that makes 34 percent more horsepower and is even more fuel efficient than the 2-liter engine of the 2015 model. City, highway and combined fuel economy each improve by 1 mpg, increasing its average to a respectable 29 mpg.
But that's just gravy. Recognizing that a young buyer's heart and prospective financing are often won – or lost – within the first 50 feet of a test drive, Acura has paired its more premium engine with a new 8-speed dual clutch transmission that is itself enhanced with a torque converter to deliver power more quickly. What that means behind the wheel: satisfyingly sprite pickup that's a better match for the understated sportiness of its exterior. Finally, it seems, there's an entry-level Acura that's worth the price premium over the Honda Civic.
Understanding that buyers who have yet to experience a midlife crisis value technology above all else, the ILX includes more digital doodads as standard equipment, including a rear-view camera, Bluetooth, USB port and mini jack for an iPod or iPhone. Drivers who think the 5-inch display of the base model is a bit dinky, as I did, will probably want to upgrade to the $31,890 A-SPEC version, which increases the screen to 8 inches and adds a second touch screen to control functions like the radio and navigation, while also illuminating its gauges in red.
Further upgrading with something called Tech Plus adds even more in-car connectivity. Acura Link is an iPhone app that syncs with the car and is usable both behind the wheel and outside of the cabin. Drivers can program their destination into the app before sliding into the driver's seat, negating the need to fumble with buttons while driving. The app can also read aloud, through the car's speakers, the driver's Facebook feeds and texts.
With the AAA Foundation for Traffic Safety releasing a study this week that found interacting with cell phones, operating the radio and engaging in other acts of distracted driving is even worse among young drivers than initially believed, and the ILX targeting this key demographic, safety features are playing a larger role. Unfortunately, drivers need to pay for it, but at least the premium is a reasonable $1,300.
AcuraWatch, as it's called, adds nine of the currently available baby steps that are marching us toward a fully autonomous driving future, including forward collision warning that beeps and flashes when it senses a driver may unintentionally merge with another car's bumper; adaptive cruise control that can maintain a safe following distance; collision mitigation braking that will intervene when the driver hasn't sufficiently stomped the brake pedal; lane departure warning that beeps when drivers veer; as well as lane keeping and blind spot and cross traffic monitoring.
While the profile, performance and on-board tech of the 2016 ILX are impressive for the price, its interior should have been stepped up. The dashboard display is colorful and easy to read, but the steering wheel feels cheap and the car's controls, overall, look and feel common rather than elegant. They seem more appropriate for Acura's mainstream Honda sibling than the wannabe premium buyer Acura is grooming with its entry-level ILX.