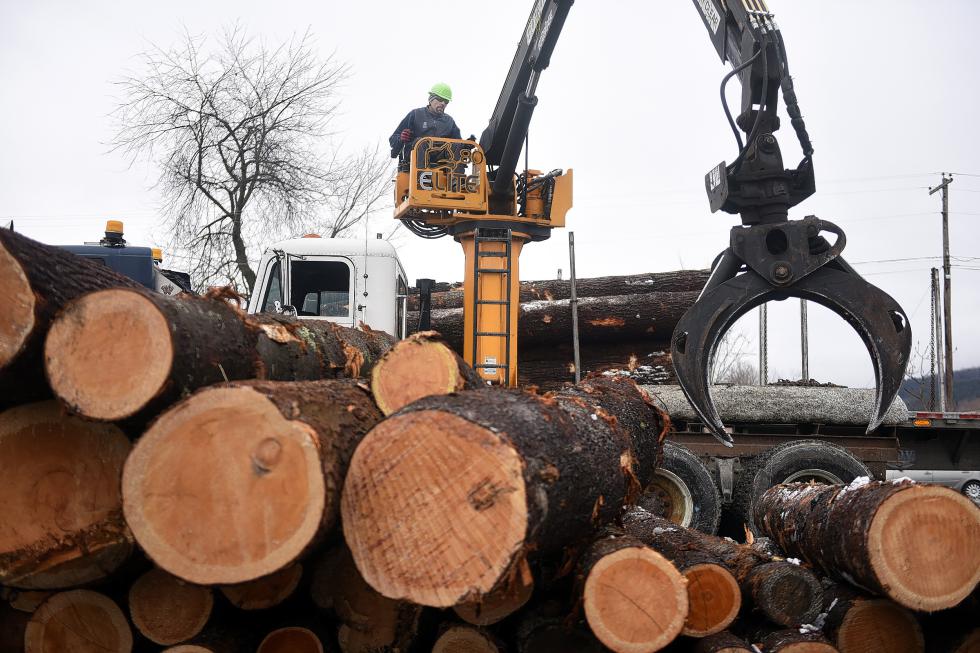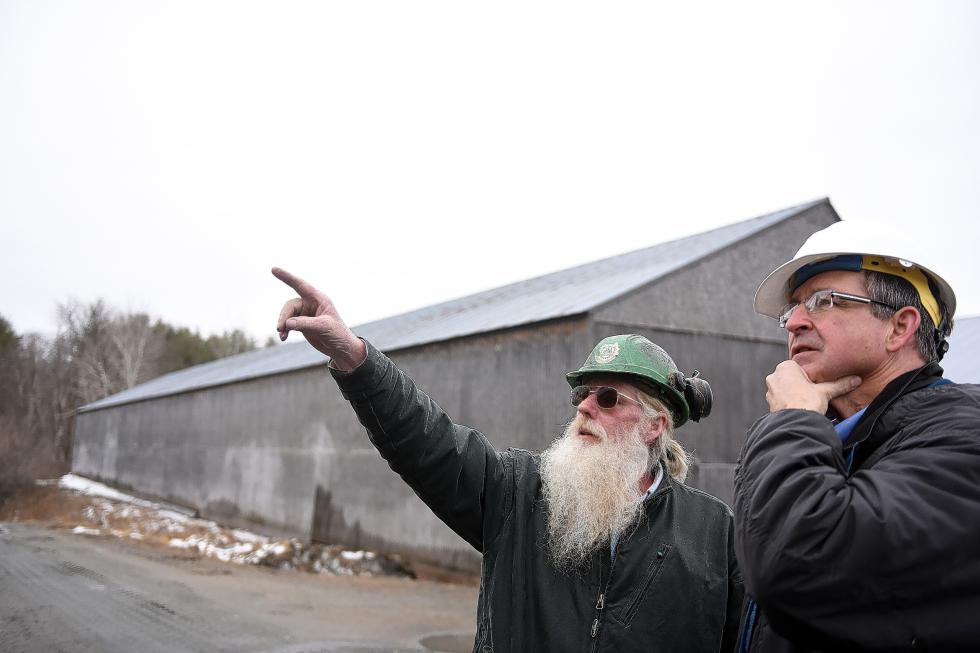 Fairlee — Almost two weeks after a four-alarm fire leveled the sawmill at Britton Lumber Co., officials there announced their intentions to rebuild the sawmill and continue the company's other operations as usual.
"That's what's taken two weeks is, can we even get to the point where we can contemplate rebuilding the sawmill?" company president Robert Moses said in an interview at the site on Friday. "And the answer is yes."
Moses cautioned that there are still "a few more cards (that need to be) played" before company officials can be certain of the sawmill's return, which they said could take up to two years. Unanswered questions include how much of the rebuilding costs will be covered by Britton's insurance company and whether any potential coverage gaps could be overcome with financing or grants.
However, Moses said employees, government officials and community members have been eager to learn Britton's intentions, and those are now clear: pursuing the sawmill rebuild.
"I cannot say definitively that we are rebuilding it today, but we are going to do our best to get a new sawmill in Fairlee," Moses said, calling it "the right thing to do."
Layoffs were not completely avoided. Moses said the company eliminated one administrative position and let go of 11 other employees on Friday, mostly based on seniority. They included some of the 20 employees who had worked directly for the sawmill, as well as a few workers from other divisions.
However, the hope is that rebuilding the sawmill will ultimately restore all of the 60-plus positions Britton employed before the Saturday evening fire, with most of them based in Fairlee, plus about five at a wholesale location in Maine. The company worked to rearrange several people who had worked in the sawmill into other divisions.
A three-person team of officials from the Vermont Department of Labor, which has been in talks with Britton since the fire, will be on hand Monday to assist the workers who lost their jobs.
The news was largely met by sighs of relief on Friday, including from Britton workers, town officials and other members of the logging and related industries.
Stacey Thomson, owner of Thomson Timber Harvesting & Trucking LLC, in Orford, said that last winter, he was taking two or three loads of lumber a week to Britton to be processed.
Without Britton's sawmill, Thomson said he was looking at an additional 20 to 50 miles per trip to bring logs to alternative sawmills, which he said adds up quickly with trucking transportation being "very expensive these days."
"That's very good news that they're thinking about rebuilding," Thomson said Friday afternoon. "I was very concerned that they may not bring it back, not knowing the certain numbers and how the market bears on it. I'm quite happy but I was definitely concerned."
Thomson said other industries, such as local farms, are also feeling the effect of the sawmill's demise. Some farmers now have to go elsewhere to buy wood shavings, a byproduct of the sawmill, for things like animal bedding. He was also concerned about the economic impact of job losses, as Fairlee officials have indicated that Britton is the town's largest employer.
Thomson said a year-and-a-half or two years without a Britton sawmill would be manageable, especially if the local logging community and landowners work to "shy away from some of the pine lots that are looking to be cut right now" that would normally go to Britton, at least as best they can.
"We'll figure it out," he said. "We're definitely going to bring logs to them when they get rebuilt."
The sawmill is essentially the first step in the process to turn raw logs into manufactured lumber such as two-by-fours, shingles and a host of other products. Following a rough cut in the sawmill, the lumber is treated in Britton's kiln, which Moses said will also gradually be shut down and then decommissioned until the sawmill returns.
The lumber is then graded in the planer mill, which will remain in operation. Moses said Britton has made a purchase of eastern white pine boards that have already been through a sawmill and kiln to feed the planer mill, and a deal to secure a long-term supply is in the works.
At the site on Friday, workers used a crane to load logs that had been shipped to Britton back onto trucks bound for a sawmill in Canada. Without a sawmill to process them, Moses said Britton had sold the logs — 235 truckloads' worth that had come in over the course of the winter — to the Canadian buyer at a loss.
"It's sad to see all these logs that came in go back out the door again," Moses said.
At another section of the lot, a group of workers helped to make repairs to a shed. A couple of them, including Hartland resident David Shepard, were previously sawyers — the position that operates the sawmill — but are now helping out in other divisions.
"Stability is good," Shepard said, "and it's much appreciated, being able to stay on and really looking forward to the new mill."
Standing next to him, Corinth resident Malcolm Tarleton, another former sawyer, said it was "kind of tough this morning" to see some of his coworkers let go from the company, but he understands the need for Britton to downsize in the interim and is optimistic that the other employees will "come out on top."
"It's tough, but it's really kind of what had to happen," Tarleton said.
State investigators could not determine a cause for the fire, which was first toned out at 8:29 p.m. on March 29 and ultimately drew at least 26 engines from throughout the Upper Valley. State officials have said there are no indications that it was suspicious.
Moses said the insurance company is conducting its own investigation into the fire, which is standard procedure, and that results may be available next week, which will allow the payment process to move forward.
Britton Lumber Co.'s entire 26-acre land parcel, including the office, warehouses, planer mill and former sawmill, was most recently assessed at just under $2.4 million, according to listers' records. Another 5.6-acre parcel partially used by the company and owned by Doug Britton, who retired from Britton's helm in January 2014, is valued at $719,500.
Britton Lumber was founded in Hartland in 1946 and moved to Fairlee in 1971.
Moses, a Lebanon resident, is a former city councilor, and he and his wife Shelly were named 2012 citizens of the year by the Lebanon Area Chamber of Commerce. He was the founder and owner of an accounting practice in Lebanon and was Britton Lumber's accountant for 25 years.
Moses said he could not yet estimate the cost of damages or the cost to replace the sawmill, which has had extensive upgrades over the years, including in December 2013.
"I can safely say that it's in the millions of dollars, for the building and the equipment, and to replace it … will certainly cost more than what we paid to get it in," he said.
State and town officials are working to help Britton navigate the regulatory process, which will likely involve an Act 250 permit, among other hefty requirements. Britton said the sawmill building, built in 1972, was constructed on what is now considered a floodplain, presenting one of several regulatory hurdles.
Moses underscored the support the company has received from Doug Britton and the rest of the community, including town and state officials and even competitors in the logging business.
"I feel that we can pull it together," Moses said, "and I think a lot of people are rooting for us to succeed."
Maggie Cassidy can be reached at mcassidy@vnews.com or 603-727-3220.