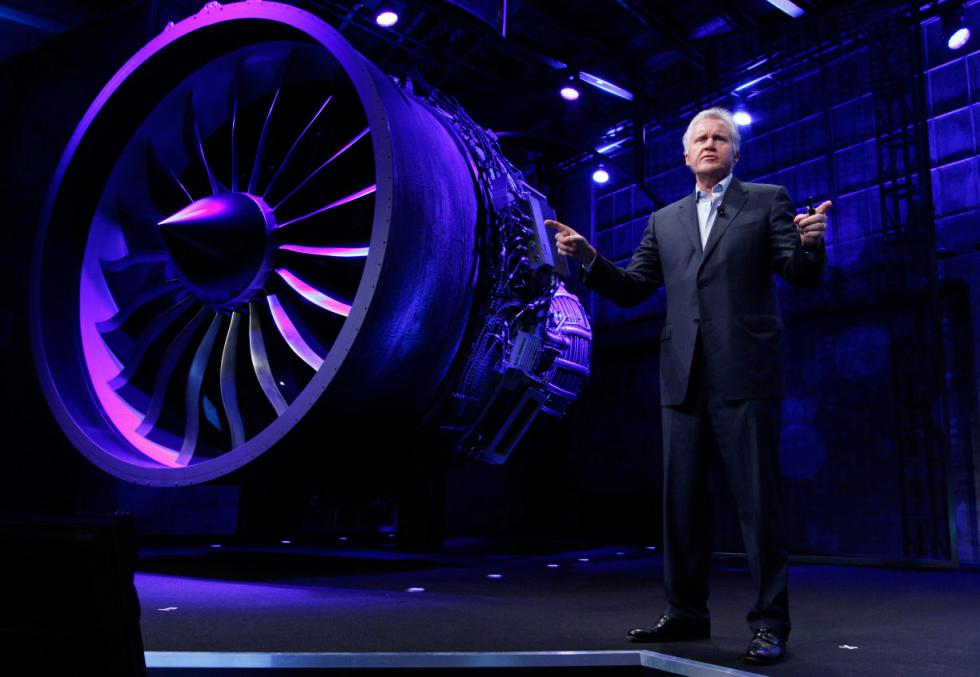 New York — Jeffrey Immelt, poised for the biggest restructuring push on his watch at General Electric, is plotting acquisitions to complement an industrial portfolio spanning jet engines to locomotives to oilfield equipment.
With GE planning to sell the bulk of the GE Capital unit, Immelt said he will spend as much as $5 billion a year to expand the manufacturing units. GE's chief executive officer is getting a start on building up cash for purchases and stock buybacks with a $26.5 billion plan to dispose of real estate assets.
"We're always looking for ways to grow our industrial businesses," Immelt said Friday in a telephone interview. "We've got so many investment opportunities in the businesses we're in today — oil and gas and health care and aviation."
The decision to unload most of GE Capital breaks with Immelt's incremental pace of dispositions to wean GE from the unit that destabilized the parent company during the 2008-09 financial crisis. Shrinking GE Capital may let it escape designation as a "systemically important financial institution," and GE said it's working with federal regulators.
"The timing was very good to be a seller of financial service assets," said Immelt, 59, a 1978 Dartmouth College graduate and member of the college's board of trustees who has been GE's CEO since 2001. "You've got slow growth, you've got low interest rates, you've got lots of liquidity, you've got search for yield. We said, 'This is a great environment.' "
Talks are under way with potential buyers, including discussions about the middle-market lending business, GE Capital CEO Keith Sherin said in the interview. "There may be one or two transactions that might be a public market transaction over the next 18 months," said Sherin, who wouldn't elaborate on the prospects.
While the pending $13.1 billion acquisition of Alstom's energy assets may curb its appetite for large deals, GE wants to take advantage of the shake-out in the oil market from the collapse in global prices, Deane Dray, an analyst with RBC Capital Markets, said in an interview of Friday's announcement.
"If there is an asset that's for sale, GE is absolutely going to be looking at it," said Dray. "The question is the timing. Are we at the stage yet where you know enough about the consolidation, who is not going to be a survivor, what assets can you get on the cheap?"
Investors applauded GE's strategic shift. GE's stock jumped $2.78, or 11 percent, on Friday to $28.51, making it the biggest gainer in the Dow and the S&P 500.
The contracts, which investors use to hedge against losses on corporate debt or to speculate on a company's financial stability, decline in price as investor confidence improves and rise as it deteriorates. During the crisis, the swaps had spiked above 1,000 basis points, a level usually associated with distressed companies.
The shrink-GE Capital strategy has been a move away from finance to industrial operations, the traditional heart of the company founded by Thomas Edison. GE said Friday that its main manufacturing businesses will generate more than 90 percent of earnings, up from 58 percent last year, GE said.
"It looks like a positive step," said Scott Lawson, vice president and senior analyst with Westwood Holdings Group Inc., a Dallas-based GE shareholder. What's still to be determined is whether earnings from the industrial units combined with a buyback will produce comparable earnings but a higher multiple. "The market is moving today on the assumption it will."
Share repurchases will be among the claims on GE's cash. The board authorized a stock buyback of as much as $50 billion. GE also said it would take after-tax charges of about $16 billion in 2015's first quarter, with about $12 billion of that to be non-cash.
GE's ending net investment in GE Capital — a balance-sheet gauge that excludes non-interest-bearing liabilities and cash — will fall to $90 billion from $363 billion as of Dec. 31 once the disposals are completed, the company said Friday.
GE Capital is now so big that it earned a designation as a systemically important non-bank by the Financial Stability Oversight Council in July 2013 and was put under Federal Reserve oversight. The Dodd-Frank law lets the Fed impose tougher capital, leverage and liquidity requirements on "systemically important financial institutions," or SIFIs, and scrutinize them the way it would a large bank-holding company like Citigroup or JPMorgan Chase.
While GE Capital didn't fight regulators on the designation in the wake of the financial crisis, most companies under consideration by the FSOC have tried to escape that tag. Immelt said Friday that GE sensed an opening to shed it.
"There's increasingly more clarity, as we shrank, what it means in terms of being able to file for de-designation as a SIFI," Immelt said. "We get under $100 billion of ending net investment and there's an opportunity to see it from a regulatory standpoint."
GE didn't set a timetable on when the asset sales may be complete, although Chief Financial Officer Jeff Bornstein said: "We want to get this done as quickly as we possibly can."
The decision to exit most of GE Capital began taking shape in recent months as GE saw a positive reaction to two finance-related developments, Immelt said. The first was last year's initial public offering for the North American consumer lending business, with a plan to complete a spinoff of this year. The second was the $6.3 billion sale in March of its consumer lending operations in Australia and New Zealand.
GE sought to move up the disposal of "one of the more controversial or challenging portfolios in the GE capital portfolio," Sherin said. "We decided let's see if we can sell real estate."
The real estate transaction announced Friday is an agreement with Blackstone Group LP and Wells Fargo & Co. valued at about $23 billion, and GE said it's in talks with buyers for other commercial property that will boost the value of the asset disposals to $26.5 billion.
"We've been very transparent with investors since the financial crisis on GE Capital," Immelt said. "We're only going to do things where we could control the process and generate good returns. Maybe sometimes that was too slow or whatever, but we've always been transparent about the strategy."