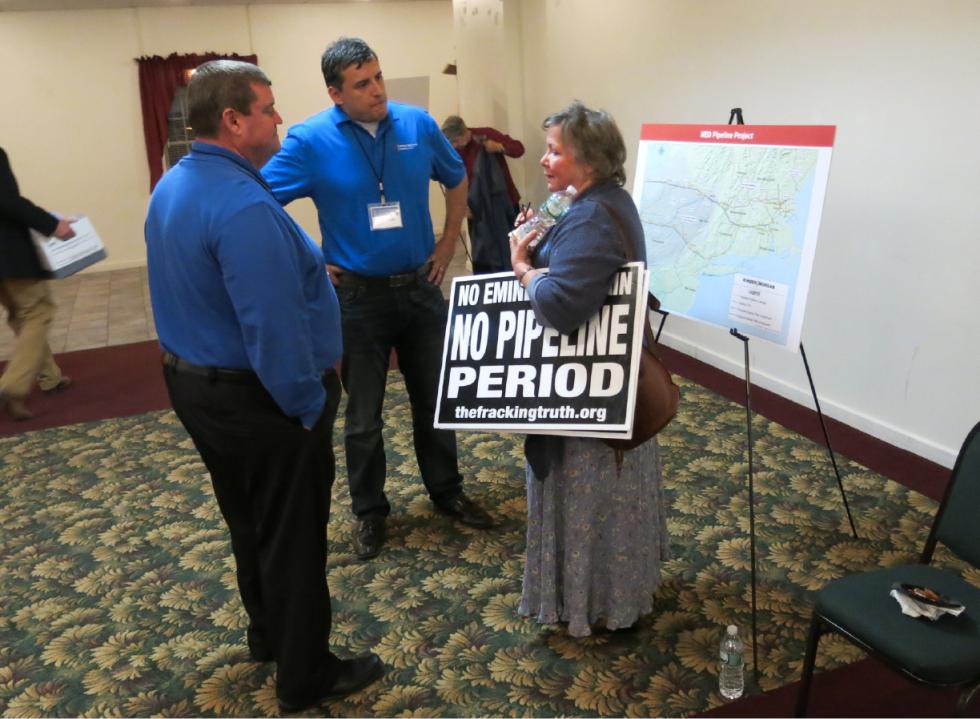 Schoharie, N.Y. — New York landowners along the planned 124-mile Constitution Pipeline are getting details of a second major natural gas pipeline proposed to cut through their property, this one a 325-mile link from Pennsylvania to New England.
Construction workers in economically distressed southern New York are ecstatic about the job possibilities, but landowners who have been fighting the first pipeline for three years are dismayed at the prospect of going through the whole process a second time.
"You think about the worst things that can happen to you in a life and I've had some things happen to me in life, but this is right up on the scale," landowner Dan Brignoli said last week at the first open house held in New York for the $4 billion Northeast Energy Direct project planned by Houston-based Kinder Morgan. (A map of the proposal is at http://www.kindermorgan.com.)
A right of way through the property where Brignoli and his wife built their home 40 years ago in Davenport was taken by eminent domain two weeks ago for the Constitution Pipeline, the furthest-along of a slew of projects planned to pipe cheap gas from the massive Marcellus Shale region in Pennsylvania to gas-hungry New York City and New England. A federal court will determine the Brignolis' compensation.
Constitution plans to break ground this summer if a critical state permit is issued. Northeast Energy Direct, which would have to obtain a second right of way if it's routed across Brignoli's land, is scheduled to file a formal application with the Federal Energy Regulatory Commission this fall and break ground in January 2017. The exact route is still being fine-tuned.
"Eminent domain is a very touchy subject, but in this country a lot of things were taken for the greater good, for the interstate highways and other projects," said Josh Shaul, a member of the New York State Laborers' Union who was among a large contingent of orange-shirted union members at the pipeline meeting in Schoharie. "This project is good for jobs, good for the community."
Union spokesman Frank Marchese Jr. said Kinder Morgan has agreed to use union labor and local workers, noting that pipeline workers typically earn $27 an hour and work 60 hours a week for nine months to a year.
"Everybody prospers when a pipeline comes through an area," Marchese said.
The latest proposal, a 36-inch high-pressure pipeline that would be part of the extensive Tennessee Gas Pipeline network that already includes 849 miles of pipeline in New York, would run about 325 miles from Pennsylvania through New York, Massachusetts and southern New Hampshire.
Strenuous opposition in Massachusetts led it to shift much of its route to New Hampshire, where it would follow the route of an existing power line.
In New York, most of the Northeast Energy Direct Pipeline would follow the same route as the Constitution Pipeline northeast to an interconnect station in Schoharie County, and from there would be co-located with Tennessee Gas Pipeline's existing system and a utility corridor.
Open houses on the pipeline are scheduled for Monday in Schodack and Tuesday in Richmondville. Two others are planned in Pennsylvania: Wednesday in New Milford and Thursday in Towanda.
Opponents say the pipelines will reduce property values, pose safety risks and environmental harms, and prolong dependence on fossil fuels rather than investment in renewable energy.
Many opponents also maintain that the real goal of the pipeline build-out in the Northeast is intended to sell the gas at higher prices overseas via export terminals proposed in Nova Scotia and northern Maine. "This is not local gas for local people," said Loddie Marsh of Sidney, whose neighbor's land was taken by eminent domain for the Constitution Pipeline.
Kinder Morgan said the Northeast Energy Direct pipeline is being built to serve Northeast customers, including local distribution companies, electric utilities, and industries.
But it said four proposed liquid natural gas export projects in Atlantic Canada and one in Maine could find the Northeast Energy Direct project useful, and the pipeline company can't discriminate against customers based on ultimate use or destination of the gas. The company said it has commitments so far from National Grid, Liberty Utilities, Columbia Gas of Massachusetts, Connecticut Natural Gas Corp. and other anchor shippers to transport about 500 million cubic feet of natural gas per day. The pipeline's capacity is from 1.2 billion to 2.2 billion cubic feet of gas per day.