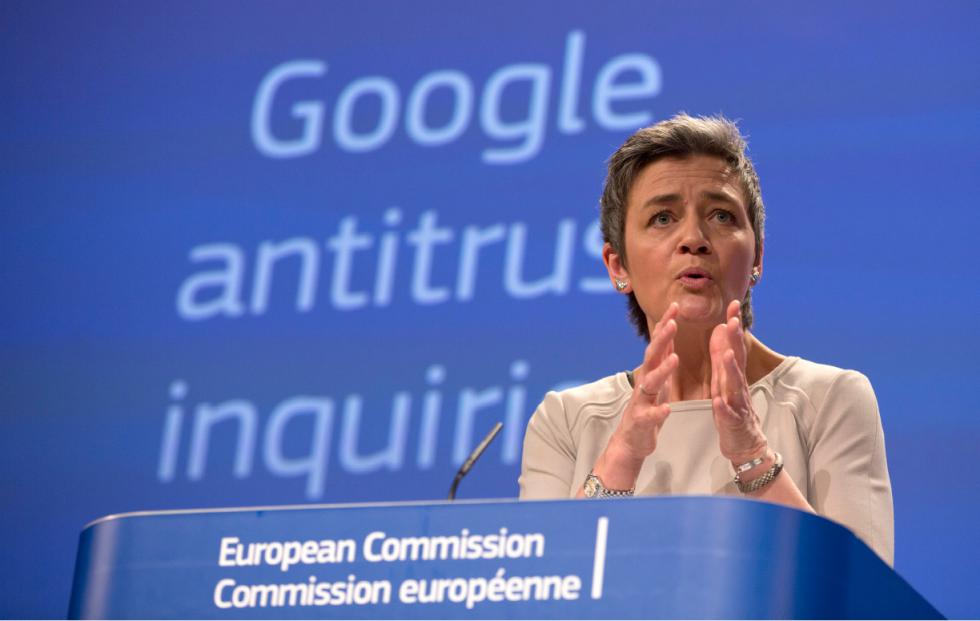 Europe's top antitrust regulator, announced Wednesday that she was formally accusing Google of violating European antitrust laws by favoring its search results over those from competitors.
While an investigation of Google had dragged on for five years without result, Margrethe Vestager's decision to aggressively target one of the most successful U.S. businesses — a move criticized by President Obama — suddenly kick-starts the European Union's highest-profile antitrust suit since its lengthy battle with Microsoft a decade ago.
Vestager is now the leader and public face of EU's claim that Google abused its market power to restrict competition. "And this, in my opinion and in our preliminary review, is not as it should be," she said during a press conference Wednesday. "And that is the reason for this endeavor."
Vestager, 47, took on the role as the EU's competition commissioner just last September. Her predecessor as antitrust chief, Joaquin Almunia, had tried and failed repeatedly to reach a settlement with Google.
Vestager said she viewed the formal accusations as a way of prodding the case toward resolution. Google has 10 weeks to respond in writing. A hearing before EU commissioners could follow, along with a formal trial. A settlement could be reached anytime along the way.
"For me, the road from here is open," Vestager said. "I would like to hear what Google has to say for itself."
Google issued a statement Wednesday defending its business practices, calling the EU's accusations "wide of the mark." The company says consumers have more choice than ever and other online firms are thriving.
Google theoretically faces a $6 billion fine and could be forced to change how it does business overseas. Vestager said she is not after Google changing its search algorithm or redesigning its pages. Given the speed of online innovation, she said, she was more interested in an agreement on principles.
"I am very, very open to solutions as long as they address the concerns that we have — that there is conduct that hampers consumer choice and innovation in general," she said.
The EU's current accusations are focused on its assertion that Google unduly favored its own comparison shopping tool called Google Shopping over those from competitors. Vestager said the inquiries into other areas — Google Maps and Google Travel, among them — were ongoing. The EU also announced that it was opening an investigation into potential anti-competitive practices with Google's mobile operating system Android.