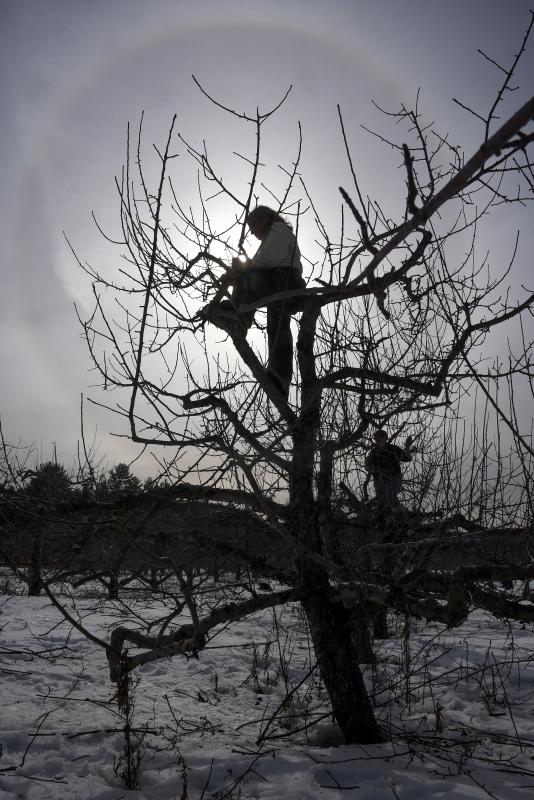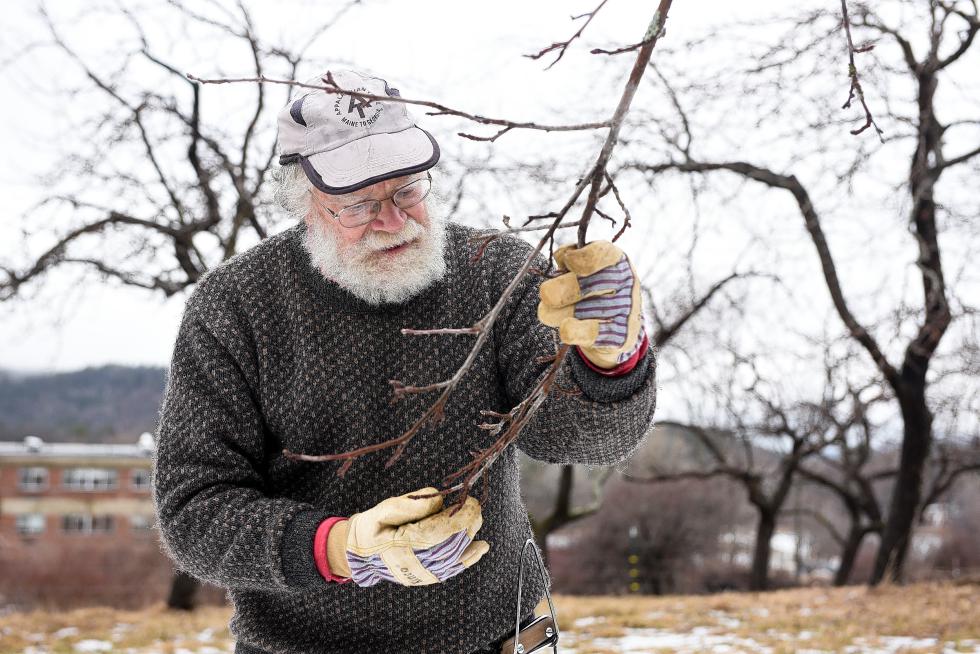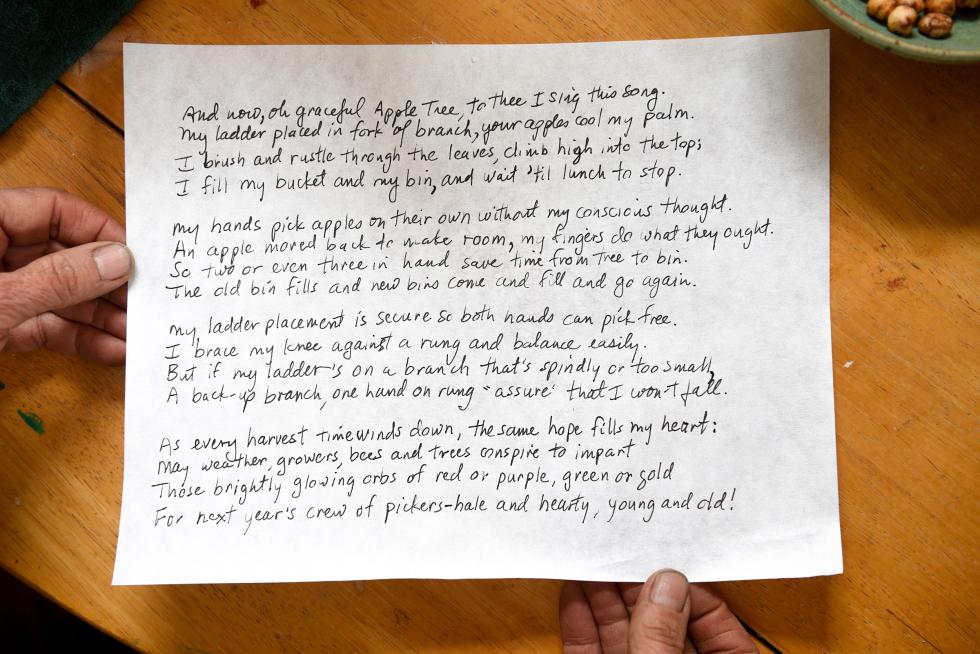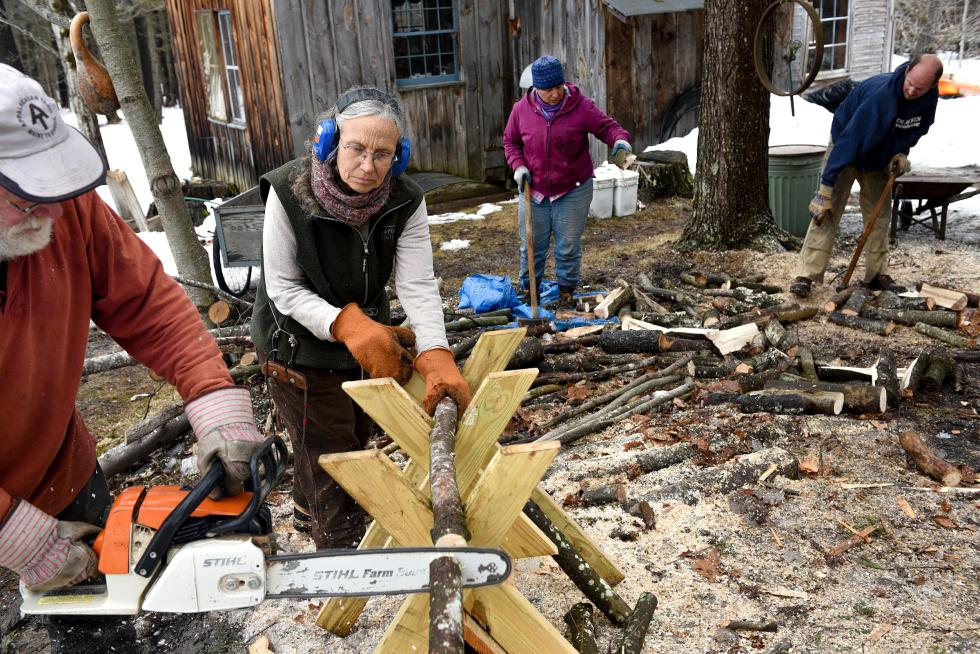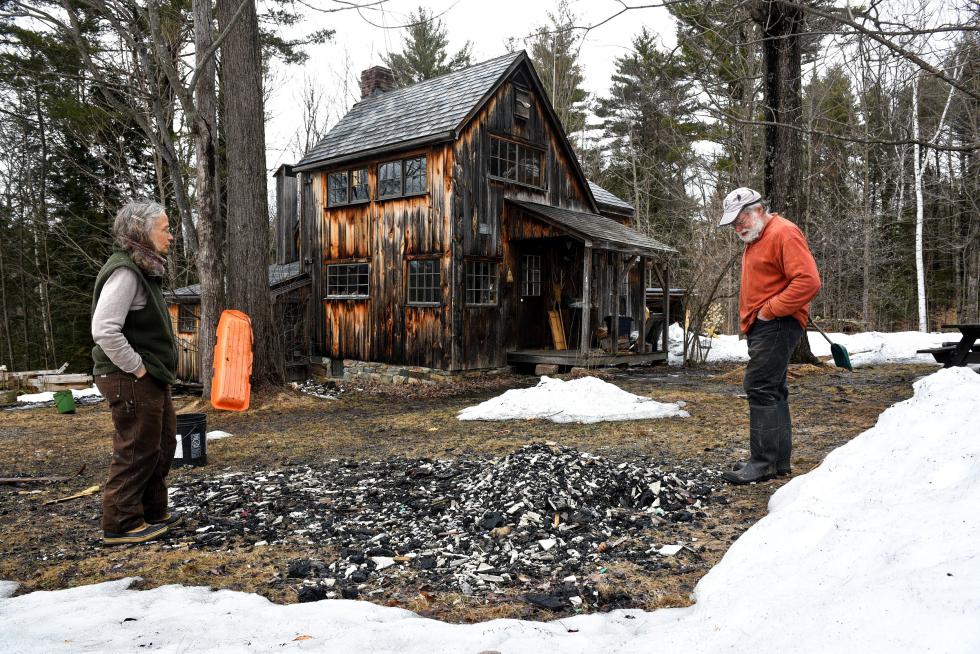 Unity — Sometimes a bronze glow isn't what it seems.
Stan McCumber and his wife, Jenny Wright, have grown accustomed to the question prompted by their perennial mid-winter tans: Have you been in the Caribbean?
"Nope. Westminster, Plainfield," the 67-year-old McCumber replies, naming Vermont and New Hampshire towns where they do big pruning jobs.
Despite being driven from their home by a recent fire, they've kept up with their seasonal work schedule.
During the icy months, when spring blossoms are just a daydream, the Unity residents labor outdoors, as they have for almost half a century. Pruning, along with picking and pansies — "the three P's" — has allowed them to maintain a healthy , low-impact lifestyle. People talk about agricultural work as if it's backbreaking, and it can be, said Wright, 68. "But it also makes you healthier (and) allows you to be outside in nature."
And being their own bosses — they call themselves Pomona Harvesters — provides welcome flexibility.
"We don't work full time, and all of our work is piece rate, so we sort of set our own pace," Wright said. "You can talk when you work, and you can stop when you want to."
They work for people they like, and they like what they do.
"I feel really good about how my trees look when I am done with them," Wright said. "It's very satisfying to make something more orderly."
Pruning keeps trees short enough to be easily picked and sprayed, and narrow enough to let tractors traverse the aisles. It also makes for healthier, stronger and more attractive trees, as well as larger fruit.
On a cold, sunny day last month, the snow still thick on the ground, a small crew worked its way through rows of apple trees at Riverview Farm in Plainfield. McCumber wore a thick sweater and green wool pants, his face barely visible beneath a white beard, tinted sunglasses and knit hat.
"Hopefully these branches will be dripping with apples," he said, looking over a section they'd finished.
From January to April they're pruning commercial orchards, backyard trees and blueberry bushes. The couple also grow and sell pansies, and Wright carves wooden spoons, forks and knives for gifts and to sell at craft fairs. Fall, picking time, finds them harvesting apples, often from trees they have pruned.
"That's a nice experience," said Ian Ludders, who recently moved to the land trust in Unity where Wright and McCumber live. Ludders started picking with the couple in 2001, and began pruning with them a few years later.
"In some ways I feel like I'm still learning," he said. "It's hard to catch up with 45 years of experience."
A few new people are apprenticing with them this year, Wright said. "We are open to people that want to work with us and learn."
McCumber's family is from the Midwest, and his parents
moved to Connecticut when he was in high school. He went to Tufts University for a while before dropping out and moving to Quaker City, where his sister and brother-in-law were living. There, he met Wright, a Louisiana native whose parents moved to Vermont when she was 11.
Salutatorian of her class at Bradford Academy, she'd gone to Antioch College in Ohio. But being a student had lost its appeal.
"In high school I hit the books pretty hard, and it got in the way of a lot things I wanted to do," she said.
After a few years, faced with the unhappy prospect of going into debt, she left college. Her first orchard job was a kind of homecoming.
"I felt like I sort of found my tribe," Wright said. "They were counterculture but in a very constructive, responsible way. 'Be the change you want to see,' that (sort of thing)."
In the early 1970s, she and McCumber built a house in what would later become Quaker City Land Trust, a small cooperative community that emphasizes low-impact living and includes some Quakers.
"There was a lot of interest in building your own house and homesteading and gardening and making furniture," Wright said. "A whole bunch of us were doing that back-to-the-land thing."
Pruning and picking became a way of life for the couple, whose children grew up in New England orchards. As toddlers, they had "really good suntans," she said, chuckling. "We used to joke that they were the only 2- and 3-year olds who spent all of February outside."
They didn't have a fancy car or take cruises, and they were considered below the poverty line by government standards, she said.
But at the height of their career, they worked for about two months in the fall and three months in the winter, which left them "a lot more time than other people have."
They grew some of their own food and bought whatever else they wanted to eat.
"We didn't deny ourselves the things we wanted, and we didn't have a lot of wants," she said. "So, that was part of trying to live in a way of having a smaller footprint and room for more people to live that way."
Living as they did was fun, "sort of an adventure," she said. "Can we build our own house? Can we design it and have it come out good?"
In February, a fire broke out in a wall of their home, which has never had electricity or running water. Apparently, they'd installed a stovepipe too close to a piece of wood.
"It was a dangerous situation waiting to show itself," Wright said.
Since then, they've been staying in a vacant home owned by the land trust. Community members have reached out to help the couple, who've been tackling the cleanup and hope to have a work week in June to fix structural damage caused by the blaze .
"Every disaster has a silver lining," McCumber said. "People draw together and try to make it right for you."
The late arrival of spring weather gave them time to finish up their pruning jobs, which the fire had disrupted a little bit, Wright said.
They don't advertise or even keep a list of customers, yet work is plentiful.
"There's a lot of call for good pruning," she said.
As they've aged, the couple has had to cut back on the amount of pruning they take on.
Nonetheless, they have no plans to drop the work that's sustained them all these years.
"We'll just keep going for as long as we can find someone to hire us." McCumber said.

Aimee Caruso can be reached at acaruso@vnews.com or 603-727-3210.