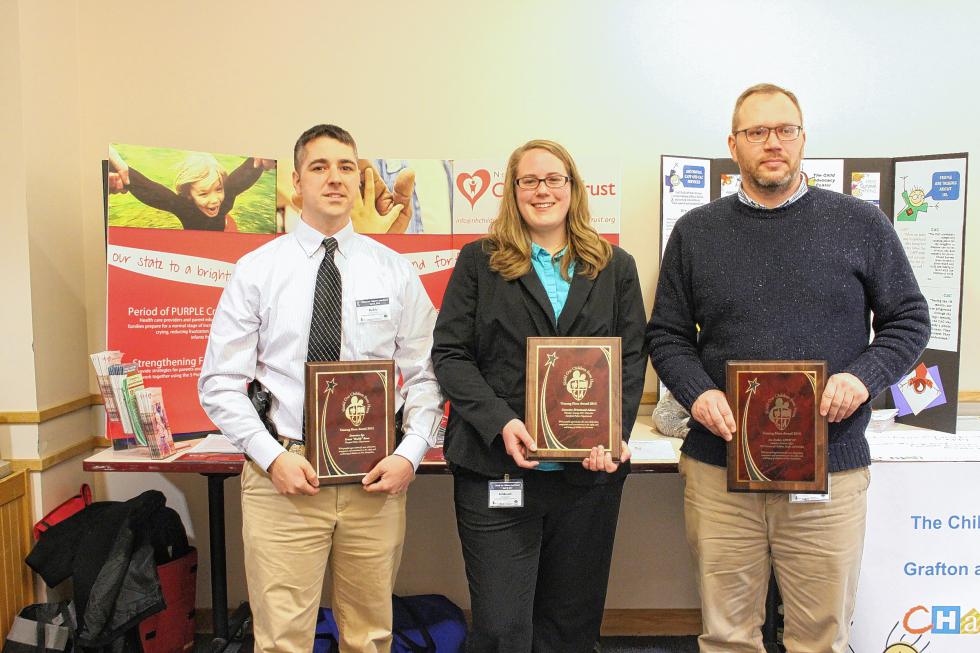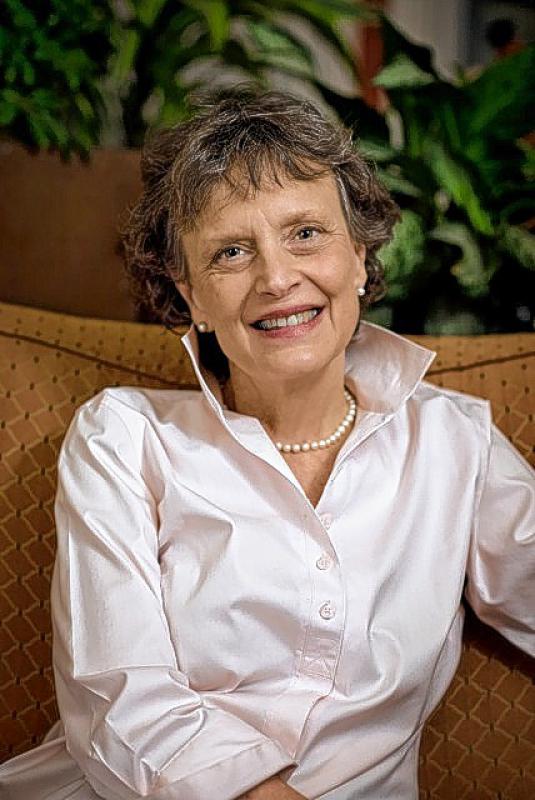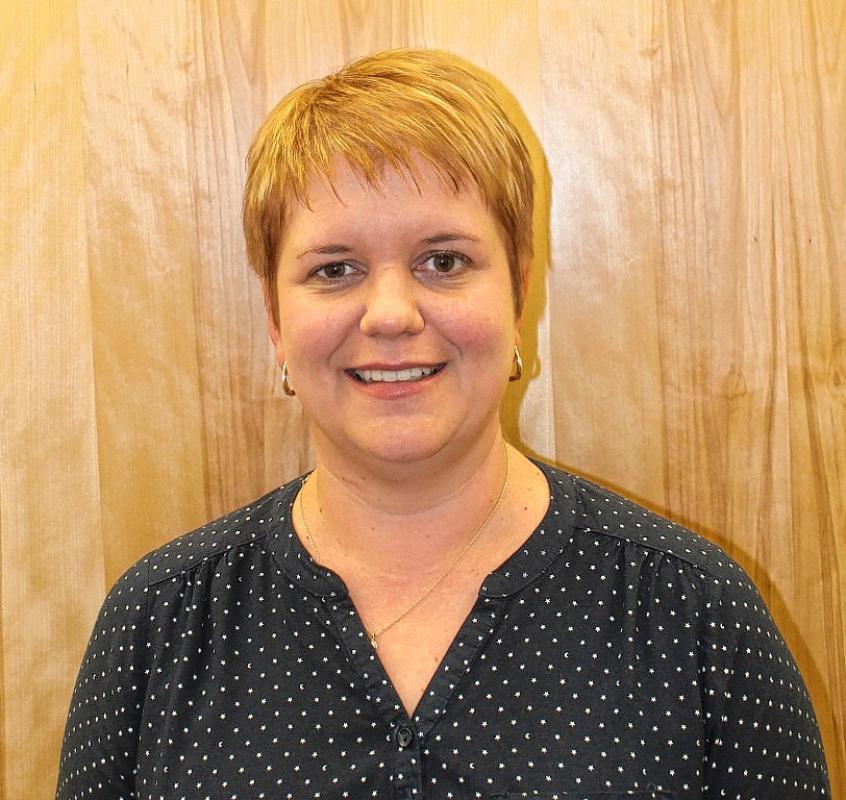 Conference at DHMC Explores Child Abuse Issues
Lebanon — A recent professional conference at Dartmouth-Hitchcock Medical Center explored the issue of child abuse, including its connection to medical costs. Three Twin State professionals were honored at the April 9 event for their efforts to prevent child abuse.
A collaboration between Children's Hospital at Dartmouth-Hitchcock, the Child Advocacy Center of Grafton and Sullivan Counties at DHMC, and the Child Advocacy Center at The Family Place in Norwich, the annual Shield Our Children From Harm conference works "to bring awareness to child abuse and to provide training necessary for those who do this all-important work," Dartmouth-Hitchcock said in a recent news release.
Detective Kristinnah Adams, of the Hartford Police Department; Detective Sgt. Ernest "Buddy" Rowe, of the Newport Police Department; and Jon Butler, a child protective service worker with the Division of Children, Youth and Families in Littleton, N.H., received Unsung Hero awards for going above and beyond the call of duty "to deal with issues of abuse in our region," Dartmouth-Hitchcock said.
The speakers included Dr. Sharon Cooper, a faculty member at University of North Carolina Chapel Hill School of Medicine and a member of the U.S. Attorney General's National Task Force on Children Exposed to Violence.
Preventing children from experiencing "probably the most under-reported and most severe forms of child abuse" would "diminish the cost to our society for medical care," said Cooper, who is also a consultant to the National Center for Missing and Exploited Children.
Adverse childhood experiences, such as child abuse, child neglect or the death of a parent influence the likelihood of the 10 most common serious health conditions in the United States — smoking, severe obesity, physical inactivity, depression, suicide attempts, alcoholism, illicit drug use, injected drug use, having multiple sexual partners, or a history of sexually transmitted diseases, Dartmouth-Hitchcock said.
The conference also featured presentations on runaway and homeless youth, adolescents and the Internet, promoting resilience in transgender youth, and using evidence of PTSD to prove child sexual abuse.
Dartmouth-Hitchcock Named In National Workforce Initiative
Lebanon — Dartmouth-Hitchcock was among the organizations cited by the White House and U.S. Department of Labor for their commitment to helping workers advance in their careers. The health care system's program was selected for recruiting and training dozens of apprentices in health care positions during the past year.
"Over 100 leading employers, who employ more than five million workers, are making concrete commitments to empower front-line workers across their businesses, in partnership with 30 national labor unions, and accelerated by new innovative data and tools," the White House said in a statement.
The announcement was made Friday during the Upskill Summit, part of President Obama's new Upskill Initiative, which calls on businesses to help workers of all ages "earn a shot at better, higher-paying jobs, even if they do not have a higher education."
D-H created the Workforce Readiness Institute last year to deliver apprenticeship programs that provide workers with the knowledge and skills they need to enter into health care careers. The 10-week training programs for medical assistants, pharmacy technicians, medical coders and registration representatives have graduated more than 50 apprentices, who have achieved high certification rates, almost doubling national averages, Dartmouth-Hitchcock said in a recent news release. After completing the course and certification program, participants are placed into a one-year paid apprenticeship in clinical or pharmacy practices.
APD Names Revenue Cycle VP
Lebanon — Melanie Cook has been appointed associate vice president of revenue cycle at Alice Peck Day Memorial Hospital.
Cook joined the hospital in 2010 as a revenue cycle analyst. Prior to that, she had worked for many years in revenue cycle positions at Dartmouth-Hitchcock Medical Center, APD said in a recent news release.
In the summer of 2014, Cook was appointed interim director of revenue cycle at APD, and she became director a few months later.
Cook has held a leadership role in revenue cycle at APD for just under a year and has done outstanding work, said Evalie Crosby, APD's CFO and vice president of finance. "Senior leadership has recognized the critical nature of this position relative to carrying out our strategic initiatives, providing accurate and clear guidance and support to providers and clinical leadership, and helping advise all areas of the organization with respect to the federal and state rules and regulations."
Cook holds a bachelor's degree in education from Elmira College. She is a member of the American Academy of Professional Coders.
Nonprofit Leader to Speak At Annual Women's Luncheon
New London — The annual Women Who Make A Difference Luncheon on May 13 at Colby-Sawyer College will feature Carolyn Meub, executive director of the Pure Water for the World Inc.
Sponsored by Lake Sunapee Region VNA & Hospice, the event honors the "extraordinary service of area women" and raises money for the VNA and hospice's pediatric program. It starts at 11:30 a.m. Tickets are $40.
In 2012, Meub was recognized by the White House as one of ten Rotary Champions of Change for her work with Pure Water for the World, which was started by the Brattleboro, Vt., Rotary Club in 1999. Under her leadership, the nonprofit has grown from a Rotary Club project into an effective non governmental organization working in Haiti and in Central American countries, the VNA and hospice said in a news release.
Meub has worked in public relations, with projects in the fields of organizational management, special events planning, political campaigns and fundraising. A member of the Rutland South Rotary Club, she has held a number of leadership roles in the Rotary district. In 2012, she spoke at Rotary Day at the United Nations on the topic of water and peace.
For more information, contact Cathy Raymond at 603-526-4077 or craymond@lakesunapeevna.org.
New Staff Join HCRS
Springfield, Vt. — Several new employees recently joined the Springfield, Vt.-based Health Care and Rehabilitation Services.
Those joining the home office include April Francks, Jennifer Robinson and Jenelle Stromberg, community outreach specialists; Barbara Ball, Megan Murphy and Michael Richardson, case managers; Anne-Sophie Geha, residential specialist; Zachary Scott, children's clinician; Alison Phillips, accountant; and Jill King, registered nurse.
Jacqulyn Wesley, a behavioral interventionist, and Stephanie Chesnut, a children's clinician, have joined HCRS' Hartford office, and Lynette Griffin, a community outreach specialist, has joined the agency's Windsor office.
— Compiled by Aimee Caruso