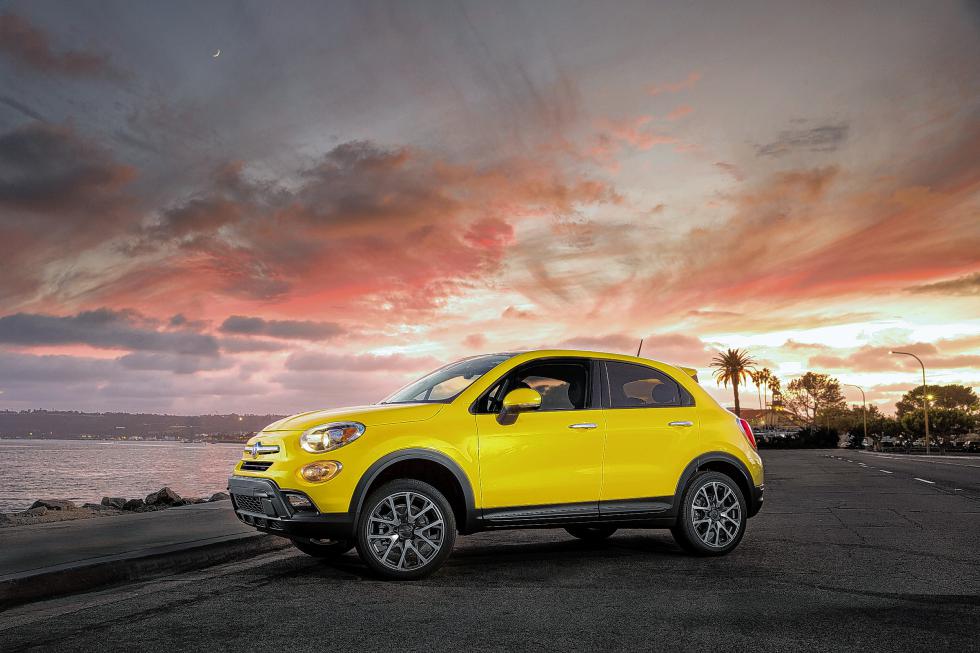 It's been four years since Fiat re-entered the U.S. market. Yet despite new showrooms and provocative advertising campaigns, Fiat's brand awareness seems as small as the diminutive 500 it sells, which is nicknamed "Topolino," or little mouse, in Italy.
Despite the slightly larger 500L crossover, Fiat's 2014 sales in the United States totaled but 46,121 vehicles, trailing such laggards as Mitsubishi and Volkswagen. Fiat knows that in America, size matters. In fact, size was the No. 1 reason buyers looked at, but ultimately didn't buy, a Fiat 500 or 500L, according to Matt Davis, head of product planning for Fiat North America.
While Fiat officials admit the brand has done little but market variants of one piece of sheet metal, the 500X "is the game-changer for the brand," according to Jason Stoicevich, the brand's head honcho.
And indeed it will be, and with good reason: This is the first modern Fiat vehicle designed with the American market in mind. Previous vehicles already existed or were in development when Fiat returned to North America.
So unlike the 500L, whose unfortunate proportions resemble that of a clown car, the 500X looks trim and athletic, despite being close to its sibling in size. Yes, the 500X is about one inch longer than the 500L, but it looks larger and leaner. That said, the 500X's styling and packaging yields 2.5 cubic feet of space to the frumpier 500L.
But where the 500L looks like a 500 with a glandular condition, the 500X sports a cosmopolitan, yet sporty sophistication. Nevertheless, the 500X still wears all of the hallmarks of the 500 line: the rounded double headlights, protruding trapezoidal grille accented with the brand's iconic whiskers, a trapezoidal roof, chrome door handles and chrome-trimmed tail lights. It works wonderfully; the 500X still stands apart, yet still possesses mainstream appeal, looking as if it has been working out in the gym.
And it performs that ways as well.
The 2016 Fiat 500X is available in five trim levels: Pop, Easy, Lounge, and the more athletic Trekking and Trekking Plus, which are distinguished by unique front and rear fascias.
All models except for the base Pop get Fiat Chrysler's single-overhead-cam 2.4-liter four-cylinder engine rated at 180 horsepower and 175 pound-feet of torque. It's matched to a nine-speed automatic transmission used elsewhere in Fiat Chrysler showrooms. Front-wheel drive is standard; all-wheel drive is available on all models except the base Pop model.
If you prefer to row through the gears yourself, you'll want to pop for the Pop, which gets a slightly less powerful single-overhead-cam 1.4-liter turbocharged four-cylinder engine mated with a six-speed manual transmission. Power output is rated at 160 horsepower and 184 pound-feet of torque, although the 2.4-liter engine and automatic transmission is optional.
On all-wheel-drive models, the 500X employs a disconnecting rear axle. This may sound scary, but it's not. By running in front-wheel drive until more is needed, this feature reduces parasitic power loss when all-wheel-drive capability is not needed, which improves fuel economy.
But Fiat also paid attention to driving fun by equipping the 500X with what it calls a Dynamic Selector system. Drivers can adjust it to one of three modes: Auto, Sport and Traction Plus.
The first mode, Auto, is the compromise, one that balances comfort, performance and fuel economy. Sport is just what its name suggests. It changes this vehicle's persona for a quicker, harder-edged driving experience. The steering feel changes, while the electronic stability control and all-wheel drive optimizes the transmission for more aggressive driving. Finally, Traction Plus maximizes traction for lousy driving conditions.
That said, there are features that will be offered overseas that will not be available here, including diesel engines and a dual-clutch automatic transmission because, Fiat's Davis says, the have not been welcomed on Fiat's other U.S. models.
But few drivers will miss them.
Driving a pre-production Trekking Plus model around the hilly environs of Malibu revealed the 500X to be a dynamic performer, striking a good balance between ride comfort and athleticism. Body lean is kept in check and crumbing arteries are dispatched with aplomb.
Tackling the curves of Mulholland Drive, it was a bit too easy to get overenthusiastic when tackling the twisties, despite its 7.9 inches of ground clearance. Steering and throttle response is good enough in Auto mode. Switching the Dynamic Selector to Sport mode makes the 500X noticeably peppier, but the steering feels artificially heavy.
The Trekking Plus test model's 2.4-liter engine proves to be more than up to the task of furnishing the requisite power to indulge your inner Andretti, and the nine-speed gearbox is the best rendition yet installed in a Fiat Chrysler product.
But perhaps what is most surprising of all is the 500X's unexpectedly serene interior; it's quieter than a library on a Saturday night. This enhanced the cabin's ambience. Looking around, it's easy to appreciate the nicely textured plastics, cushy, soft touch surfaces on the doors and center console, hip leather trim and modern design aesthetic. While its look is not as outrageously cartoony as a Mini Countryman, it's far from the cold stoicism of a Volkswagen Tiguan.
Throw in the usual array of safety features (anti-lock brakes, traction control, forward collision warning, lane departure warning, blind-spot monitor, rear cross path detection, rear backup camera, electronic stability control, electronic roll mitigation and seven standard air bags) and a few of the unexpected options (like a heated steering wheel and panoramic sunroof), and you have a vehicle that will become the automotive fashion accessory of the season.
And while Fiats have proven popular in California, where the brand sells more than 25 percent of its products, the new 2016 500X should show the rest of the country what those on the West Coast already know.