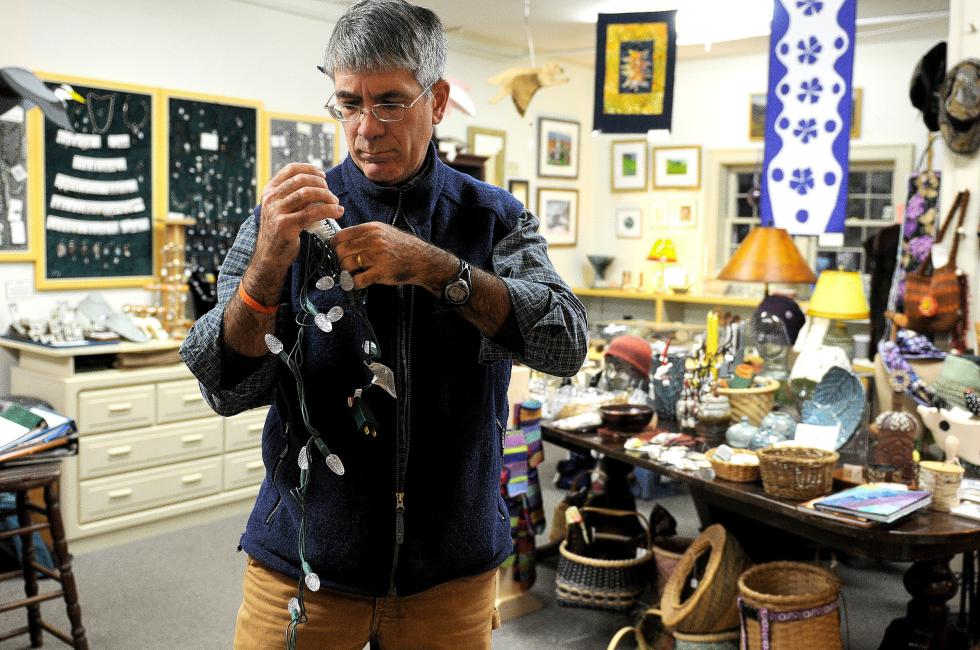 When I was asked to write a piece on "the creative economy" here in the Upper Valley, I thought of how people living and working locally can sell their goods and services locally as a way to invigorate our local economic engine. Upon further reflection, it became apparent to me that the notion of a creative economy should be, almost by definition, a way to create a new economy, or economies, by being creative with the local talents and local goods at hand.
What does it mean to create an economy close to home? Is it barter between the producers of goods and services? Is it developing a strong infrastructure within the Upper Valley for local producers to sell their goods? Is it some kind of self-sustaining and mutually beneficial way to buy and sell goods and services where all parties benefit in a win-win transaction? Might it be complementing an existing business with products or services developed locally to help that business thrive?
If we follow this notion that a creative economy is, in fact, creating a new economic engine within a particular region to help people and business ventures survive and grow, then it makes sense to answer all the above questions with a resounding "yes."
Yet, I'm still troubled by the fact that most people think a "creative economy" is some kind of lesser economy, an economy that somehow falls below the radar of the regular economy where goods and services are bought and sold each day like stocks on the world's leading exchanges. To consider a "creative economy" as merely some sub-culture of food producers, artists, craftspeople or small-business owners is to miss the point. When tens or hundreds of thousands of people make a choice to purchase something, or to move in unison in some way, or to voice an opinion all at once, it's guaranteed to make a difference.
Let's take socks (not stocks) made offshore that happen to be a few dollars less expensive than the same foot apparel made on a loom in, shall we say, Norwich, by Jennifer Kortfelt of Heron Pond Designs. We have the choice to buy from the offshore producer, or to find Jennifer and her socks so she can benefit from our collective buying decision. Jennifer is then able to buy locally produced goods with her profits and, with hope, is more able to pay her property taxes to keep living here in the Upper Valley. Her friends and neighbors appreciate her, and she adds to the fabric of their, and our, lives in ways as concrete as the footwear on our feet as well as in ways less obvious, like offering her volunteer time to help sell other people's goods at a local store.
Thus, to imagine supply and demand as the only driving forces behind an economy like ours in the Upper Valley is less than an ideal model if we want to truly create new economies close to home.
It's so easy to find a pair of socks at a bargain price. We'll never know who made them, or how they got shipped into our area, or even how the person (or machine) who made them will benefit. It's an "out of sight, out of mind" way to shop for the goods we need. The same holds true for many services. We log onto the Internet and stream the latest flick even as our local library is showing a great film to help bring people together as a community. Closer is better, even if simply because we might get to know someone, a teacher, perhaps, who might help our children solve math problems after school, or teach them to ice skate on an outdoor pond someday. The positive possibilities are endless, so long as we act in unison to support those who live closest to us.
It's not easy for individual players in this great economic game. We may find ourselves on top one day, having gotten a great deal from the big box Internet store, only to find ourselves soon wishing we'd never paid the additional fee for next-day shipping after the item falls apart or the colors fade and there's no way to return it without paying an astronomical re stocking fee.
We become believers that buying and selling online, or queuing up on Black Friday, makes us better shoppers, more agile in our efforts to save money and time, and, somehow, more productive and part of the national and international culture of bargain seekers.
'The Power of the Powerless'
So, what's the solution?
The answer is, "We are!"
We may feel powerless to change the way the existing economy works, the way sellers sell and the way consumers buy, but, collectively, through our conscious choices about how we buy, what we buy and from whom we buy, we have far more power and leverage to create a new economy that will benefit us, our families, friends, neighbors and all those in this beautiful Upper Valley region of Vermont and New Hampshire.
"The power of the powerless," a term coined many years ago by poet, playwright and political activist Vaclav Havel of the Czech Republic, is as relevant today as it was back in the 1970s, '80s and '90s in his country, then under communist rule.
For Havel, it meant urging his countrymen to oppose and topple a totalitarian regime without bloodshed. Today, in the Upper Valley, it means purchasing and selling items and services produced locally by those who live closest to us.
Let's take, for example, a local artist and stained-glass maker, Greg Gorman, of Lyme. If Greg has to leave the area to sell his work in, shall we say, New York, Philadelphia, Chicago, San Francisco, London or Tokyo (yes, he's that good), then he can't be here to volunteer at the local school, or shovel out a neighbor in need during a snowy winter.
If, however, Greg could sell more of his work locally, then we'd have his skills and talents to enjoy right here close to home.
What could be better: Greg becomes acclaimed here, in the area he loves, by people who know him, while we benefit by enjoying his art and giving him more opportunities to help our local community.
Without our patronage of this local artist, we'd never get to the win-win scenario that would create a whole new economy for Greg and us, too. With our patronage, we'll pay ourselves in ways we could never imagine.
It pays to shop locally, even if it means paying a bit more.
When my local firewood producer turns up in early December with three cords of wood for me, he can then use the money I pay him to shop locally, for locally produced products. He can do this only if all of us, together, make the conscious choice to support people who live locally and who are able to offer items to us at reasonable prices.
Their prices will become more reasonable as more and more of us buy from them. Over time, this makes our local sources for everything from glassware to pottery, firewood to beer, hats and mittens to books and burgers become the preferred sources based on price as well as quality.
Once we all choose this kind of purchasing path, then the economically powerless will become suitably empowered and able to create a new and thriving economy right here in the Upper Valley. Large institutions and corporations, take note: This means your business decisions and strategic planning goals should include buying locally sourced and produced items from the Upper Valley.
Need a new desk? Find a local craftsperson to build it from locally sourced wood.
Need to feed a cafeteria full of hungry students or employees? Opt for locally grown food sources, delivered by local merchants.
My Local Farmer
A wonderful example of a new economy is our local farmers markets that now seem to be popping up in many towns in the area.
Locally produced food is better for us because it's fresher and tastier than the foodstuffs that may have traveled for days, even weeks, to make their way to our tables. And, as you may have guessed, it's also better for us because it supports local farmers and all those in the local food supply chain.
When a farmer can invest time in the local community by helping friends and neighbors in need, it becomes an incoming tide upon which all boats rise.
My local farmer, Amy Record of Recordridge Farm in Lyme, has provided me with everything from eggs and venison to lumber and stovepipe over the years, not to mention a local beer that we drank while taking a wood-fired sauna built from locally harvested wood Amy milled up for me on her farm. When Amy's happy, the town seems to thrive. I certainly did, and it never ceased to amaze me what a good farmer can do to make life in a small town more pleasant.
Let's return to the start of this piece and its assertion that the "creative economy" should be looked at as a way to create a new economy.
This essay is a call to arms, and an invitation to act. But it's just a start, a small foothold, perhaps, on the steep and difficult path up the mountain of creating change here at home.
But change we must. Climbing the mountain is easy when we have others to show us the way. And it becomes easier still once those who preceded us begin lowering ropes to help us ascend.
Let's all pull together on this issue and go out and find a local source for those items we use most. It could be soap, or it could be soup. Clothing or food. Socks or the artwork with which we decorate our homes. Jewelry or Jujubes. You get the idea. Not only will it feel good to know we're keeping a local neighbor in business, but we'll be part of a collective movement here in the Upper Valley that may well ring louder than we ever imagined.
After all, word does travel fast in these days of social media. Now, who are our closest friends? Let's reward them, and enjoy creating an economy here in the Upper Valley in which we can take great pride, having developed it all on our own.
Powerless? Not us. We're living here because we love this region. Now, let's make it thrive together.