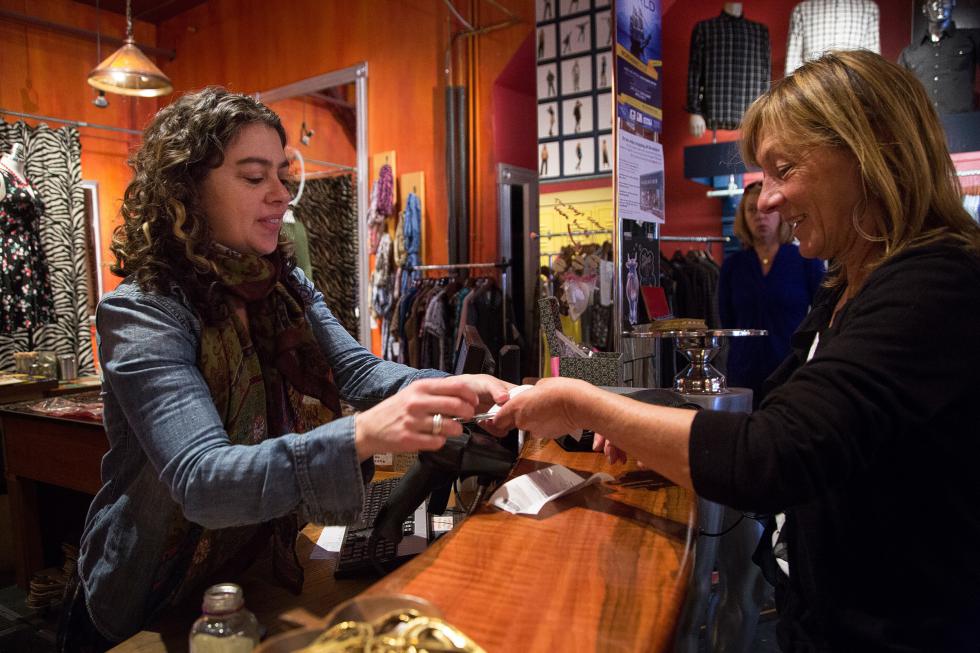 Several of the independent designers who sell their creations at Revolution, the North Main Street retail shop owned and managed by Kim Souza, or who participated in last month's fashion show at the Main Street Museum, said they face many of the same challenges as any other business, including planning, time management and marketing.
"Reflecting often on your business and goals is really important," said Eve Winslow, of Woodstock, who designs and sells clothing and accessories under the label Thimble and Acorn. However, it's a challenge to grow her one-woman business while focusing on the immediate needs of the operation and her customers. "It is very time consuming trying to move the direction of your business while trying to keep your current customers happy and making a living."
She also said she tries new challenges and explores new ways of creating. "I just have to keep doing little things to make sure I don't burn out or feel too much like a factory," she said.
Rene Gerrior, who sells clothing under the label ReneFrancesG, said designers need to keep improving their business skills. "I have learned to keep track of everything I spend," she said.
Nancy Heyl, who has worked at Revolution for more than six years, said it can be hard to get the word out about locally made clothing. "I love it when someone, especially a teenager, would pick up something from the local side of Revolution and not realize it's not a mass-produced piece of clothing," she said.
Souza said patience and managing expectations are key for those starting a new business in the creative economy. Expecting a profit during the first few years "is just naive," she said. "Enthusiasm is critical, but it isn't enough. You need finances also."
Having a vibrant village helps, too.
"Embrace and appreciate the genuine sense of community that is here," she said, because each business has the potential to boost others. When Upper Valley Yoga opened on North Main Street, for example, people who attended classes there would come to Souza's shop. "They may not have set foot in White River Junction in months otherwise," she said.
And when the Tuckerbox restaurant began staying open for dinner, even that small change had an impact. "The critical mass just kind of feeds on itself," she said.