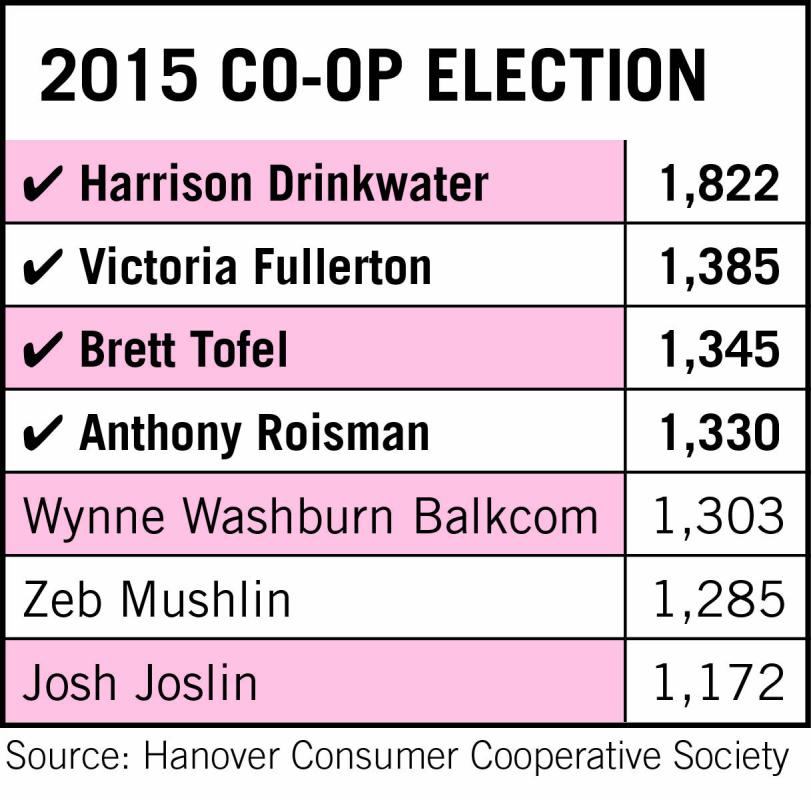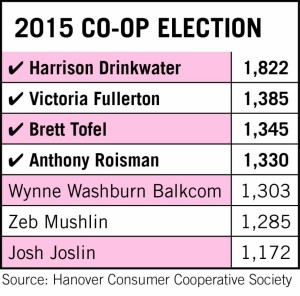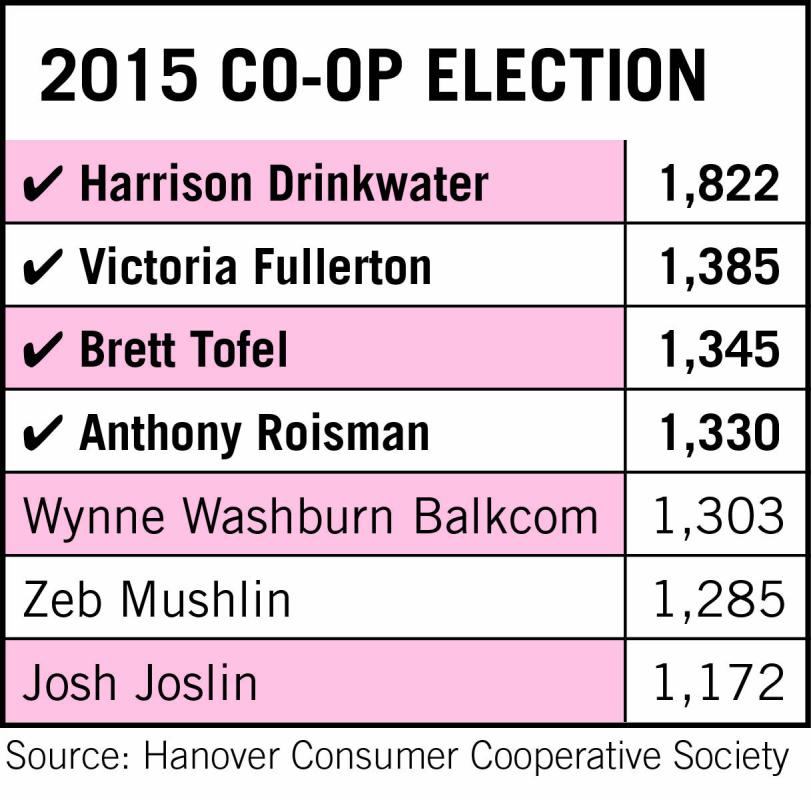 Hanover — A quartet of new members of the Hanover Consumer Cooperative Society's board of directors discussed their plans for office following the publication of election results Monday night . They hoped to address employee treatment policies, affirm the organization's commitment to a cooperative model of business and better engage with members.
Voting began March 28 and ended April 26. The Co-op announced the results Monday night on its website, congratulating winners Harrison Drinkwater, Victoria Fullerton, Brett Tofel and Anthony Roisman.
All of the directors-elect had received the endorsement of Concerned About the Co-op, an organization that formed last summer amid protests over the firings of two employees at the Lebanon store.
Drinkwater, who is not formally affiliated with the group, was the top vote-getter, with nearly 440 more votes than the next winning candidate.
"As for the vote margin, I'm very flattered to be asked to run, let alone get elected," Drinkwater wrote in an email Tuesday. "I made a lot of friends when I worked at the Co-op a million years ago. I hope I earned their vote. Also, Drinkwater is an easy name to remember."
On Tuesday, the Co-op posted on its website that voters had cast 1,481 votes online and 1,127 by paper ballot, for a total of 2,608 valid ballots. There were 224 invalid paper ballots.
Fullerton, Tofel and Roisman were the next top vote-getters, with 1,385, 1,345 and 1,330, respectively. Incumbent board member Wynne Washburn Balkcom was 27 votes behind Roisman with 1,303, and Zeb Mushlin and Josh Joslin trailed at 1,285 and 1,172, respectively.
Board President Margaret Drye said that, despite the close margins and the number of discounted ballots, no one had asked for a recount as of Tuesday afternoon.
The turnout, she said, "was great. It was above last year's. Last year's maybe had 1,500 ballots cast. My thought is it's already a good thing when elections are not decided by a very small minority of eligible voters."
Drye said the board election typically saw between 1,000 and 1,300 votes throughout the 1990s, a figure that dipped slightly during the early 2000s but has been building steadily since then.
The total number of Co-op members eligible to vote in board elections is difficult to estimate, but Drye has said the business has more than 21,000 active members.
"We are so happy," Concerned About the Co-op member Nora Jacobson said of the election results. "I can't tell you how happy we are. It sort of restores my faith in the power of action, in the power of activism."
Regarding the success of all four of Concerned About the Co-op's endorsements, Drye said, "I think the message it sends (is), if you have something that you firmly believe in and you go out and work hard, you can turn out voters. I think that the margin doesn't give a mandate to anything, and we're going to work with whomever gets elected to do the business of the board, and they also need to work with the existing board. We're going to need to work together cooperatively."
Drye later added, "It's not just votes that turn out, it's that if you work hard on your cause, you'll gain support."
In a telephone interview Tuesday, Tofel said he was pleased with the efforts of the many organizers and voters that landed him in office, and added that he hoped to make more information about the Co-op available to the public, including transcripts of board meetings, Co-op management's salaries and the documents the board receives in its meeting packets.
"I'd just like there to be a lot less of a closed system," he said.
On the reason she ran for office, Fullerton referenced the unexplained terminations of wine and cheese workers Dan King and John Boutin, whose dismissal sparked widespread protest last summer and is now the subject of a lawsuit filed by the two former employees alleging wrongful termination, among other complaints.
"I'm here because it's never been clear that the firings of Mr. King and Mr. Boutin were really sanctioned under the Co-op's principles," Fullerton said.
In January, the board of directors adopted changes to its "Treatment of Staff" policy, calling for "a thorough training program for all management/supervisory personnel concerning the effective handling of performance and discipline issues" and "a progressive corrective disciplinary system."
The disciplinary system, which allows employees a chance to correct their behavior, requires that employees receive a reason for their discipline or dismissal while giving the general manager final say over those actions.
Despite the policy changes, "I still think we need to treat employees better," Tofel said. "The past board made some moves in that direction, but I don't think that employees really have a good way to appeal how they're treated to somebody outside their direct supervisor, and I'm not sure that there's a good system in place for addressing employee grievances."
Besides monitoring the new treatment of staff policy and hewing to the cooperative model of business, Drinkwater said that he hoped "to join with the current board to explore ways to increase member involvement. The folks who have organized as Concerned About the Co-op have advanced ideas that the board should study, debate and adopt when appropriate. That truly is member engagement."
In a statement he provided via email Tuesday, Roisman said, "This Co-op election has served to revitalize the members of the Co-op, as shown by the substantial voter turnout. As a new board member, it will be a primary goal of mine to make sure that this member interest is encouraged, that the Co-op effectively seeks input from its members and that members will have a greater role in helping the Co-op achieve and maintain its goals."
The first meeting of the new board is scheduled for 5:30 p.m. May 27 at the Black Community Center in Hanover.
Rob Wolfe can be reached at rwolfe@vnews.com or 603-727-3242.