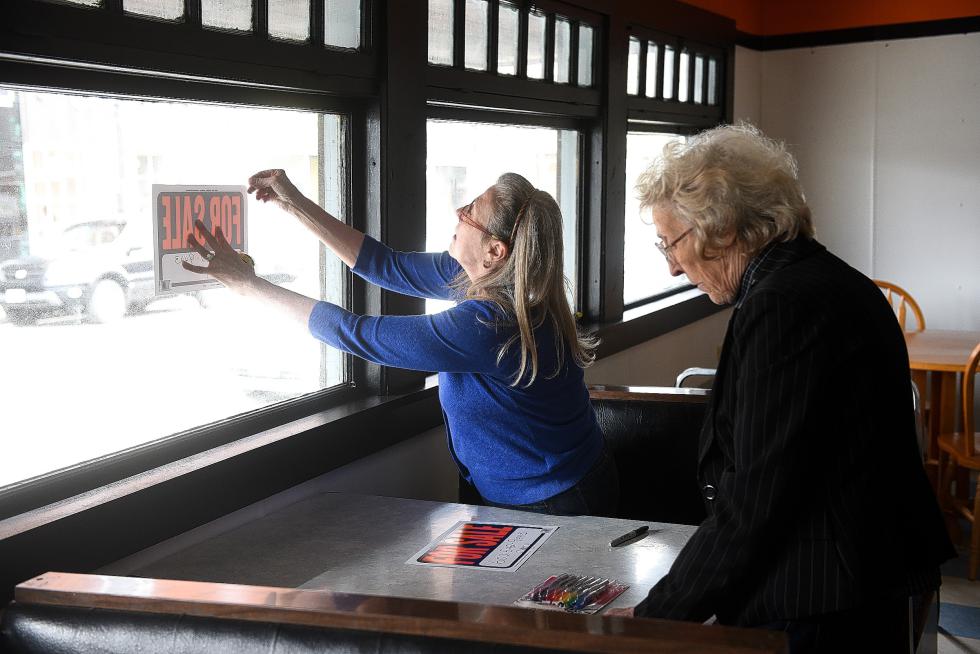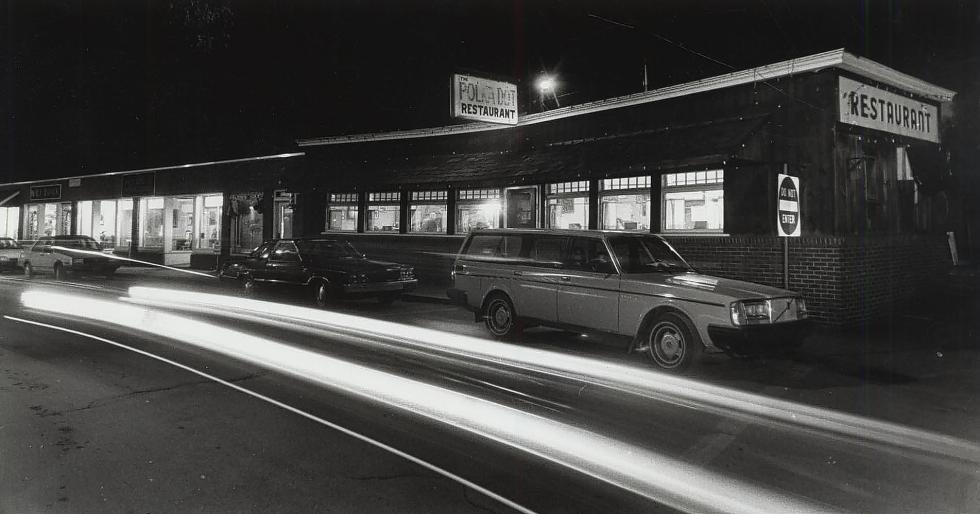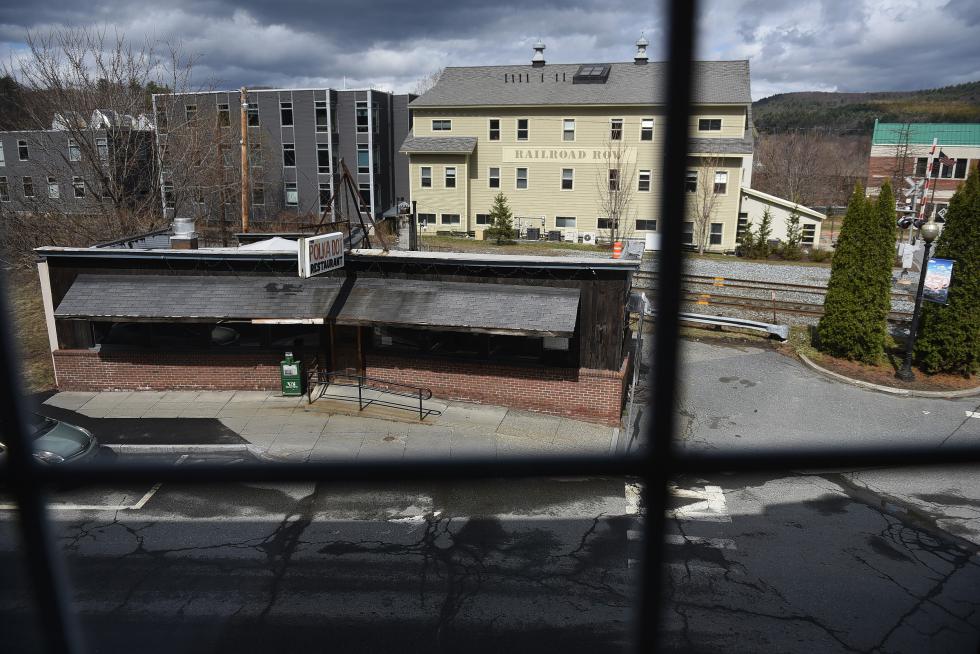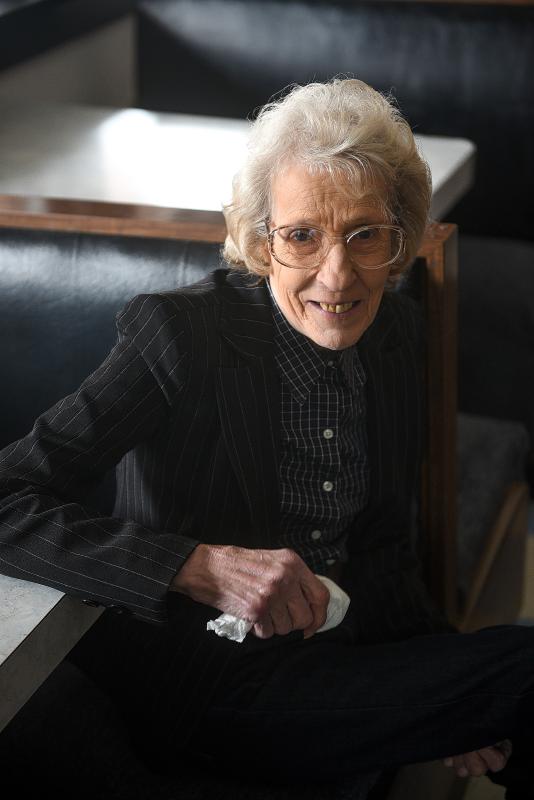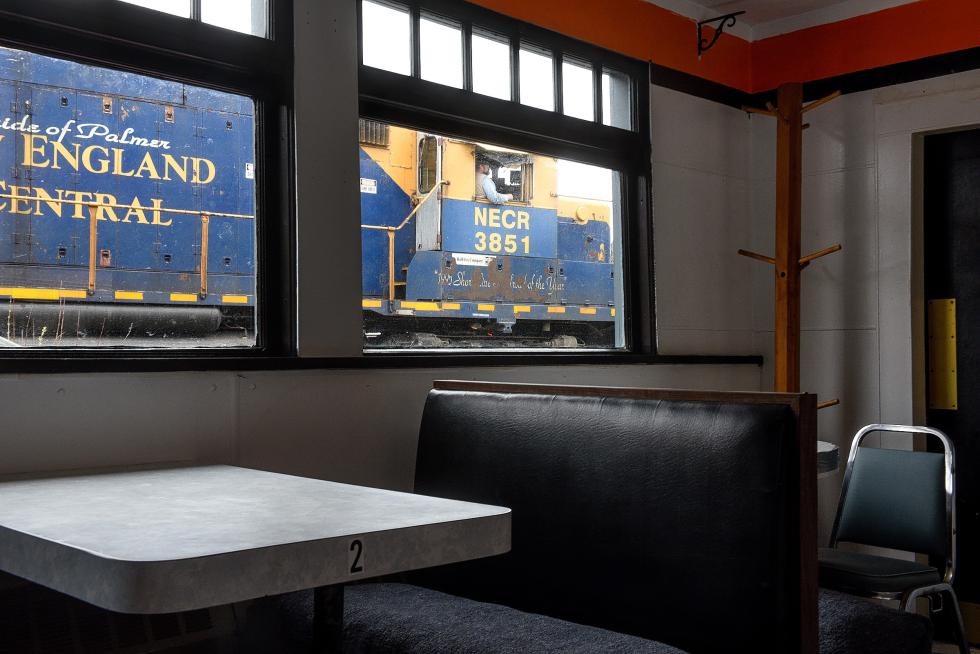 White River Junction — For sale: Small, cozy restaurant building in heart of White River Junction, fully equipped. Loyal clientele. In need of facelift, but great potential. Asking $130,000. See owner.
Sound ideal? For the person who has always dreamed about owning a small eatery or cafe — only 1,088 square feet, kitchen included — purchase of the Polka Dot Restaurant at 7 N. Main St. could be just the ticket. The new owner likely would not only be embraced by fellow White River Junction businesses, residents and tourists, but also would acquire a piece of vintage local history — the story about the horse in the Polka Dot comes later — in the bargain.
Mary Shatney, who went to work at the Polka Dot more than five decades ago and then bought the business and building with her late husband, Buddy, in the early 1980s, retired and closed the business last fall. She is again listing the building for sale — it's not the first time Shatney has sought a buyer — in hopes it will catch the fancy of someone interested in reopening the restaurant.
" The right person could turn it into something different and still keep the essential charm," said Sherry Greene, Shatney's daughter who, with her husband, Joe Greene, operates Greene's Oil and Propane in White River Junction. "If I was younger, I'd probably try to do it."
Despite the relatively modest asking price and key location, selling the Polka Dot building could be difficult. That's because the land underneath the building — all .05 acre of it — is owned by CV Properties, a subsidiary of Canadian National Railway. When CNR sold the former Central Vermont Railway in 1995 to what became New England Central Railroad, the Polka Dot's lease was assigned to New England Central. Then, in 2012, New England Central was acquired by Darien, Conn.-based railroad giant Genesee & Wyoming.
Yet the land underneath the restaurant and nearby tracks is still owned by CNR, according to New England Central, even though the company no longer has any railroad operations in White River Junction.
Without the security of controlling the underlying property, a bank might be wary of loaning money to a buyer and the building's owner could be in perpetual fear of losing the lease, local developers say.
"It's a conundrum for anybody buying the business," said Byron Hathorn, a White River Junction developer who bought and restored the train station in White River Junction. "The railroad could go in and say, 'You have 30 days to vacate,' " leaving the building's owner in an untenable situation.
In addition, the new owner of the Polka Dot likely would have to invest substantially to bring the building into compliance with code requirements and "no bank will finance improvements on the building without control of the land," Hathorn said.
Both Mary Shatney and Sherry Greene contend the land issue is overblown and say "the railroad company" — they have dealt only with New England Central — has been good to deal with, and has charged only a nominal fee for the lease.
Patrick Waldron, a spokesman for Canadian National Railway, said the company is not interested in relinquishing ownership of the land beneath the Polka Dot. "The property is within an active rail corridor. … It's not for sale," he said.
Classic Diner Fare
New restaurants often seem to be either a new twist on trendy cuisine or cookie-cutter franchises, but the Polka Dot was stubbornly old-school.
The menu featured such homestyle specialties as the grilled "Western" sandwich (ground ham mixed with bread crumbs and chopped onions), the "Eastern" (like the "Western," but hold the onion), the "Boburger" (named for a Dartmouth College student's special-order cheeseburger topped with a fried egg and onion), the liver, bacon and onion platter and, of course, the renowned fried honeycomb tripe.
Tripe, for the gastronomically uninitiated, is the rubbery lining of a cow's stomach.
"Tripe was the No. 1 seller," Greene said. "It was (my father's) favorite. He grew up on a farm, and people who grow up on farms don't waste anything and although it looks disgusting, they just love it." Greene said customers would drive from more than an hour away for the tripe, so hard was it to find a place that still served the vinegar-pickled dish.
David Briggs, owner of the Gates Briggs Building and the Hotel Coolidge in White River Junction, calls the closing of the Polka Dot "the end of an era" in the village's downtown, which used to brim with restaurants, bars and all-night diners serving the passengers and train crews of the railroads and work shifts at the former Tip Top Bakery and onetime sawmill.
Briggs, who said he ate at the Polka Dot "how many hundreds of times," reeled off the names of eateries that once crowded White River Junction's North Main Street and South Main Street: Dick's Diner, The Junction Restaurant, Teddy's Bar & Grill, Norman's Spa (a malt shop), Cafe del Roma, The Marconi Club, The Mayfair Restaurant, 494 Steakhouse (later The Red Shutters), not to mention the lunch counters at the local drug stores and a snack shop in the station house.
"With 150 workers pouring out of the bakery, the Polka Dot was only one of three (all-night eateries) chugging along very successfully," he said.
In its railroad heyday, when the Connecticut River Valley was dotted with manufacturing and textile plans churning out everything from rubber soles to machine tools, as many as 50 passenger cars a day would shuttle through White River Junction, disgorging hungry and thirsty laborers, businessmen and Dartmouth students at all times of the day and night.
"It's often said that it was as busy downtown at 3 in the morning as at 3 in the afternoon," said Ken Parker, owner of the White River Junction insurance broker Parker Agency and a former member of the Hartford Selectboard. Parker, who grew up on South Main Street in an apartment above The Junction Restaurant owned by his parents, said their place, too, was on leased land owned by the railroad.
"The railroad has always had some stranglehold on some development in the downtown area," he said.
A Lively Town
The Polka Dot's building dates to 1925, according to a 2002 application with the National Register of Historic Places to expand the boundary of the White River Junction Historic District.
Opened by George Adams, who owned Adams House, the former adjacent hotel, the diner was at first called Quick Cafe and then changed to Walt's Diner in the 1940s before it was bought by Pauline "Polly" Stebbins and her husband, Hubert "Hubie" Stebbins. They renamed it The Polka Dot in the 1960s after a restaurant of the same name run by Polly's sister in Massachusetts, Shatney said.
With factory workers coming off and on shifts at all hours, locomotive crews bunking overnight at the Hotel Coolidge, and Dartmouth College students continually arriving and departing, White River Junction was a lively train town where the unexpected was never far from reality.
This was perhaps best captured on a cold, frosty evening "in the late '50s or early '60s," recalled White River Junction resident Harry Hutchins. As he tells it, he was sitting in a booth at the Polka Dot with a friend, Bob, when another friend, Eddie, walks in "two shades and a half to the breeze." The men fell into joking and teasing each other when Bob made a $50 bet with Eddie daring him to bring a horse into the restaurant. Bob and Eddie shook on it, Hutchins said, and then Hutchins and Eddie left in Hutchins' pickup truck and drove to West Lebanon, where Eddie kept a race horse in a stable.
Hutchins said they coaxed the horse into the bed of the pickup truck and drove it back to White River Junction, where they parked.
"I tried to talk him out of it," Hutchins said.
But Eddie was undeterred and led the horse into the Polka Dot.
"I followed Eddie in. There was a short-order cook, a waitress and a customer inside. That lady, I forget her name, she let out the most deadly scream: 'Get that horse out of here!' " Hutchins, now 83, recalled, breaking into a chuckle.
Hutchins said Polly Stebbins wasn't amused and sued his friend, who had to pay $1,400 for damage allegedly done to the floor, "although I couldn't see where it done a bit of damage."
Worse, Hutchins said, his friend who made the wager never paid up.
100-Hour Weeks
It was Polly Stebbins, in fact, Shatney said, who persuaded her to come north to White River Junction in 1960 and work at the Polka Dot when Shatney was juggling shifts at the Windsor Diner and Nap's Lunch, in addition to working on the factory floor at Goodyear Tire & Rubber in Windsor.
By the time Mary Shatney, one of 11 children of a Meriden carpenter, went to work at the Polka Dot, she was divorced and had two daughters, ages 6 and 5, in tow. (She later was married to Robert "Buddy" Shatney and they would have a son, Robbie.)
Shatney said she was working more than 100 hours a week, but realized she was pushing things too far. "I fell asleep down on the job at Goodyear," she said. "It was very dangerous."
Nonetheless, as a single mother with two little girls, "I had to do what I had to do," she said.
In 1983, after working as both a waitress and cook at the Polka Dot for more than 23 years, Mary and Buddy Shatney finally had the opportunity to buy the diner from Alvah "Stub" Aldrich, who only 13 months earlier had purchased it from the Stebbinses.
The diner was a family business: Mom Mary both ran the show and did everything, son Robbie worked behind the stove, and daughters Sherry and Rhonda took orders from customers and bused tables. There was a lot to do — and much to learn.
"She taught my sister and I the shortcuts of waitressing," Greene said, "like how to stack dishes up your arm and never coming back empty-handed because it saves a trip and was also a way to keep yourself aware of the customers."
Shatney's day would begin at 1 a.m., when she would rise from bed and drive from her home in Cornish Flat to be at the Polka Dot by 2 a.m. in order to be ready to open by 4 a.m. She would often be there for 12 hours a day or more, seven days a week.
The stories of working inside the shopworn diner — the floor gives the distinct impression it's a couple inches lower on one side of the room than the other — light up in the retelling by Shatney and Greene today: how train engineers would halt the train on the tracks a few steps from the back door to run into the kitchen to get lunch and their thermoses filled with coffee; how Vermont's U.S. Rep. Peter Welch, then a lawyer in the village, would double-park out front each morning and dash in for his coffee to go; how customers would pick up the coffee pot from the hot plate and refill other customers' cups; how Shatney would prepare and pack free Thanksgiving dinners for boarders at the old Vermonter hotel down the street; how she wouldn't charge a customer who truly couldn't afford a meal; how, despite her 80-something-pound frame, she would climb up on the Polka Dot's roof to pitch tar to seal leaks; how Shatney "cracked" a customer's head against the jukebox after he called another customer a disparaging name; how not once — never once — did the police ever have to handle an unruly customer.
"I never had to call the cops," Shatney said flatly. "I handled it."
Work Crews, Hours Shrink
For decades the diner had been open 24 hours a day, seven days a week, but as the factories around White River Junction waned, Shatney cut back the hours to two shifts. As the years progressed and the village's workforce thinned, she began closing the restaurant ever earlier — at first 10 p.m., then 8 p.m., then 6 p.m., then 4 p.m. and finally "toward the end of it, I took off Mondays," Shatney said.
Eventually, as Shatney's health became more of an issue, the Polka Dot was open only intermittently without a regular schedule. She grew tired of battling the town of Hartford over what she said was the police department's failure to prevent people from hogging village parking spaces all day while they were at work, thereby making it difficult for her customers, many of whom were elderly, to find a place to park.
People's eating habits changed, too. The artsier White River Junction village crowd is now more likely to seek out the chicken pesto sandwich or hummus dip and espresso shots served at the Turkish and Mediterranean-themed Tuckerbox Cafe across the street than the Polka Dot's chicken salad sandwich or onion rings.
Shatney "wasn't much open to doing anything different," said Mitch Bryant, owner of Streamline Artisan Upholstery on North Main Street. "In a way, it worked. (Her regular customers) liked their meatloaf and mashed potatoes, and you can't go to the Tuckerbox for that."
Bryant said he thinks, with some sprucing up of the building and a new creative menu, the Polka Dot could be reopened. He noted that Robbie Shatney, who has experience both as a cook and managing a restaurant, had shared with him some ideas for updating the menu.
Robbie Shatney started a Facebook page for the restaurant to promote the menu, flag specials and give fans a chance to post comments. But, for a time, he had some pointed postings about the Polka Dot in what struck some readers as a family squabble gone embarrassingly public. The posts were later taken down. In 2012, he pleaded guilty to reckless conduct charges in connection with a 2011 incident at his Cornish home that resulted in a two-year jail sentence. He eventually returned to working at the Polka Dot and pushed the diner into the Internet age by offering customers free Wi-Fi (password: polkadot).
Sherry Greene said her mother weighed leasing or selling the restaurant to Robbie, but ultimately decided against it because she believed he didn't have a viable business plan.
"He's a wonderful cook," said his mother proudly.
Robbie Shatney did not respond to a request for comment.
But despite its tiny space and signs of age, the Polka Dot could be a viable business under the right owner, believes Matt Bucy, a White River Junction developer who renovated the former Tip Top Bakery building into a media and arts complex and is currently developing the former American Legion Hall on South Main Street into studio apartments and office space on the ground floor.
"Oh, it's got huge appeal," Bucy said, while acknowledging it remained a "tough situation" because of the arrangement with the railroad company, which in his experience hasn't been very responsive whenever inquiries have been made about the remains of its White River Junction real estate holdings. He suggests Shatney could lease the building to someone who wanted to try their hand at it.
For many people, running a diner is grueling, low-pay work, a first step on the restaurant ladder to something fancier on the upside, or a dead-end job on the downside.
It was neither for Shatney. For her, the Polka Dot was a worthy career and one which gave her immense gratification and pride.
"I loved the customers," she said, explaining why she stayed at it for 54 years. "I spoiled them. … I miss it very bad."

John Lippman can be reached at 603-727-3219 or jlippman@vnews.com.