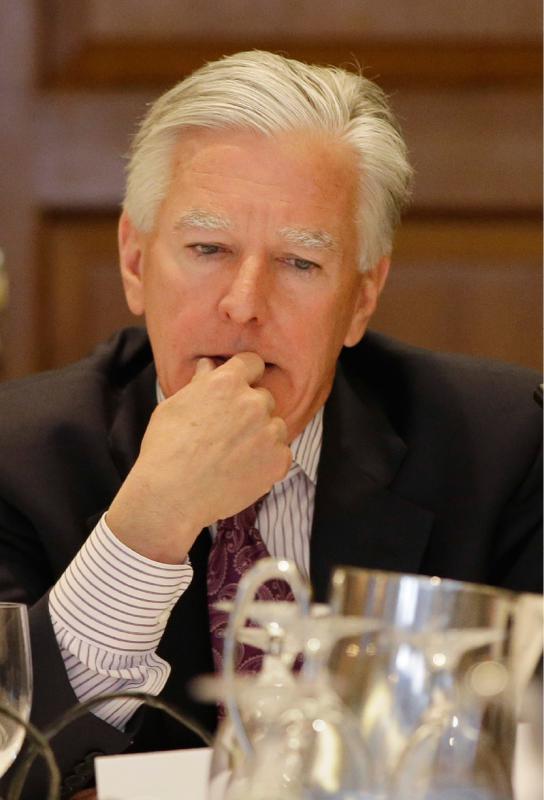 Boston — Marty Meehan, the former congressman and current chancellor of the University of Massachusetts-Lowell, was named president of the five-campus UMass system on Friday after selling his vision of turning the system into one of the nation's best and promising to raise more money than his predecessors.
"I want excellence in everything we do," Meehan said during a lengthy public interview with the board of trustees before his unanimous appointment.
Meehan listed a number of his priorities, including collaboration between UMass and other state universities and community colleges, cooperation with business and industry, and diversification of the student body, faculty and staff. He promised to listen to the concerns of faculty and students.
"We will seek to strengthen our position as a world-class public university system that is accessible, affordable and a catalyst for innovation and economic development in the Commonwealth," Meehan said after his appointment.
His vision was similar to that of the other finalist, Harvard Business School professor John Quelch.
But Meehan had better answers to trustees' questions, providing more concrete evidence through his achievements at UMass-Lowell, where he said he boosted the school's academic reputation, increased enrollment, raised research money and doubled the endowment.
He also noted that he had excellent working relationships with the chancellors at the system's other campuses. "I believe I have the proven ability and determination to lead UMass to greatness," he said.
Meehan succeeds Robert Caret, who is stepping down in June to become chancellor of the University of Maryland system.
Meehan served in the U.S. House of Representatives from 1993 to 2007, when he was named chancellor of the Lowell campus, his alma mater. He noted that he would be the system's first president with an undergraduate degree from a UMass campus. "His results-driven, visionary leadership has opened up new frontiers for UMass-Lowell, and we fully expect the same to happen for the entire university in the course of his presidency," trustees Chairman Victor Woolridge said.
UMass has nearly 73,000 students at campuses in Amherst, Boston, Dartmouth and Lowell and a medical school in Worcester.