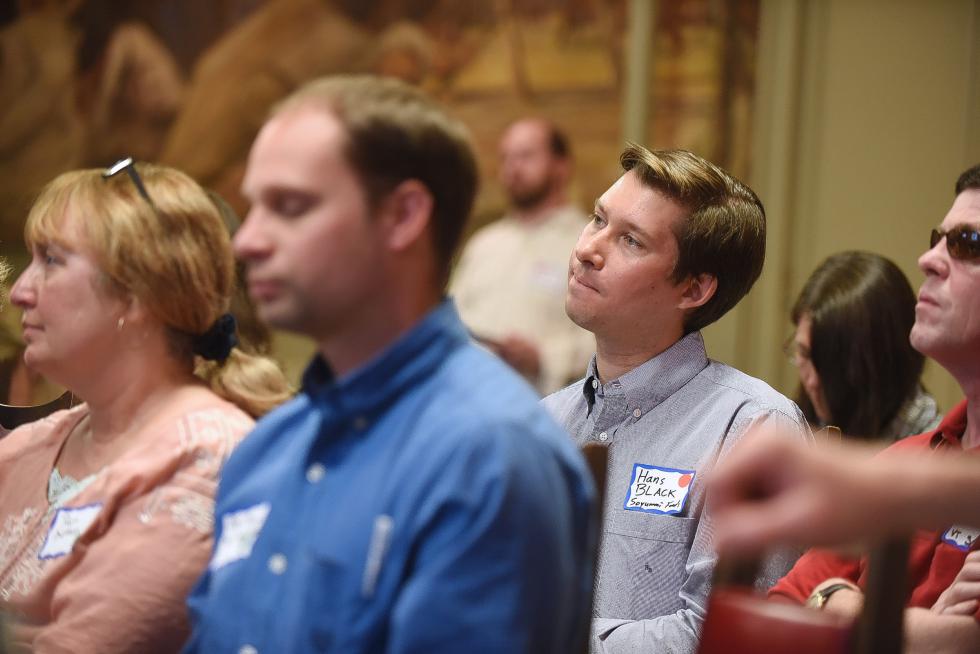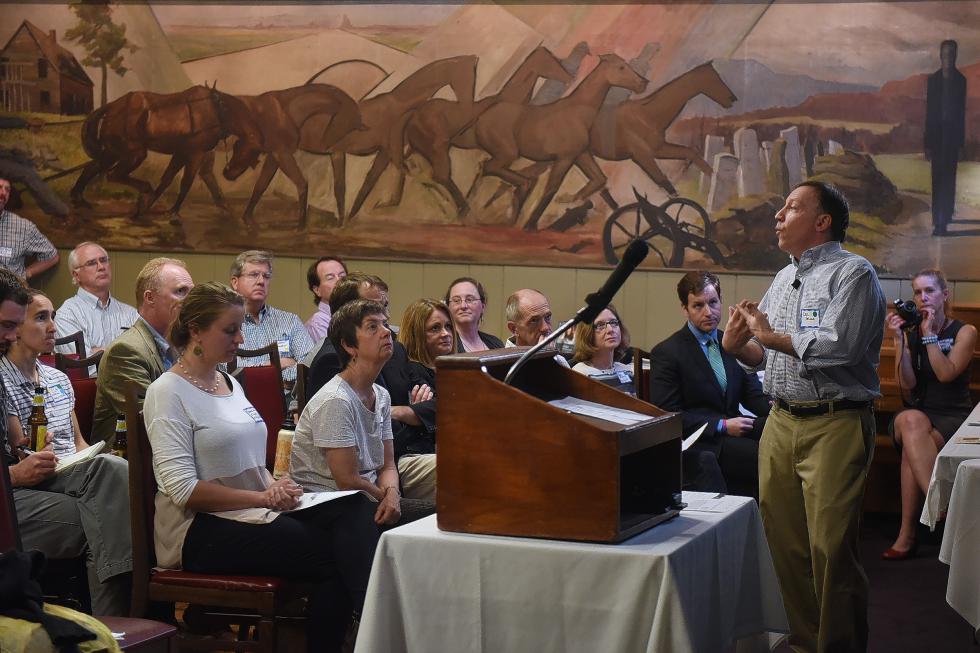 White River Junction — A new nonprofit that promotes investment in a sustainable local and regional food system held its first entrepreneur showcase last week. The sold-out event at the Coolidge Hotel reflected one of Slow Money Vermont's main goals — connecting the state's food producers with investors seeking to give them a boost.
One of 24 local networks across the country, it's part of a national effort led by Slow Money, a nonprofit working to save farmland, support small and mid-size organic farmers, rebuild local and regional food processing and distribution, and "otherwise (remedy) the imbalances of a food system that is too consolidated, too global and too industrial," according to its website. "A new generation of entrepreneurs is starting to rebuild local food systems, and the capital available to them is insufficient."
That's where Slow Money comes in.
Unlike mutual funds and other investment options, where money flows out into the world of international finance to companies investors may not know much about, Slow Money is a chance for traditional and "Main Street" investors alike to put their cash where their values are, advocates say.
It lets investors support local food-related companies, build relationships with business owners and help the next generation, Eric DeLuca, a marketing development consultant and chairman of Slow Money Vermont, said in an interview. "It helps them feel good."
And, organizers say, investors don't have to be rich to take part.
Slow Money networks create a channel for regular people who don't have a ton of money to bump up their support of the local economy and Vermont's working landscapes, said DeLuca, who serves on Vermont Working Lands Enterprise board. For example, they might invest $1,000, or $5,000 or $10,000.
The entrepreneurs presenting Thursday night included Randolph farmers Chris Sargent and Jenn Colby. The couple, who raise grass-based livestock, recently sold their Randolph farm, which didn't have enough open land for grazing. They're currently renting land and hope to buy a 77-acre Randolph property that will better suit their needs. Howling Wolf Farm will feature food production and an event facility, they said. A description of their award-winning competition barbecue team, Howling Hog Barbecue, prompted an audience member to ask, "Does your team have a place to go eat?"
The question brought a laugh from the crowd, and Colby smiled when she answered. "No, we need a farm so we can do that."
The other six featured businesses included a craft malt house, farms, a slaughterhouse, and a company that makes compost heat recovery systems. They each had five minutes to tell their stories and answer a few questions from the crowd of food producers, government and nonprofit representatives, lenders and investors, and business service providers that filled the room. Several owners said they wanted to expand, but their businesses had plateaued due to cramped facilities or aging equipment.
Jeannine Kilbride, who started Cobb Hill Frozen Yogurt in Hartland in 2010, said she's been working to improve her product, which comes in six flavors. She also hopes to bump up production. First, however, she needs to upgrade a key piece of equipment.
Less than a year old, Slow Money Vermont is being organized through a task force connected to Vermont Farm to Plate, which works to strengthen the state's food system.
Part of their work, DeLuca said, is to help entrepreneurs find the right sort of funding, with terms and repayment structures that suit them. The money could come from a number of places, such as organizations, individuals or investment clubs, in which people pool their money to mitigate the financial risks.
S ponsors of Slow Money Vermont offer one-on-one help for investors who want to learn more about assessing companies. One way for investors to put a toe in the water is to work with the Vermont Community Loan Fund, a lower risk option that offers a CD-level of return, DeLuca said. There's a book on the subject written by Slow Money founder Woody Tasch, he said, but in short, slow money investors are more interested in a business' social and environmental impact, and helping it grow, than the rate and speed of their returns.
Organizers Thursday announced the creation of Vermont Food Investors Network, a part of Slow Money Vermont that's designed to help investors and business owners learn more about each other.
Also that evening Michael Pieciak, deputy commissioner of the Vermont Securities Division, explained recent changes in the Vermont Small Business Offering Exemption, which lets small businesses sell securities to fellow Green Staters. Pieciak, who described the exemption as "equity-based crowd funding," said the updated version allows businesses to raise money from a broader group of investors.
While entrepreneurs have traditionally sought to raise "a lot of money" from a small group of people, crowd sourcing works in reverse, he said.
"We see that unique opportunity in Vermont as a vehicle that, over time, many businesses that would be seeking slow money would use," DeLuca said in an interview Friday.
Last week's event wrapped up with time for networking, and by 8:30 p.m., the official end time, people were still talking, some of the crowd spilling out into the hotel lobby.
The evening had been "really educational," Colby said. People had asked some really good questions, and she'd learned a lot about which investment vehicles might work well for them immediately and in the future.
Her husband was also pleased.
"We talked with people who are interested in what we do," which was the goal, Sargent said. "You do want to feel like you made some connections."
Slow Money Vermont is a partner in an upcoming Slow Money gathering for the New England region, set for May 20-21 in Boston. For more information, go to slowmoneyboston.org.

Aimee Caruso can be reached at acaruso@vnews.com or 603-727-3210.