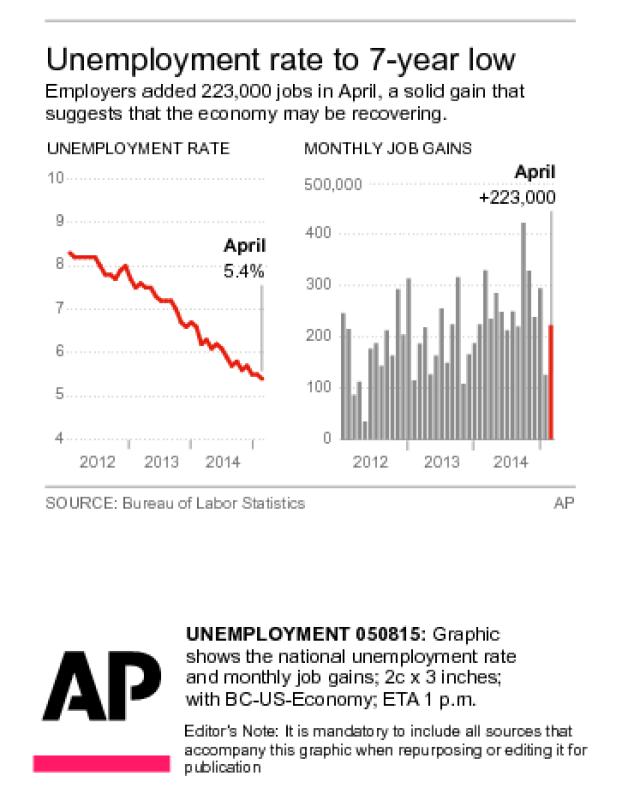 New York — The U.S. stock market had its best day in two months Friday following good news about the job market.
The surge was enough to push two of the three major U.S indexes to gains for the week.
Investors were encouraged that U.S. employers added 223,000 jobs in April, a solid gain suggesting that the economy may be recovering after a stumbling start to the year.
While the jobs report is always closely watched, April's survey garnered even more interest than usual after a poor March, which had revised figures showing only 85,000 jobs were added to payrolls.
"I am even more convinced that the March report was an outlier," Paul Christopher, an investment strategist with Wells Fargo Advisors. "We all know the first quarter was a tough quarter. The jobs numbers needed to hold up and they did."
The Dow Jones industrial average jumped 267.05 points, or 1.5 percent, to 18,191.11 Friday. The Standard & Poor's 500 index added 28.10 points, or 1.4 percent, 2,116.10, its biggest percentage gain since March 16. The Nasdaq composite rose 58 points, or 1.2 percent, to 5,003.55.
Both the Dow and S&P 500 ended fractionally higher for the week, while the Nasdaq ended down less than 0.1 percent.
The bond market had a more nuanced take on the employment report. Investors bought bonds, pushing down the yield on the U.S. 10-year Treasury note to 2.14 percent from 2.18 percent Thursday. That rate had been as high as 2.30 percent just two days ago, representing a big move for that market.
Bond traders noted that while the job survey was positive overall, there were several troubling signs, including sluggish wage growth. The disappointing March number also cast doubt on how solid the economy's footing is. As a result, they said, the Federal Reserve could hold off longer than previously expected before raising interest rates.
"These numbers are starting to lead investors to the same conclusion that the Fed will not lift rates through 2015," said Tom di Galoma at ED&F Man Capital.
European markets also rose sharply after David Cameron's Conservative Party won an outright majority in Britain's Parliament, greatly reducing the threat of political uncertainty there.
Britain's FTSE 100 rose 2.3 percent, Germany's DAX rose 2.6 percent and France's CAC 40 gained 2.5 percent. Prices for European government bonds rose broadly, sending yields lower.
The British pound advanced sharply against the dollar and euro.
"The U.K. general election result is a surprisingly market-friendly outcome," said Vicky Redwood from Capital Economics in London.
Visa was among the biggest gainers in the S&P 500 and Dow. Shares in the payment processor jumped in late-afternoon trading after Bloomberg News reported Visa is in talks to buy Visa Europe, which was split off in 2007.
The price of oil rose slightly at the end of a volatile week. Benchmark U.S. crude rose 45 cents to close at $59.39 a barrel on the New York Mercantile Exchange. Brent crude fell 15 cents Friday to close at $65.39 in London.
In other energy futures trading on the NYMEX, wholesale gasoline rose 0.2 cent to close at $1.992 a gallon, heating oil fell 0.8 cent to close at $1.954 a gallon and natural gas rose 14.6 cents to close at $2.880 per 1,000 cubic feet.
In metals trading, gold rose $6.70 to $1,188.90 an ounce, silver rose 17 cents to $16.47 an ounce and copper was little changed at $2.92 a pound.