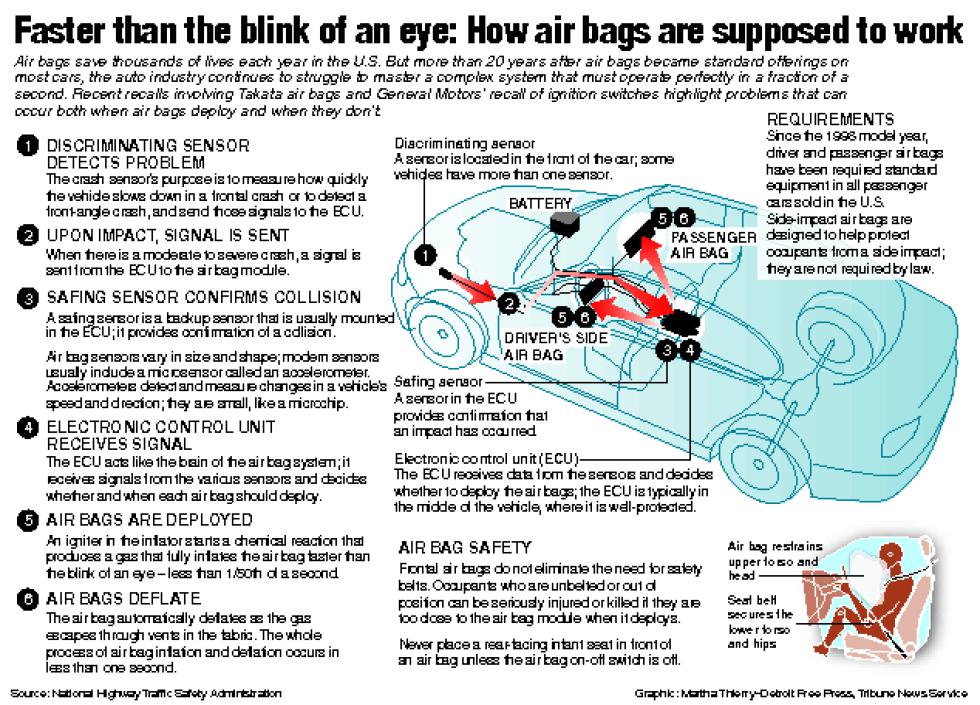 Detroit — After months of testing by air bag maker Takata and an independent panel of engineers, there's still no clear answer why some air bags are blamed for killing drivers after being triggered and spraying metal shrapnel.
"This may not be something as simple as just one root cause," said former National Highway Traffic Safety Administration Administrator David Kelly, who has been hired by the industry to investigate the problem.
It's a painful, open question for families of victims and a big concern for anyone driving a car or shopping for a new or used vehicle.
Ten automakers, including the Detroit Three, are involved in a massive recall of 17 million vehicles with Takata air bags. Six deaths and more than 100 injuries have been tied to the specific air bag defect.
It's also unclear whether the replacement air bag systems are safer. That's because they use the same volatile chemical to inflate the bags, ammonium nitrate, that some suspect is at the heart of the problem. Other air bag manufacturers use less-volatile chemicals, but they cost more.
Chemicals are key to how an air bag operates. When the car's sensors detect an imminent crash, the inflator — like a rocket booster — sets off a chemical charge to produce nitrogen gas that fills the air bag like a pillow. After the crash, vents in the pillow allow for a slow deflation.
Takata started using ammonium nitrate about 14 years ago because it was cheaper, easier to find and less toxic, according to Scott Upham, a former Takata manager who now runs a market research firm. But the chemical is highly volatile and a main ingredient in some types of bombs. It also becomes unstable at about 100 degrees. A car's interior sitting in the summer sun can reach 140 degrees.
Takata says the replacements are safe and that design and manufacturing changes have improved the product, including using a less-concentrated mixture of ammonium nitrate.
NHTSA Deputy Administrator David Friedman said he is satisfied the replacement inflators are safer, but NHTSA continues to examine the new batch to make sure the remedy is safe.
Still, no one has been willing to pin the problem on the chemical, or on any other specific cause, yet.
All modern vehicles have air bags and Takata supplies more than one-fifth of the market, though its market share is declining because of the recall. It's the primary air bag supplier to Honda, which owns a small portion of the company.
The 10 automakers that have recalled vehicles with Takata air bags banded together and in February hired an independent third party, Orbital ATK, to test air bag inflators in the search for answers.
They also hired Kelly, the former NHTSA administrator, as a consultant to manage and coordinate the testing. Kelly told the Detroit Free Press that Orbital's team is re-evaluating all the data and testing previously conducted by NHTSA and others.
"We didn't jump in with any preconceived notions," Kelly said. "We very clearly took a position that we were going to look at everything. We are going to test all of the preliminary conclusions that have been made so far."
Looking at multiple past investigations could yield many different reasons for the defect, he said.
The automakers involved are having regular conversations with NHTSA and have agreed to provide the safety agency with the data they collect, said NHTSA spokesman Gordon Trowbridge.
NHTSA and the automakers also continue to encourage consumers to take their recalled cars to dealers to be fixed.
Separately, Takata formed its own "independent quality assurance panel," led by former U.S. Transportation Secretary Samuel Skinner, to find a cause and recommend "best practices in the production of safe inflators."
Elusive Cause
Despite the high-profile names and resources devoted to tracking down the source of the defect, the cause remains elusive.
To be sure, air bags save far more lives than those killed or injured by them. And they reduce the severity of injuries sustained in most crashes. But the realization that defective air bags could be killing some drivers and passengers has exposed an ironic reality that some systems are proving too complex for their creators and regulators to fully understand.
The complexity of air bag systems — which rely on a network of algorithms, sensors and chemically complex propellants — has confounded automakers, suppliers and federal regulators for years. Air bags are unlike most other parts and components in a car. They go unused for years but must deploy flawlessly in a fraction of a second when an accident occurs.
NHTSA has been unhappy with Takata's early response to the problem. On Feb. 20, the federal safety agency began fining the company $14,000 a day for failing to cooperate with a safety investigation into the cause of the problem.
And this week, NHTSA held a workshop in Washington to figure out how to raise "unacceptably low recall completion rates."
Administrator Mark Rosekind invited leading transportation officials, industry representatives, safety advocates and researchers to brainstorm solutions.
Downside Risks
In the mid-1990s, Takata used a propellant based on a compound called tetrazole to inflate its air bags. But executives found that it cost a lot and emitted toxic gases after deploying, said Upham, the former Takata manager.
"The other consideration was the performance of the chemical itself," he said, because with tetrazole there's an eruption of solid particles, as well as gases.
Ammonium nitrate doesn't emit much other than carbon dioxide gas. But it is also very volatile and used to implode abandoned buildings.
"Takata knew a long time ago that ammonium nitrate had some undesirable characteristics," Upham said.
The risk is higher in regions where hot humid weather lasts from late spring through early fall: That's because ammonium nitrate tends to become unstable when cars are exposed to temperatures about 100 degrees, then cool to 65 or 70 degrees with air-conditioning before heating up again when parked in the sunlight.
"In Florida, the internal temperature of a car can reach 140 degrees Fahrenheit," Upham said.
Autoliv, TRW Automotive and Daicel, Takata's primary competitors, use another chemical, guanidine nitrate, as the propellant or rocket booster to inflate their air bags.
Guanidine nitrate is "easier to handle" and "would improve the safety of manufacture and transport and lessen the environmental concerns of disposal," according to a patent application filed in 1994 by Gus Henry and Matthew Solverson.
But guanidine nitrate is more expensive.
Fixing all the vehicles with Takata air bags will take years.
Of 17 million vehicles under recall for at least one faulty air bag, about 2 million were repaired by the end of 2014, according to NHTSA. First-quarter reports with updated figures are due at the end of the month.
Takata CEO Shigehisa Takada said on March 2 that production of replacement kits increased from 350,000 to 450,000 per month, which is the current level. The supplier's goal is to expand that to 900,000 per month by September.
Takata can't make them fast enough, which is why NHTSA and automakers asked Autoliv, TRW Automotive and Daicel to pick up the slack.
Despite the political fallout, nobody disputes air bags have worked properly more often than not.
In 2012 alone, NHTSA estimates that 2,213 lives were saved by front air bags. Between 1986 and 2012, front air bags are estimated to have saved almost 37,000 lives.
"It's something we take for granted, because we have been doing it for so long," said Steve Fredin, group vice president of air bag manufacturer Autoliv. "There is a bit of rocket science behind it, but (air bag technology) has matured and has been proven over the years to be a complementary system for the seat belts to save more lives."
Still Evolving
The technology has come a long way since John Hetrick obtained the first air bag patent in 1953. It took almost four decades before the industry was ready to install them in cars.
Even then, there were challenges. NHTSA estimates from 1990-2008 more than 290 deaths were caused by front air bags going off in low-speed crashes.
About 90 percent of the deaths occurred in vehicles manufactured before 1998, which had first-generation bags that inflated with too much force.
Women and young children were especially susceptible to injuries. Revised regulations and technological advances have made them safer.
Industry leaders including Autoliv, Key Safety Systems, Takata and TRW are developing air bag systems with sensors to anticipate crashes before they happen.