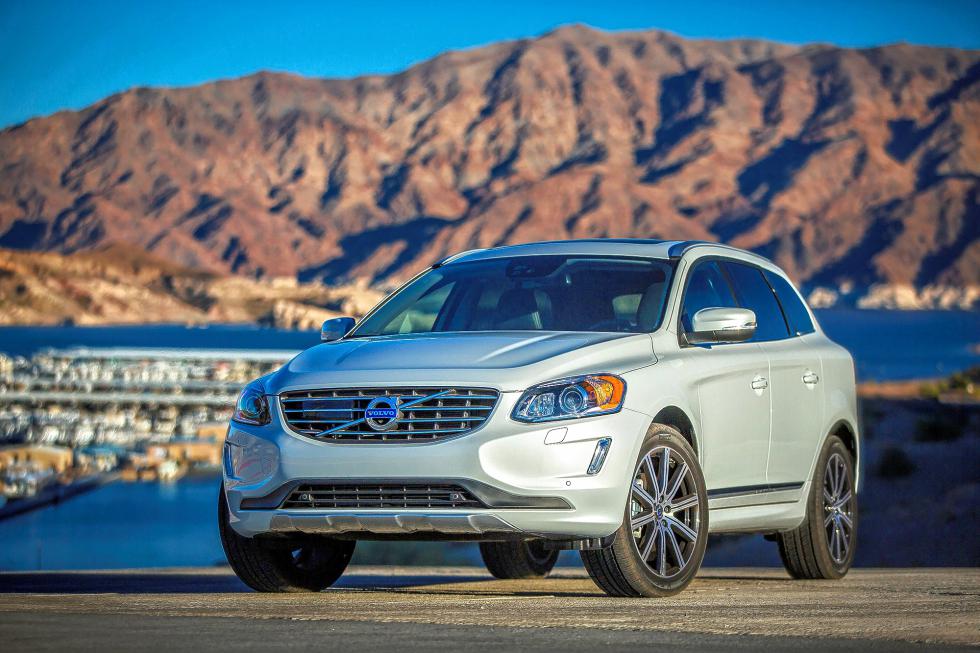 Money matters. A cursory glance at recent developments in the global automobile industry indicates as much. Mercedes-Benz, long among the world's leading purveyors of luxury metal, saw its first-quarter profit double. GM and Ford, although doing much better than their performance of barely a decade ago, continued to struggle.
Germany's Audi and BMW are on a roll, largely thanks to a bevy of attractive, financially accessible models such as the Audi A3 and the BMW 3-Series. And then there is the subject of this week's column, the 2015.5 Volvo XC60 T6 all-wheel-drive crossover-utility vehicle/wagon, which is trying to hold on to entry-level luxury family vehicle sales in a world increasingly dominated by the accessible, attractive, common-sense likes of the compact Honda CR-V crossover.
Money matters, as does styling, product quality, innovation and a general respect for the intelligence of buyers. On the latter point, you won't hear folks at Mercedes-Benz imitating Cadillac's marketing hubris by saying something as silly as: "It is a weak man who urges compromise." Mercedes-Benz, instead, extols compromise in the form of its best-selling C-Class cars, which are winning followers because they offer the essence of compromise — a good deal — a high-quality, enjoyable product sold at a very competitive price.
Volvo is trying to do something similar with its XC60, a front-wheel-drive crossover/wagon also offered with all-wheel-drive. But the problem at Volvo is confusion. You get a good deal depending on which of five or six models of the XC60 you buy, which options package you buy with it, and when and where you buy it.
Consider: The 2015.5 front-wheel-drive XC60 starts at $35,750 — $900 more than the 2014 model, which is not much different in performance or equipment. The 2015.5 XC60 offers Volvo's commendable Sensus communications system and advanced electronic safety items such as blind-side monitoring and lane-departure warning. But, as I said, money matters. You can get all or many of those items for thousands of dollars less on a fully equipped Honda CR-V, Hyundai Santa Fe or Kia Sorento.
OK, a Honda, Hyundai or Kia isn't a Volvo. So what? Times, largely because of rapid advances in technology, have changed. Volvo still maintains its reputation as one of the safest vehicles on the road. But take a close look at ratings by Consumer Reports, the National Highway Traffic Safety Administration and the Insurance Institute for Highway Safety. You will find that Honda, Hyundai and Kia have high safety ratings, too — usually for a lot less money.
Look, I enjoyed my week in the 2015.5 XC60 T6 all-wheel-drive. You won't find more comfortable front seats in any vehicle at any price. But technology has leveled the playing field when it comes to electronic equipment. There is not one advanced safety item in the XC60 — save for its proprietary Sensus communications system — that I can't find at Honda, Hyundai or Kia for less money. Also, speaking of Sensus, all three rivals of a supposedly lesser product god offer very competitive communications systems.
The folks at Volvo nowadays busily are trying to address consumer concerns about fuel economy — offering a group of 2-liter, turbocharged (forced air), four-cylinder engines under the moniker "Drive-E" with the "E" standing for "efficiency" or "efficiently."
My sample, despite its 2015.5 badge, came with an older 3-liter, twin-turbocharged six-cylinder gasoline engine linked to a six-speed automatic transmission.
It felt heavy and a tad sluggish. But it was so loaded with amenities — again, the best front seats offered by anybody, power-operated tailgate, high-definition rear parking assistance camera — that it was hard to get upset about an acceleration profile (0 to 60 miles per hour in maybe 6.5 seconds) that was perfectly suited to motoring in suburban Virginia.
But I was floored by the final transaction price of the thing — $52,225. Really? I could get a fully equipped, very safe Honda CR-V for easily $10,000 less.