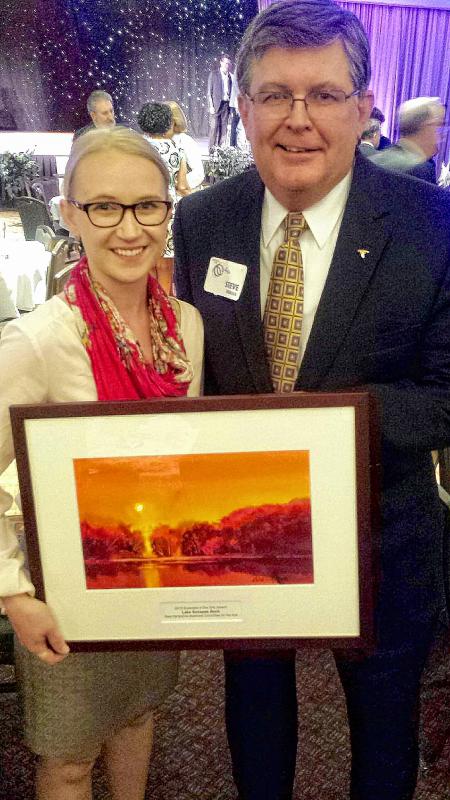 Newport — Lake Sunapee Bank joined three other New Hampshire businesses as a winner of a 2015 Business in the Arts Award from the New Hampshire Business Committee for the Arts.
Lake Sunapee Bank was cited for its support of organizations including the Nashua Art Walk, the Center for the Arts, and the League of NH Craftsman, as well as employee board involvement with Symphony NH and the Newport Opera House, the company said in a news release.
In 2014, Lake Sunapee Bank's Main Street, New London office was transformed into a "micro gallery" to host exhibits by local artists during business hours for the Center for the Arts.
Lincoln Financial Group, Orr & Reno and Dancing Lion Chocolate were the other winners. Each received a framed watercolor by New Hampshire artist Catherine Tuttle during the May 11 gala in Manchester.
The New Hampshire Business Committee for the Arts presents the awards annually to recognize and honor outstanding business support of the arts.
Company News
Advance Auto Parts Inc. plans to open its first store in Springfield, Vt., at 2 Chester Road Suite 2, beside the Shaw's Supermarket, on May 21. Robert Messier is the new general manager and will works with seven other employees at the new location. Messier has been with Advance Auto Parts for two years. Company officials said they chose this location for the store because of its convenience to customers as well as the garages where they take their vehicles for repair. Advance Auto Parts provides automotive aftermarket parts to both professional installers and do-it-yourself customers. It also recycles used motor oil and batteries.
Upcoming Events
Upper Valley chapter of SCORE is offering a workshop on The Valuation and Sale of a Business on May 21, from 6-9 p.m., at 20 West Park St., Lebanon, Suite 316, in the Citizens Bank Building. The workshop The seminar will be presented by Philip Steckler and Tammy Richards, of Country Business Inc., a company that has managed the sale of transactions since 1976. Topics will include analyzing the strengths and weaknesses of a business, understanding the marketplace, business valuation and the proper selling price and terms. This is an interactive workshop and questions are welcome. Materials and examples will be provided. Cost is $30, two for $45. Veterans free. For more information and to reserve a spot, visit http://www.uppervalley.score.org or call 603-448-3491.

Road Pitch, a four-day motorcycle tour of Vermont in which a gang of "business bikers" — investors, entrepreneurs and business advisers — ride around the state and stop to hear entrepreneurs pitch their business concepts, is scheduled to visit Vermont Technical College on the morning of Aug. 5. The event is part of the group's eight-town itinerary, which spans the state from Brattleboro to Grand Isle. The VTC event coordinator is Allan Rodgers. He can be reached at ARodgers@vtc.vsc.edu. Road Pitch was founded in 2014 by Cairn Cross co-founder of Shelburne, Vt.-based FreshTracks Capital. It is designed to bring advice and possibly investment to businesses around the state and to help connect entrepreneurs to resources that are available to them, and also to promote Vermont as a perfect motorcycle touring destination, Cross said in a news release. Entrepreneurs interested in pitching their business concept should contact their local event coordinator and make an application. Each local coordinator will screen the applicants and select and coach the final presenters. The event is open to both startup and established businesses. More information about Road Pitch is available at http://www.freshtracksontheroad.weebly.com.

Items of interest to the local business community are published every Sunday. Submissions may be mailed to: Business Notes, c/o Sunday Valley News, P.O. Box 877, White River Junction, Vt. 05001. You may also send your items by fax to 603-298-0212, or by e-mail to biznotes@vnews.com. All items are subject to editing for clarity or space.