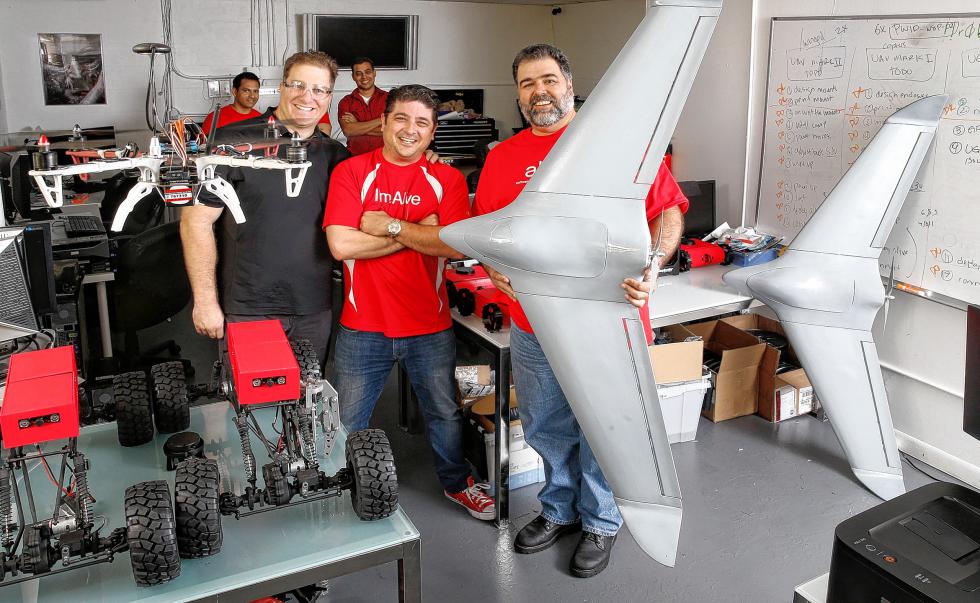 Miami — Step inside Animusoft's offices, and you'll see drones everywhere — large ones, little ones, drones that inspect, drones that pick fruit, and a few just for fun. Some are half-built; 3-D printers are working 24/7 to create new parts.
You might think this is a drone manufacturer, but you'd be wrong. Animusoft is a Miami-area startup creating an operating system for drone and robot makers. Think Android for robotics — a software platform designed to unify drone and robotic hardware while alleviating security and public safety concerns. Its offices are a giant laboratory: Team members build the drones to test their operating system, which has just entered the beta-testing phase with 16 vetted companies as its first customers. The new product, called Alive, was unveiled earlier this month.
And there are many other young companies in this wild, Wild West of drones. OpenSky Drones, one of several Miami-area drone-borne commercial services, is preparing for the day it can offer a host of drone services legally to survey construction sites, visually inspect roofs and collect data from fire-rescue or crime scenes. Urban Drones made a splash with a waterproof drone on Kickstarter this spring, raising more than $300,000. (It's now preparing for its first production run.)
Other drone makers also are setting up shop. Phillip Frost, the well-known health care entrepreneur, has invested in drone manufacturer Drone Aviation Corp., which recently opened an office in the Miami area. Scores of drone photographers hawk their services for everything from real estate shoots to movie footage to weddings.
All this is happening when the FAA still heavily restricts how drones are used commercially. But scores of companies in South Florida are betting on the future of drones, anticipating a future with more relaxed rules.
"Everyone is into this romancing of the drone," said Howard Melamed, who started OpenSky Drones last year to offer tower inspections and other engineering services. "Right now, everyone thinks they can get into it."
Nationally, there's an insatiable appetite, it seems, for all things drone. Amazon isn't the only big business investigating the use of "delivery drones" – the U.S. Postal Service is, too. In April, the Federal Aviation Administration approved several insurers, including State Farm, to use drones to assess property damage. The American Red Cross commissioned a yearlong study, which resulted in the humanitarian organization calling drones one of the most promising new technologies for disaster response and relief. There were so many drones on display at the American Association of Broadcasters conference in Las Vegas last month that a tech columnist for Yahoo! called them "the new booth babes."
Chinese drone maker DJI and California's 3-D Robotics recently released new easy-to-use consumer drones priced under $1,000 that are capable of commercial applications, and venture capitalists are jumping into the market with sizable bets. According to CB Insights data, 2014 investment in the nascent drone industry topped $108 million in 29 deals, doubling year-over-year. A bigger 2015 is expected: DJI is reportedly raising new funds at a $10 billion valuation from venture investors. Top-funded U.S.-based drone startups include the fast-growing Airware, 3-D Robotics and SkyCatch, according to CB Insights.
Many entrepreneurs are chasing what could be an explosive market. Various forecasts by government and industry officials expect businesses to invest tens of billions of dollars in drones worldwide over the next 10 years, as the tech takes root in industries that now rely on helicopters, small planes or ground operations for activities such as pipeline inspections and aerial photography.
At the same time, drone sales are flying high: According to Consumer Electronic Association research, the global market for private drones will approach $130 million in revenue in 2015, increasing by 55 percent from 2014. In just five years, sales are expected to top $1 billion.
"You are dealing with what has been valued as an $82 billion industry over the next 10 years that could create 100,000 new jobs in America alone. When you look at that, you see a lot of opportunity" – but without defined rules about what entrepreneurs can and cannot do, said Matthew Grosack, a Miami-based attorney with DLA Piper law firm, referring to a forecast by the Association for Unmanned Vehicle Systems International. "What you are seeing is a lot of people out there taking the risk and just going for it."
He's referring to the regulation limbo land. For now, commercial drone operation is largely prohibited, but under Congressional mandate, the FAA in February issued draft regulations. The public comment period has just ended. While awaiting final FAA rules to be issued, some states are jumping into the fray, seeking to set their own laws.
Under the FAA's draft rules, private commercial drones must be less than 55 pounds, can't fly higher than 500 feet, can only fly during daylight, and – more controversially – must remain in the "line of sight" of the operator. The last stipulation stifles delivery drones, for example. Drone operators will be regularly required to pass written tests that will only be administered in person and to obtain clearance from the Transportation Security Administration. (Hobbyist drone flights are permitted, as long as they fly below 400 feet and away from airports.)
In the meantime, U.S. commercial drone operators can apply for an exemption from the FAA. While they wait, some are providing drone services for free. Others are just winging it.