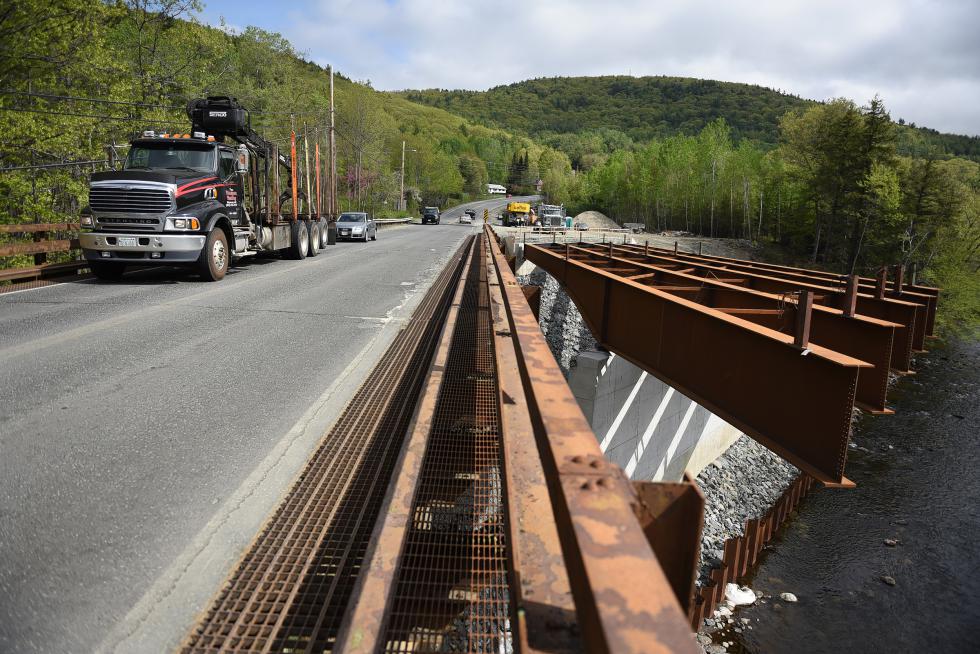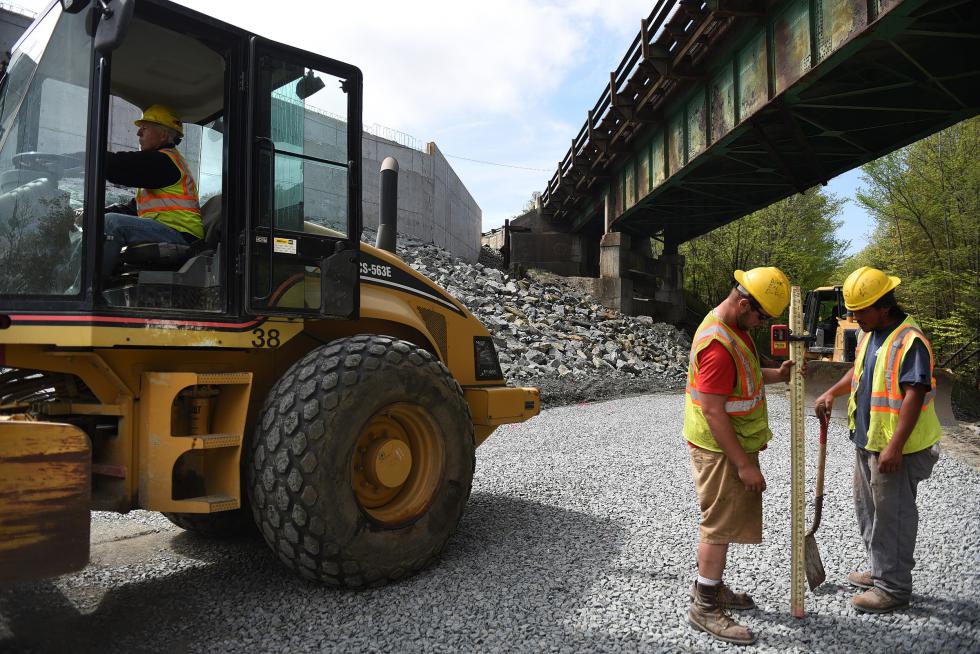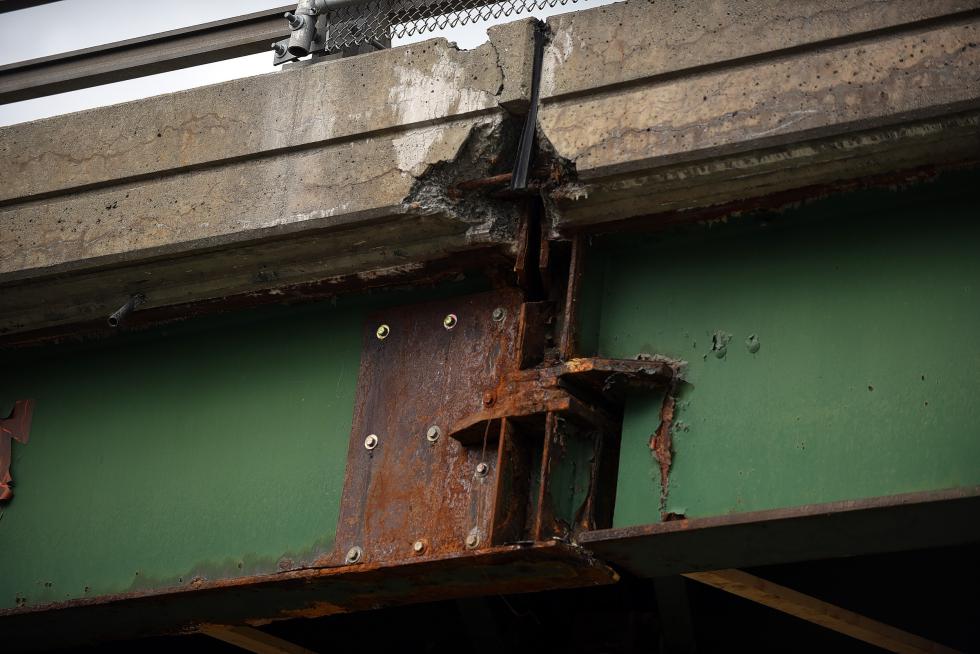 We rarely think about it, except when it fails.
Such as when our car hits a pothole and the muffler falls off. Or a once-in-a-century summer rainstorm dumps an ocean over the Green Mountains, causing roads and bridges to be wiped out by flooding. Or when we open the winter heating oil bill and feel our temple throb. Or when we can't replay the final scene of Mad Men on YouTube because our Internet service is circa 2005 and doesn't have enough bandwidth to stream video.
The "it" is infrastructure — a word that hardly trips off the tongue but denotes the roads, bridges, utilities, water supply and waste disposal-recycling systems, rail lines, public transportation facilities and broadband communications networks that make possible the quotidian functions of daily life, whether at home, in governing or for business.
And when it comes to the quality of infrastructure, the U.S. is near failing.
Every four years, the American Society of Civil Engineers issues a "report card" that grades the state of the country's infrastructure. The most recent, in 2013, gave the U.S. a D+ "due to delayed maintenance and underinvestment in most categories." The Society estimates the U.S. requires $3.6 trillion in infrastructure investment by 2020 — equivalent to 20 percent of the first-quarter GDP and 19 percent of the country's total debt — just to bring things up to par.
Indeed, without adequate infrastructure, Twin State Sand & Gravel in West Lebanon can't receive timely delivery of salt by rail from New York for distribution to Upper Valley municipalities to melt roads of ice during the winter; Dartmouth-Hitchcock Medical Center and laundry service provider Kleen Corp. would be unable to switch to less costly liquefied natural gas to power their boilers or operate their plants; or Carroll Concrete Co., with plants throughout the Connecticut River Valley, would be unable to transport its ready-mix to construction sites, such as the Interstate 91 bridge project over Route 5 in White River Junction and the Route 4 interstate bridge rebuild.
The Upper Valley, with a population of about 66,000 on the Vermont side of the Connecticut River and about 90,000 on the New Hampshire side, has its own infrastructure challenges as well, according to regional planners.
Many of the area's bridges and roads are in poor condition, the result of unaddressed maintenance issues and recent harsh winters.
Road disrepair is plainly evident, as any drive along Route 132 in Vermont or along Route 118 between Canaan and Dorchester or Route 120 between Lebanon and Plainfield in New Hampshire will attest. There is a chronic shortage of housing. Key routes for public transportation remain unserved — a proposed new commuter bus route along Route 120 between Lebanon and Claremont never received anticipated funding from the state. The Lebanon airport risks losing $1 million in federal money to rebuild part of the taxiway unless it moves ahead with the project.
To be sure, the Upper Valley has benefited from several significant infrastructure upgrades in recent years. Public works projects, which command enormous amounts of planning, resources and money, are measured on a timeline spanning decades, so anything built in the early 21st century still qualifies as "new."
"The public process that leads to infrastructure is a long process," said Hunter Rieseberg, Hartford's town manager. "From the inception of a project through its development, funding and execution can take five years all by itself, really sometimes talking 10 years or more."
Among the region's upgrades:
• Hanover in 2000 installed a major water distribution system, added new storage tanks and built a new water treatment facility in 2006, and recently completed a $5 million replacement of equipment for its wastewater system.
• Lebanon is 85 percent of the way through a 15-year, $60 million citywide project to separate its sewer and stormwater drains and is halfway through a $13 million upgrade of equipment at its wastewater treatment plant.
• Hartford has a fully funded 20-year capital improvement plan for all its culverts and bridges, extended water and sewer lines to the Maxfield Sports Complex on Route 5, switched over its lighting to a low-energy LED system that saves the town $50,000 annually, and is finishing a renovation of the Municipal Building.
• Claremont is in the design phase of a $4 million project to reconfigure the intersection at Main Street and North Street — a high accident location — and reduce its grade.
To an extent, the infrastructure issue in the Upper Valley is more about keeping the current systems and services modernized rather than building new projects to meet higher demands for capacity, as is more often the case with high-growth regions in the southern and western U.S.
That's because infrastructure needs are tightly correlated to population trends: the more people, the more demand is put upon transportation systems, utilities and basic municipal services such as water supply and waste disposal, thereby increasing demand for capacity. In this sense, at least, the Upper Valley has one thing oddly in its favor: projected low population growth.
The Lebanon-based Upper Valley Lake Sunapee Regional Planning Commission estimates that the population within its 27-community region will grow less than 9 percent, to about 97,000, over the next 25 years, compared with the roughly 60 percent it grew over the previous 25 years.
And Windsor County in Vermont has lost about 2 percent of its population between the decennial census, said Kevin Geiger, senior planner with Woodstock-based Two Rivers-Ottauquechee Regional Commission, although overall population within the organization's 30 municipalities in east-central Vermont is up a tick because of growth in Orange County.
"From a regional standpoint, investments in municipal infrastructure must be made based on the population they will serve and the most pressing needs," the commission pointed out in April in its draft regional plan update in regard to future investment in infrastructure for water supply and wastewater systems. "Because capacity is not a significant issue in most communities with existing infrastructure, the priority for future investments is in modernizing aging infrastructure," an acute challenge given that in many communities the pipes are so old that town officials are not sure their of age, material, or even where they are located.
Bridges and roads, the focus of this story, represent the Upper Valley's most pressing needs for infrastructure upgrades. F uture installments of this occasional series will examine other components of the Upper Valley's infrastructure, including water and sewer systems, telecommunications and public transportation.
Troubled Bridges
On separate weekends later this summer, construction crews working to rebuild the two bridges on I-91 over Route 5 near the Veterans Affairs Medical Center will roll newly built bridges onto newly erected support structures in an engineering feat known as slide-in bridge construction.
Never previously attempted in the Twin States, the construction process is designed to lessen the impact on the 38,000 daily motorists crossing the bridge by minimizing the time when traffic flow is disrupted and increasing motorist safety at the site by causing minimal disruption in the heavily trafficked area.
The $6 million bridge project, most of which is being footed by the federal government, is one of three major bridge reconstruction projects underway in the Upper Valley this summer. The second, an entirely new bridge across the Connecticut River on Route 4 connecting West Lebanon and White River Junction, will replace the temporary span that has been in use since 2009, when it was determined that the cost of repairs to the former deteriorating bridge outweighed the $11 million cost to replace it. The third is the $9 million Route 4 bridge replacement over the Mascoma River in Lebanon, which is scheduled to be finished next year.
But the reconstructions of the Route 5 and Route 4 bridges are merely a warm up to what will eventually become the Upper Valley's biggest infrastructure project: A $38 million rehabilitation of the twin bridges on Interstate 89 over the Connecticut River beginning in 2018.
The decks and superstructures of each span — the bridges were built in 1966 — are in poor to fair condition and in need of replacement. The bridges are currently ranked 36th and 37th on the New Hampshire Department of Transportation's bridge priority list.
Also slated for rehabilitation are the I-89 bridges over Hardy Hill Road in Lebanon between exits 17 and 18, a project estimated to cost about $3.7 million. The two bridges are ranked 27th and 28th on the state's bridge priority list.
Much of the Upper Valley's basic transportation infrastructure is in need of repair, according to regional planners, the result not only of natural aging but also deferred maintenance caused by recession-strapped municipal and state budgets that lacked allocated spending.
"Our transportation infrastructure is one of the region's biggest challenges," said Nate Miller, executive director of the Upper Valley Lake Sunapee Regional Planning Commission, which recently drafted a report that highlighted infrastructure shortfalls in Grafton and Sullivan counties. "Overall in our region, we're falling behind the state level and local level in basic maintenance of our road and bridge systems."
Miller said that, at present, the NHDOT has identified a total of 80 so-called "red list" bridges — those deemed "structurally deficient" and in need of repair or replacement — within the 27 communities covered by the commission, of which 64 are owned by area municipalities and 16 are state owned.
The roster of New Hampshire's red-list bridges is "a result of years of deferred maintenance, both at the state level and quite frankly at the municipal level as well," Miller said. "It's very easy for people, when putting together the town budget, to say, 'We've got a lot going on this year. We'll wait (to spend money) on bridge repairs.' … Unfortunately, we end up saving a dime only to later spend a dollar" when the repairs are finally addressed.
Across the Connecticut River, the situation is only marginally better: The Vermont Agency of Transportation has identified a total of 66 bridges in the Upper Valley that are either "structurally deficient" or "functionally obsolete," about 16 percent of all bridges in the region (the state doesn't use the term "red list").
"None of them are at the point where you can't go over them," assured Geiger, the senior planner with the Two Rivers-Ottauquechee Regional Planning Commission.
He noted that as a result of both the federal stimulus money and the emergency funding that rebuilt the Taftsville Bridge, Quechee Covered Bridge and the Route 73 bridge in Rochester, Vt., in the wake of Tropical Storm Irene in 2011, "things got better" — although in each case, it took a crisis to address the longstanding issues.
roads to ruin
The Upper Valley is a car culture: In 2009, residents of Windsor and Orange counties drove more than 1 billion miles, according to the latest data from Two Rivers, consuming more than 60 million gallons of gas — or 600 gallons and 16,000 miles annually per person.
That's a lot of wear on the region's roads. In fact, the VTrans District 4 office in White River Junction, which covers state roads in the Upper Valley in addition to Rochester and Williamstown, Vt., reported the highest maintenance costs — $4.9 million — among the state's nine maintenance districts during the 2013-14 winter and spread 26,000 tons more salt than anywhere else.
Not surprisingly, perhaps as a result, the state plans to resurface several long stretches of the region's interstate and state roads this summer. Among the resurfacing projects will be a nearly 18-mile stretch of the northbound lane on I-91 between Norwich and Fairlee, a 12-mile portion of the northbound lane of I-89 extending from Bethel to Brookfield, Vt., and 7 miles of Route 66 between Randolph and East Randolph. In addition, an 8-mile stretch of Route 113 from East Thetford extending through Post Mills is scheduled to be resurfaced in summer 2016.
In New Hampshire, the principal resurfacing project to get underway later this year is the heavily traveled, approximately 1.5-mile stretch of Route 120 from Exit 18 to Etna Road in Lebanon, which will be followed by improvements to pedestrian and bicycle paths.
The lack of resurfacing projects on the New Hampshire side of the Upper Valley, however, belies the extent of the repair work that needs to be done to the region's roads. Only 18 percent of the state highways within the Upper Valley are rated in "good" pavement condition, according to the Upper Valley Lake Sunapee Regional Planning Commission, while 36 percent are rated in "fair" condition and 46 percent — nearly half — are rated in "poor" condition.
The commission has identified 16 highway improvement projects within its Upper Valley region that require reconstruction or rehabilitation, including the full length of Shaker Hill Road in Enfield, the reconstruction of Mechanic Street from High Street to the I-89 ramps in Lebanon, and reconstruction or rehabilitation of the entire length of Dorchester Road in Lyme.
"We have a more acute problem in our region in terms of paving condition on state highways than the state as a whole," said Miller, the commission's director, noting that statewide, 37 percent of the highways are rated in poor condition compared with the Upper Valley's 46 percent. "Basically, for the last 20 years, state revenue to support pavement efforts has been stagnant and with the cost of asphalt having gone up 400 percent over that period, the spending power has gone down."