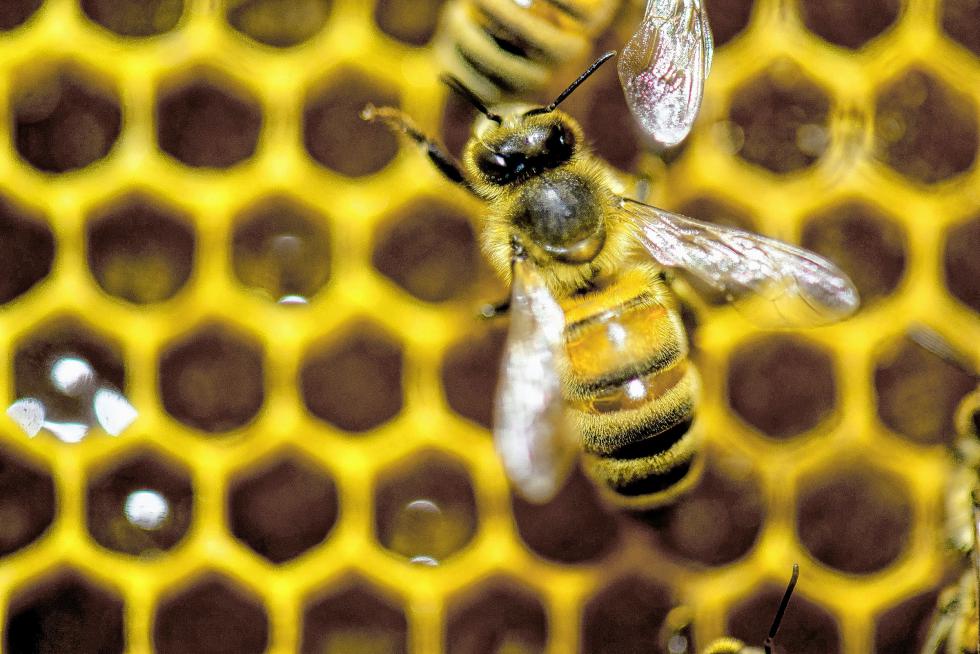 While scientists, farmers, environmentalists and politicians in Washington wrangle over what's happening to the nation's honeybee population and who is to blame for its problems, a growing movement is afoot in New Hampshire and Vermont to look to the diverse array of native insects to accomplish the vital task of pollinating fruit and vegetable crops.
Just about everybody agrees that honeybees — a species that originated in Europe — are under extreme pressure in North America, and that the cause seems to be a complex interaction of stressors, including parasitic mites, pesticides, disruption of forage sources and travel. A report released last month by the U.S. Department of Agriculture showed that winter losses of managed honeybee colonies were 42.1 percent for the 2014-15 crop cycle.
Any level of losses above 18.7 percent is considered economically unacceptable, and last year's mortality — at close to half of all domestic colonies — is unsustainable, in the view of both scientists and owners of apiaries. In 2014 there were 2.7 million colonies of honeybees in the U.S., producing an average of 65 pounds of honey per colony. Colonies exceeded 3 million in the late 1980s, but with the continuing high levels of mortality beekeepers are devoting large amounts of resources to constantly replacing lost colonies.
Currently there's a major push from environmentalists for the federal government to curb use of a class of pesticides called neonicotinoids, which already are under review by the Environmental Protection Agency and have been largely banned in the European Union. But agricultural interests are pleading for the EPA and USDA to recognize that multiple factors should be studied rather than solely focusing on "neonics" in developing federal policy.
Honeybees are critical to the production of many, if not most, vegetable and fruit crops grown in the U.S. From apples to melons to sunflowers, the lowly honeybee in its quest for nectar for its survival spreads pollen from blossom to blossom, enabling the reproductive process that brings forth a harvestable crop. Its contributions to American agriculture and the food chain are valued in the many billions of dollars.
While the scientific and political struggles go forward, New Hampshire and Vermont farmers, orchardists and backyard gardeners have been turning their attention to the numerous pollinating insects that are living right in their midst. First has come recognition that these indigenous creatures have been there helping all along and now the focus is on finding ways to help them keep working and perhaps doing even more.
Paul Franklin of Riverview Farm in Plainfield, an operation producing apples, fall berries and pumpkins, said he stopped hiring in itinerant honeybee colonies four years ago. A neighbor has a few swarms that help with pollination, but bumblebees and ground bees have become key to successful crop development.
Bumblebees are great pollinators, and to assure they're going to stay on the job through the entire growing season, they need a continual supply of blossoming crops to feed upon, beginning with apples in May and carrying though to fall raspberries, with clovers, pumpkins, squash, sunflowers and various other crops in the vicinity keeping them happy. They also want access to fresh water and to be left alone in their nests and at work.
Ground bees, of which there are numerous strains, favor dry soils, especially locations which have been scuffed and the sod broken to expose dirt. They are highly active during the May apple bloom, Franklin said. He said the bumblebees and the ground bees have made for good crops over the years.
The USDA Natural Resources Conservation Service in New Hampshire and elsewhere in New England has made research into and development of native pollinator management strategies a major initiative, and significant advances have already been made in identifying practices that protect and expand the insects' functions. Because native pollinators don't make honey, research support hasn't been forthcoming until recently.
Currently a USDA Specialty Crop Block Grant commitment is funding a statewide research and education project by the University of New Hampshire Cooperative Extension and the state's 10 county conservation districts aiming to expand understanding of the role native pollinating insects play and developing practical measures farmers and landowners can undertake to realize the benefits of thriving bumblebee and ground bee populations in the environment.
Workshops have been attracting hordes of interested participants, and the project is pointing toward a "pollinator summit" in Concord in the late fall where federal and state authorities, university scientists, Cooperative Extension experts, environmentalists and farmers will discuss the year's achievements in the field.
A research project in Sullivan County is now in its third year aiming to understand how creating buffers and establishing beneficial plantings adjacent to crop-producing fields can foster increased populations and activity of native pollinators. Based at the County Complex in Unity, the project is utilizing land that has been minimally cropped in the years since the county's farm enterprise was discontinued two decades ago.
The project seeks to improve prospects for crop production by boosting food sources and habitat for pollinators through introduction of more than 25 different plant species into strips of ground around the fields. Botanists from the New England Wildflower Society have helped pick species suited for various sites in the research areas, including dry soil zones and wetlands and spots where meadow perennials and flowering woody plants such as elderberry and American wild plum will thrive.
Other on-the-land research trials are underway on both public and private land around the state, all seeking to improve the habitat for native pollinating insects. USDA's Natural Resources Conservation Service is providing cost-sharing funds to landowners who want to undertake habitat enhancement practices.
The Northern New England Pollinator Habitat Working Group, which is composed of representatives of public agencies and universities from Maine, New Hampshire, Vermont and Massachusetts, is confident that its work is paying off already and is planning to continue with its agenda of research work and educational programming.
With establishment of a new colony of honeybees costing upward of $200 (not counting the cost of protecting it from marauding bears) and likelihood of its surviving even a year a gamble, crop producers more and more are looking at bumblebees and ground bees to pollinate for them.