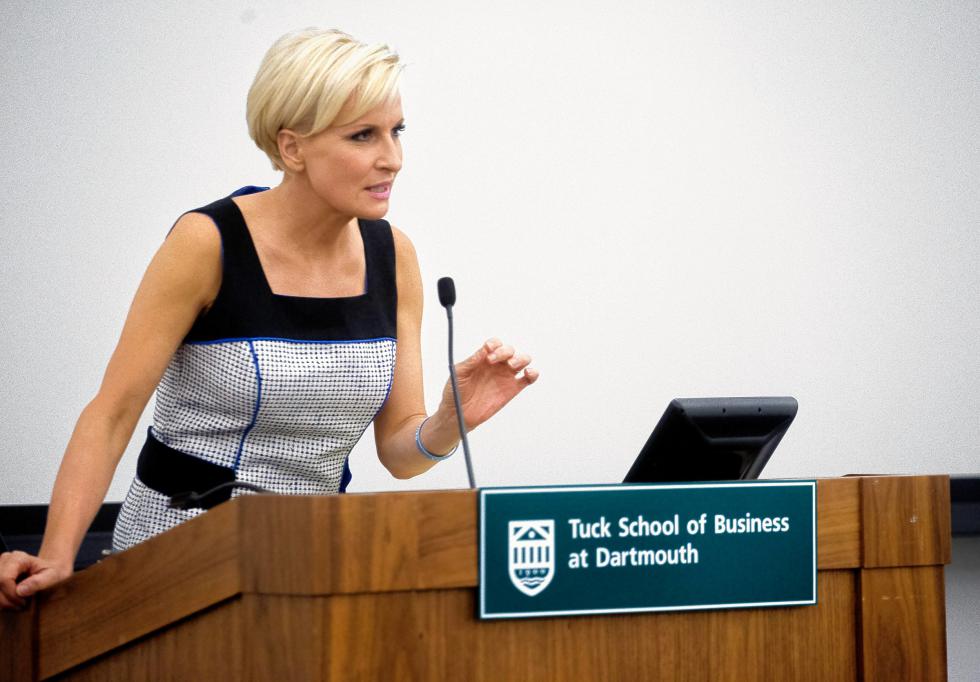 Women must understand their value in the workplace and learn to communicate that value to their superiors. They must stop apologizing. And they must begin to fight for themselves and for what they deserve.
"That," as Mika Brzezinski, co-host of the MSNBC television program Morning Joe, wrote in one of her recent best-selling books, "is the next chapter in the story that began with the women's rights movement."
Brzezinski was at the Tuck School of Business at Dartmouth College recently to deliver the keynote address at the Tuck Initiative for Women Symposium. Her talk urged empowerment of women in the workplace, as does her new book, Grow Your Value. Her 2010 memoir, All Things at Once, and her 2011 business book, Knowing Your Value, both New York Times best-sellers, covered similar ground. She arrived with her co-anchor, Joe Scarborough, who helped punctuate her points throughout her remarks.
This was rather a role reversal from the television show, where he often holds forth while she negotiates a middle ground.
Even though she is the daughter of a former national security adviser and has a degree from Williams College, Brzezinski had to rely on her own instincts to navigate the rough-and-tumble world of network television. She described rising to the top at CBS News — she reported live from Lower Manhattan during the Sept. 11, 2001, terror attacks — only to be fired and forced to start over in 2007, at the age of 39, with MSNBC. She took a chance teaming up with Scarborough, who wanted to replace the recently fired Don Imus in the 6-9 a.m. time slot. She was thankful to get another chance at television news and accepted a modest salary. Scarborough, on the other hand, talked tough with management and negotiated a large salary and future bonuses.
Brzezinski, now 48, suggested that she was clueless on that topic — but not for long. Teaming up with Scarborough also gave her first-hand experience in how to negotiate.
As part of her pep talk, she noted that the women of Tuck are "going to be big in the business world." Scarborough served as her fall guy and provided the humor, including the observation that "a guy is never as good as he thinks he is." She urged working women to stop apologizing and trying to make everyone "comfortable at all times." She reminded her audience, which consisted mainly of women, including Tuck and Dartmouth alumnae and current students, that women do fight, but usually for "our spouses and business partners, not for ourselves." Women tend to fill "awkward silences" when negotiating salaries, instead of waiting for a better response from their bosses.
For example, as Morning Joe was deemed a success in ratings, Scarborough got his bonus. But the lower-paid Brzezinski — she had publicly noted that her salary was 14 times smaller than Scarborough's — was getting ready to leave. Then she looked at her bank account and it was suddenly flush with cash. Evidently, Scarborough gave his bonus to her, calling it a business investment to keep her on the show.
After this experience, Brzezinski's response was to negotiate a higher salary for herself. (In 2012, The Daily Beast put her salary at $2 million a year, while Scarborough's totaled $4 million.)
The day after the address, Brzezinski and Scarborough had arranged for Morning Joe to be produced on the Tuck campus for students to see how a live show is put together. They then met with the public in an open session that afternoon.
Curt Welling, a Dartmouth and Tuck graduate and now a senior fellow at Tuck, was the moderator for the discussion. Wearing Dartmouth fleeces — green for him, black for her — the two television personalities described their show and answered questions.
They explained that their production makes more money for MSNBC than the network's other news shows, and said they feel they are "trusted" by the public for their "transparency on the issues of the day." After discussing presidential politics, they were asked if the media offered more of a level playing field for women to succeed. Both Scarborough and Brzezinski said no, and Brzezinski punctuated the point by saying "I don't want my daughters" to do this type of work.
Empowerment Sessions
At these Dartmouth presentations, participants got a preview of what Brzezinski will be stressing in her "Know Your Value" events for women. She says this is "part of a nationwide movement to empower working women," with four sessions planned in Washington, Chicago, Boston, and Orlando, Fla.
Topics include closing the deal, health and wellness, and body language. Nationally known celebrities appear at these events, including actress Brooke Shields and BBC World News America anchor Katherine "Katty" Kay. Some 500 women participated in the Philadelphia kickoff. The tickets for these all-day gatherings are $225 each.
However, the broader reach for empowerment consists of the "Grow Your Value Bonus Competition," where no purchase is necessary. If you are 21 years old or older and a U.S. resident, you may create a 1-minute video telling Brzezinski "why you deserve a $10,000 bonus." If you win, she hands you a check. The Boston competition opens Aug. 31 and runs to Sept. 20. The website is http://www.msnbc.com/know-your-value/contest.