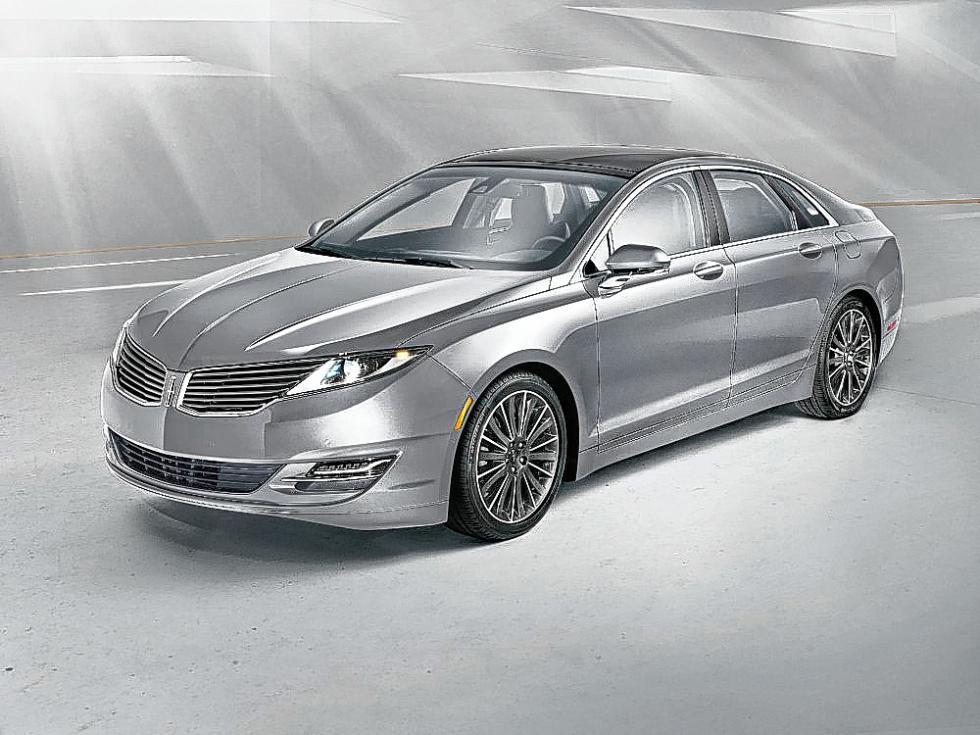 It is a beautiful car. That is the essence of it.
Forget prestige, intangible quality — all those things that have everything to do with the price inflation of an automobile but little or nothing to do with enjoyment of the car itself.
Think sculpture. Think art. Think the 2015 Black Label edition of the Lincoln MKZ sedan. It is an exquisitely beautiful car, inside and out, pure and simple.
Note to Cadillac chief executive Johan de Nysschen: You could learn something from the Black Label people at rival Lincoln. While you are moving Cadillac headquarters from Detroit to New York, hiring a hot-shot European marketing firm, targeting all things European in a bid to boost Cadillac's "exclusivity," the Black Label folks at Lincoln are doing it right, and probably for a heck of a lot less money.
How are they doing it? By using common sense. To wit: Give folks an undeniably beautiful car offering a choice of four superbly rendered interior design themes — tan-and-cream Oasis, dramatic red-and-black Center Stage, voluptuous chocolate Indulgence, or the elegantly minimalist black-and-white Modern Heritage.
Coddle those buyers from point of sale, which might very well be in their own homes or offices, to point of recall. Recall? Yes. Cars are conceived, designed, engineered and manufactured by human beings. Look at global human history. Human beings, no matter who or where they are, make mistakes. Automotive recalls, such as troublesome door latches on some MKZ models, are a good way to fix those errors.
A coddled recall is the best kind. You are notified by mail about the suspected problem. You are told how the company, through its dealer representative, intends to fix the problem. You contact the dealer for a repair date and expected length of repair time. Black Label clients have it easy. They can elect to have someone pick up their car and provide alternative transportation in the repair interim.
Common sense. No fancy advertising agency or hubris-laden TV commercial ("It is a weak man who urges compromise." Really, Cadillac?) needed.
But the MKZ has a vulnerability in a luxury-car world still obsessed with super-high horsepower. The car comes standard with a turbocharged (forced air) 2-liter in-line four-cylinder gasoline engine, the trademarked EcoBoost engine heavily marketed by Ford Motor Co., maker of all things Lincoln.
That engine delivers a maximum 240 horsepower using 93-octane gasoline and 231 horsepower with regular-grade fuel (87 and 89 octane). Torque remains consistent at 270 pound-feet. That is more than enough for common-sense motoring in a well-appointed automobile. But a 300-horsepower, 3.7-liter gasoline V-6 is available for those who think they need more of a rush in their MKZ, either with the standard front-wheel drive or optional all-wheel drive.
That brings up something that's been rumbling around my mind for a long while now. I annually drive 40,000 miles or more worldwide. Unless I am allowed on a sanctioned racetrack — and only under strict supervision — there aren't many places I can go willy-nilly zoom-zoom.
So all this fuss from automotive media and marketing types about horsepower of 400 or more and track-level handling and performance makes little practical sense to me. I've been stuck in immense traffic jams all over the world — Brazil, South Africa, Italy, Britain — where horsepower made much less sense to me than the favorable appointments, ergonomics and comfort of the cabin.
This Lincoln MKZ gives those things to me. The promised Black Label treatment offered by Lincoln is much more appealing to me than the rush toward "exclusivity" now championed by the folks at Cadillac. At a starting price of $47,445, the Black Label edition of the Lincoln MKZ is exclusive enough.
What I want after spending that kind of money is to feel special. And I want an undeniably beautiful automobile — elegantly flowing exterior lines with bold winged front fascia, deep-chocolate interior covered with Venetian leather and Alcantara textures, and one of the most attractive, ergonomically useful instrument centers in the business.
I want the Black Label edition of the Lincoln MKZ.