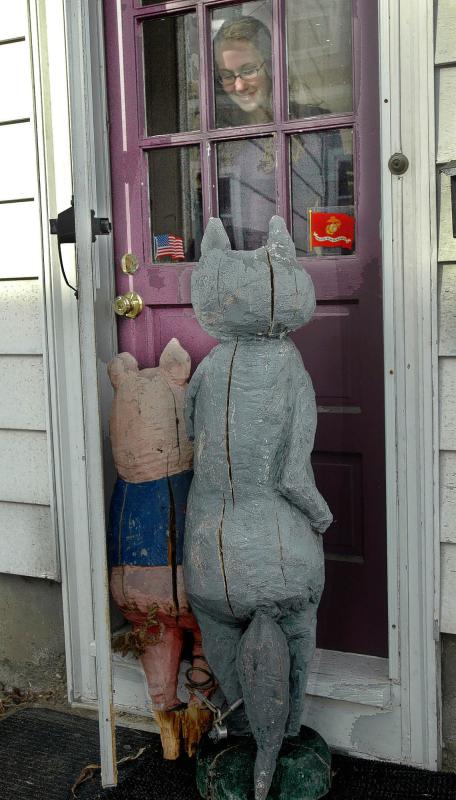 Hanover — After 15 years on Lebanon Street, Pig and Wolf, the anthropomorphic statues that schoolteacher Bill Hammond brought to life in 2001, may soon have to find a new home.
Hammond is advertising his 53 Lebanon St. property for sale by owner, leaving uncertain the fate of Hanover's landmark animal pair. If new owners are amenable, he said, the figures may continue to reside on one of the town's main corridors, where commuters, neighbors and schoolchildren are accustomed to seeing them; if not, Hammond may take them with him to Etna, where he is moving to care for his father-in-law.
Over the past decade and a half, Hammond, once a teacher at Hanover High School and now the principal of Marion Cross School in Norwich, entertained the town by putting the 3 1/2 -foot pine figures in creative outfits and situations. In the process, the animals have become dear to Hanover residents and have proven themselves valuable fundraising tools.
"I know they will be sorely missed if they leave the front of Bill's house," resident Kathy Geraghty said. "Countless children, my grandchildren included, count on seeing them as they drive by to check what they're wearing. "
Over the past three weeks, Hammond has posted items to local Listservs advertising the property as the "House of Pig and Wolf," asking $479,000 for the house or a package deal of $239,600 each for the statues — with the property thrown in as extra. He signed the posts "Hamnonymous."
Taking up less than an acre, the parcel is located steps from the Hanover Co-op Food Store. The two-story clapboard colonial house was built in 1910, according to Hanover assessing records, and has a replacement cost of $203,068.
In an interview Monday, Hammond said he already had heard from several potential buyers, including one person who had made an offer but whose financing had fallen through. As for Pig and Wolf, he has received numerous offers from area residents and businesses to play host, though he said he preferred to keep them on his Lebanon Street property or bring them with him to Etna.
"We know they're ours, but they really aren't ours. They're the community's," Hammond said.
The community has profited from Pig and Wolf's popularity. In 2011, Geraghty was one of the principal organizers of an auction of some 20 fiberglass replicas, which raised about $40,000 for Thompson Terrace, just one of the many fundraising efforts involving the statue duo.
One of those figures stands in her front lawn — she won it for about $4,000 — and others are scattered across the Upper Valley in the hands of businesses and private owners. Hanover High has a pair dressed in the school's sports uniforms.
As they do most days, Pig and Wolf on Monday afternoon stood near Hammond's house on Lebanon Street, where a "For Sale By Owner" sign was posted on the fence outside.
The sentinel statues, however, are not originals. The wood has a tendency to lose water and crack, giving each pair a limited lifespan.
According to their maker, Marilyn "Willy" Black, Wolf is well into his second iteration, and Pig is in his third.
Black, a retired artist, carves the figures from pine logs with a 9-inch electric chainsaw. In 2001, she made the first pig on Hammond's request for his wife, Cristina, who had asked for "something whimsical for the garden."
The result was more whimsical than anyone expected. Soon after placing the first statue in his yard, he moved it for one reason or another, and a neighbor stopped by to ask him, "Why'd you move the pig?"
At that point, he said, "I knew people were watching."
It became a running gag, or an impromptu performance. Pig peeked from behind the fence or from behind the garage or stood in traffic or climbed a tree — "It was a Where's Waldo? experience," Hammond said.
The wolf came a year later, and Hammond started to tell stories. He built a straw house for Pig, which Wolf approached day by day. After that domicile met its end, Hammond built a stick house, and later noticed that someone had affixed to it a fake town building permit for "wolf-rated construction." He never found out which official was responsible.
Area businesses and charities began to participate in Hammond's gags, using the figures' growing fame for fundraising: The Montshire Museum of Science, the Norwich Women's Club, the Children's Hospital at Dartmouth-Hitchcock and the Prouty are among its beneficiaries.
Pig and Wolf's most well-known episode came in 2005, when they disappeared for nearly seven months, presumably stolen .
The town was in an uproar. Letters poured in to the editor of the Valley News , whose own Jim Kenyon devoted a column to plead ing with the abductors to return Pig and Wolf.
When they finally did return, someone had left them by the side of Interstate 91 in Norwich, where Pig sat on a grill and Wolf, nearby, held a hot dog. Hammond threw a party to celebrate. He invited residents to bring their own lawn ornaments, and as many as 75 inanimate partygoers attended.
Three or four years later, word of the kidnappers' identities passed through the grapevine to Hammond , who two weeks later received a phone call from the very same people. They told him they were producing a documentary about the theft, and asked him if he wanted to be in it.
He said yes. During the resulting interview, the people Hammond believed to be responsible asked him, "Hey, by the way, do you know who stole Pig and Wolf?"
He told them, "No, I'm not sure, but I can tell you this: I've taught Russian literature for years at Hanover High School, and if there's one thing I know about Russian literature, it's that the criminal always returns to the scene of the crime."
"And their eyes got big," he recalled on Monday, "and that's when they found out that I knew that it was them."
Both Black and Hammond indicated Monday that the adventures of Pig and Wolf were nearing their natural end; Black said she was unlikely to carve another pair.
"I'm going to be 85 very soon and I'm slowing down," she said, "and if he's going to move and not be there to take care of them, they can live out their life the way they are."
Even when the statues briefly disappeared, "I was sorry they were gone, but you can always make something else," Black said. "As I say, they were just old logs. They were not permanent, expensive things."
Rob Wolfe can be reached at rwolfe@vnews.com or 603-727-3242.