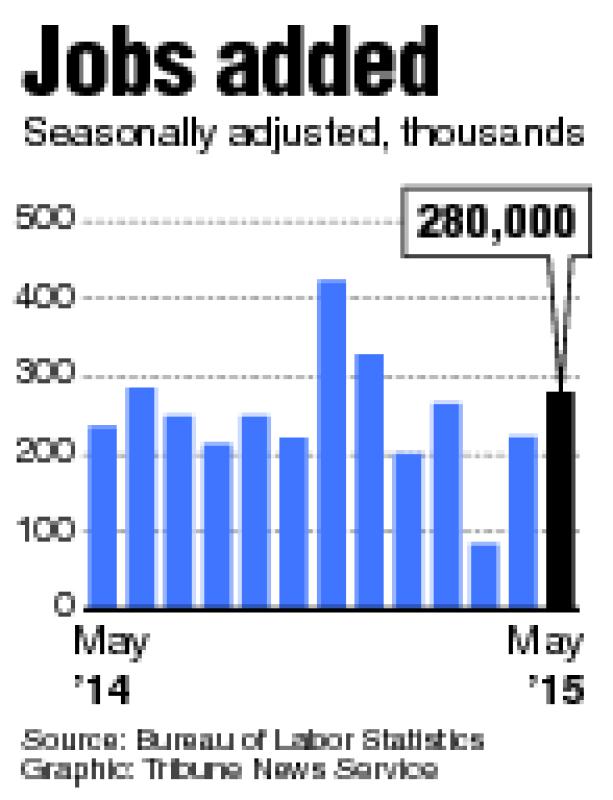 Washington — The U.S. economy sure is adding a lot of jobs for something that's not supposed to be growing much, if at all.
Specifically, it added 280,000 jobs in May, better than the 225,000 that were expected, and another 32,000 in revisions to previous months. This actually made the unemployment rate tick up to 5.5 percent, though, for the good reason that more people were looking for work — 397,000 more, to be exact — than before.
So the recovery seems to be sucking in people who were too discouraged to look for a job until now. It doesn't hurt that wages might, just might, finally be rising a little more. Average hourly earnings, which tend to be noisy, went up 0.3 percent in May and are now up a slightly less-unhealthy 2.3 percent the past year. (Wages should normally increase about 3.5 percent.)
The recovery, in other words, has returned to normalcy. Late last year, gross domestic product and jobs growth surged so much that it looked like the economy was hitting a higher gear. And then, like that, it was over. Winter came, and the temperature wasn't the only thing that dropped. Economic activity did too. We went from adding an average of 324,000 jobs a month in the last three months of 2014 to just 195,000 in the first quarter of 2015. That wasn't much better than our average between 2011 and 2013. The question, then, was whether this swoon would turn to a swan song for the recovery, or if things would stabilize. Well, now we know. The recovery's the same as it ever was.
But it isn't easy to reconcile these good-ish jobs numbers with the decisively not so good numbers everywhere else in the economy. Industrial production has fallen for five straight months. Retail sales have plateaued. And, worst of all, the economy supposedly shrank 0.7 percent at the start of the year.
Now, it's true, as economist Justin Wolfers tells us, that a better measure shows that it really grew 1.4 percent, but even that is underwhelming. So is the 1 percent or so that the Atlanta Fed thinks the economy is growing right now.
The discomfiting possibility is that we don't need the economy to grow as much for jobs to grow. Why is that bad? Well, it would mean our workers are doing less with more. And that's what seems to be happening now. Productivity growth fell 3.1 percent in the first quarter, which might be a blip, but seems like less of one when you consider, as Scott Sumner points out on TheMoneyIllusion, that productivity has only grown 3 percent in total the past five years. If this past is prologue then the future won't be as rich as we thought it would be.
It definitely won't, though, if the Federal Reserve raises rates too soon and too fast. The good news is it probably won't do that. All the other data has been too weak for the Fed to start hiking later this month, but if jobs growth stays this robust, the central bank could start raising rates in September or December at the latest.
That doesn't mean it should, though. As long as inflation is still so far below target, there's more than enough reason for the Fed to wait to see how low unemployment can go before the economy overheats. It seems like a long time ago that the IMF said the Fed should hold off on raising rates until 2016. It was only last week. One good jobs report doesn't change the wisdom of that.

O'Brien is a reporter for Wonkblog covering economic affairs. He was previously a senior associate editor at The Atlantic .