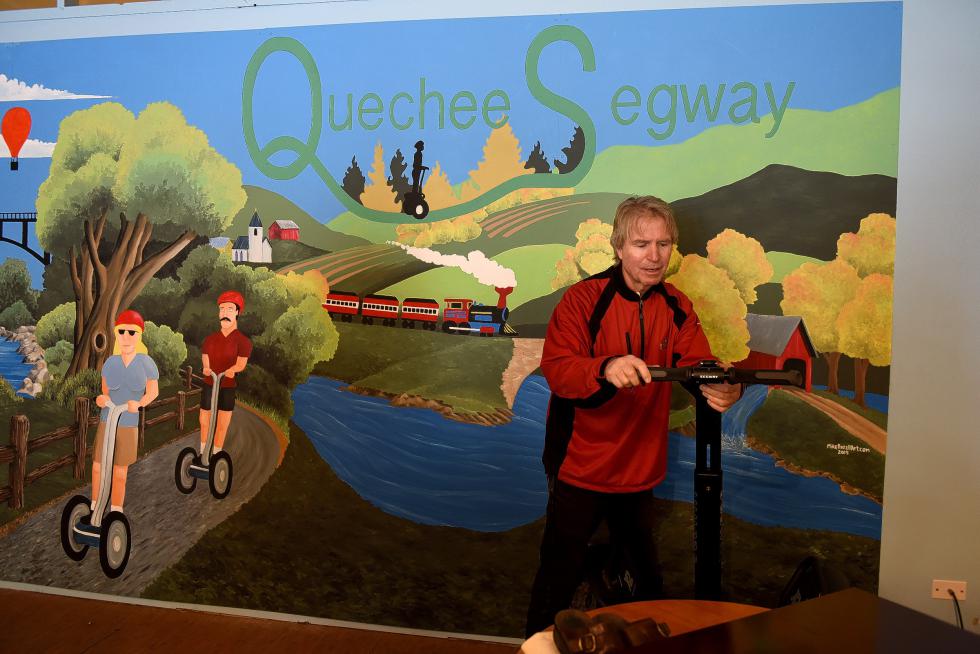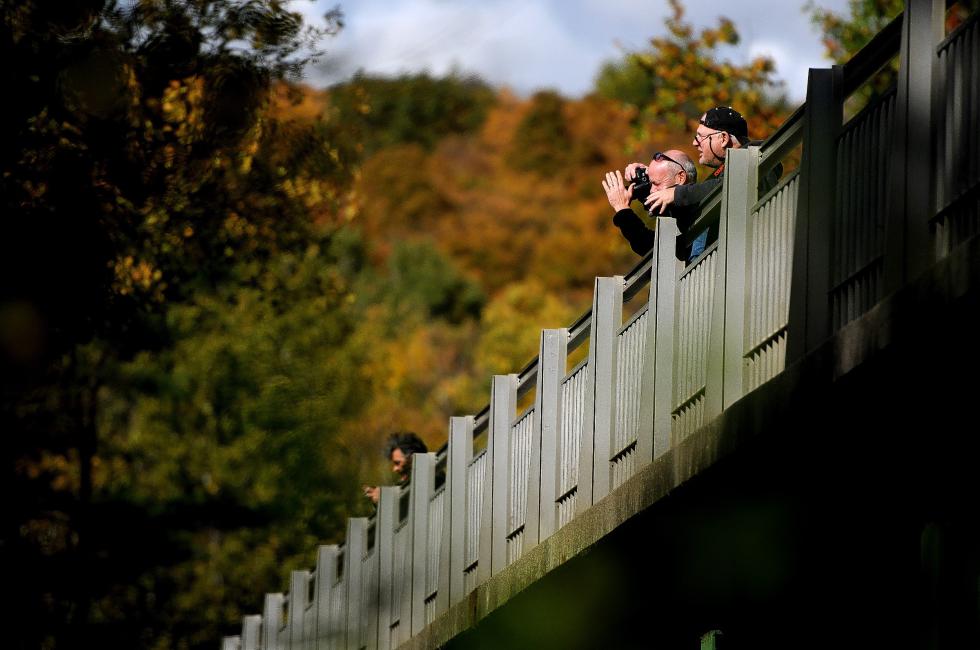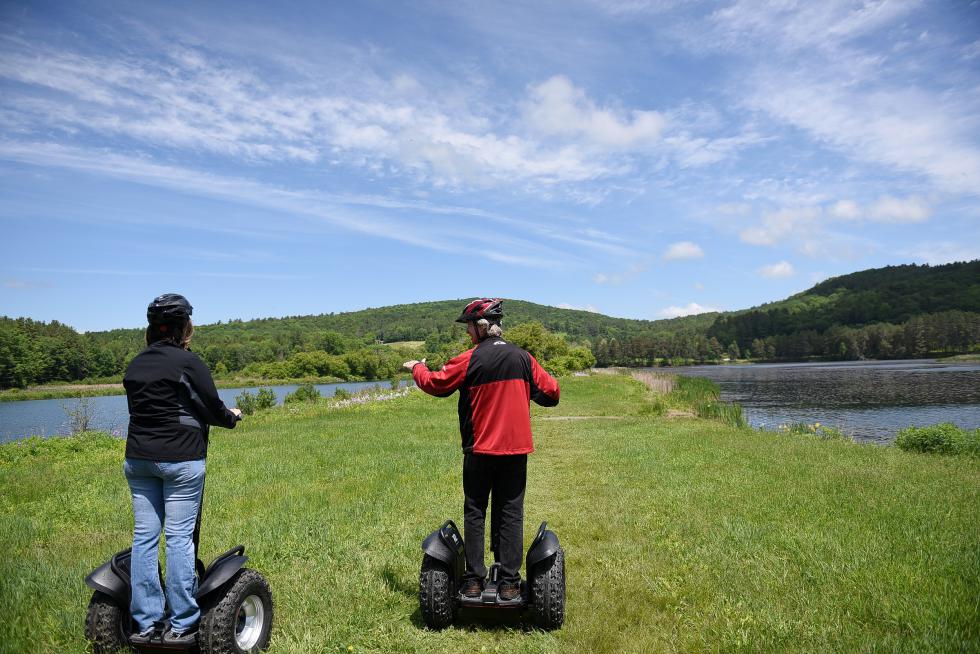 Quechee — On a whiteboard in Gary Neil's cluttered office above the Cabot Quechee Store at the Quechee Gorge Village shopping mall on Route 4 is scrawled a reminder: "QGV is in reality part of a much larger natural attraction."
The sentence reflects how Neil views the 20-acre retail complex that caters to the swarm of tourists visiting the gorge every summer, a challenge that is forcing him to "recast" the assembly of gift shops, souvenir stores and scattered attractions into a combination shopping plaza and dining-entertainment destination.
"Anybody in my business who doesn't reinvent themselves every five years is going to be in trouble," Neil said as he gives a tour of the barn-like structure that houses the majority of the mall's merchants, including scores of closet-sized stalls where vendors sell antiques. "If we're not relevant to the next generation, we'll be history."
This month, Neil will debut what he hopes will become a siren call for tourists passing through the Upper Valley: a fleet of 10 Segways, the two-wheeled, self-balancing scooters deployed for guided historical tours of the Quechee Gorge area or for simply tooling around on a nearby field. The Segway tours will be part of a storefront being renovated that will house Neil's collection of vintage arcade games and an ice cream parlor that he hopes will be a draw for both tourists and area residents.
Part amusement park, part antiques mall and part purveyor of both fine Vermont crafts and tourist kitsch, Quechee Gorge Village has survived three recessions since Neil and his wife, Robin, bought the property in 1988 from Carl "Charlie" Kelton, the onetime auto dealership operator who briefly owned it before running into financial and legal problems. Kelton had bought the complex from Edmond "Peanie" Goodwin, a lumberjack who created the site — then called Timber Village — to encompass a woodmen's museum, antiques center and logging camp-theme restaurant.
Neil, a former sales executive with computer company Wang Laboratories in California and Germany, had a ski condo at Killington and moved to Upper Valley when he decided to launch a second career as a commercial property owner, manager and investor. As owner of Quechee Gorge Village, the operation's principal source of revenue is rent Neil charges to the merchants who lease space on the property — he sold the antique mall business to another operator several years ago, who in turn subleases the stalls to vendors.
But the past 10 years for shopping malls, the central terminals for America's consumer-driven economy, have been difficult. The Internet's siphoning off of shoppers began to accelerate just as the 2008 recession hit, slamming the breaks on spending. Since 2010 about 24 major shopping malls have closed around the country, according to retail tracking firm Green Street Advisors, with 80 more on the cusp of failing, and the occupancy rate has fallen from 94 percent to an average of 80 percent. When the definition is expanded to include shopping centers and plazas, the number of closures soars into the hundreds.
Most of these complexes are the typical behemoths that host the usual cookie-cutter retail outlets and chain restaurants and are not in the same category as the quixotic Quechee Gorge Village, which features an array of a half-dozen craft shops along with a gas-powered miniature train ride for kids, vintage carousel, toy museum and flea market on Sundays.
But Neil said the Internet, where people now routinely go to buy antiques through eBay or crafts through Etsy, has had an impact on sales at Quechee Gorge Village. Neil, an inveterate collector of period toys and memorabilia — he has more than 740 lunchboxes with what appears to be the images of every kids TV show ever made — said that, on principal, not a single item in his collection was bought online because that would mean cutting, if even symbolically, into the storefront businesses who are his tenants.
To keep Quechee Gorge Village as a destination site where tourists will spend money, Neil said that he has been evolving the retail center to feature four offerings: craft stores, "see-it-made" businesses, dining and outdoor attractions, the last which includes the new Segway tours.
The main dining establishment is CJ's at Than Wheelers, the former basement pub in the Gates-Briggs building in White River Junction that reopened with little fanfare at Quechee Gorge Village earlier this year in the building formerly occupied by the Quechee Diner and is the first full-service bar to open at the site. A bakery and cafe is opening in the main structure and Neil said he hopes both establishments will help draw area residents as shoppers — a group he said that has been hard to attract.
A blacksmith will be opening up shop later this month. Along with on-site soap maker Whisper Hill Bath and Body and the Vermont Spirits distillery that relocated from Barnet, Vt., in 2011, they represent the "see-it-made" concept that Neal said helps to make Quechee Gorge Village a unique experience for shoppers. The Lucky Elephant, an importer of Asian crafts, has opened an adjacent yoga studio.
"This property has to have enough different things to capture enough visitors," said Neil, who sees more outdoor attractions, such as electric-powered snowmobiles in the winter, as a growing component in Quechee Gorge Village's future.
As for the Segways, Neil said, he carefully researched the opportunity before spending $70,000 for the fleet of 10 "rugged outdoor" X2 models. Launched with a massive PR campaign in 2001 by Bedford, N.H., inventor Dean Kamen and hailed a revolution in personal transportation, the Segway immediately flopped and the company is now on its fourth owner and is controlled by Chinese robotics firm Ninebot Inc. (The second owner of the company was killed when he accidently rode his Segway off a cliff in Britain.)
In fact, tour groups have become one of the big customers of Segways. There are Segway tour operators in Burlington and Smuggler's Notch, Vt.; Okemo Mountain Resort and Gunstock Mountain Resort in New Hampshire, as well as Salem, N.H., and Boston. Most offer shorter and longer rides ranging in price from about $35 to $75.
Neil has researched and written a seven-page historical outline of Quehcee Gorge, which explains how the bridge over the gorge was built in the late 19th century for the railroad between White River Junction and Woodstock and relates the various mill businesses and farms that once operated in the area.
He has received permission for the Segways to have trail access in the state park, and the tour will make approximately 5-mile loop around Dewey's Mill Pond, Marshland Farms and the Quechee polo field before heading back to Quechee Gorge Village.
Riders also will be required to receive training, watch a safety video, and wear a helmet.
"We don't want people just hopping on this thing and taking off," Neil said.

John Lippman can be reached at jlippman@vnews.com or 603-727-3219.