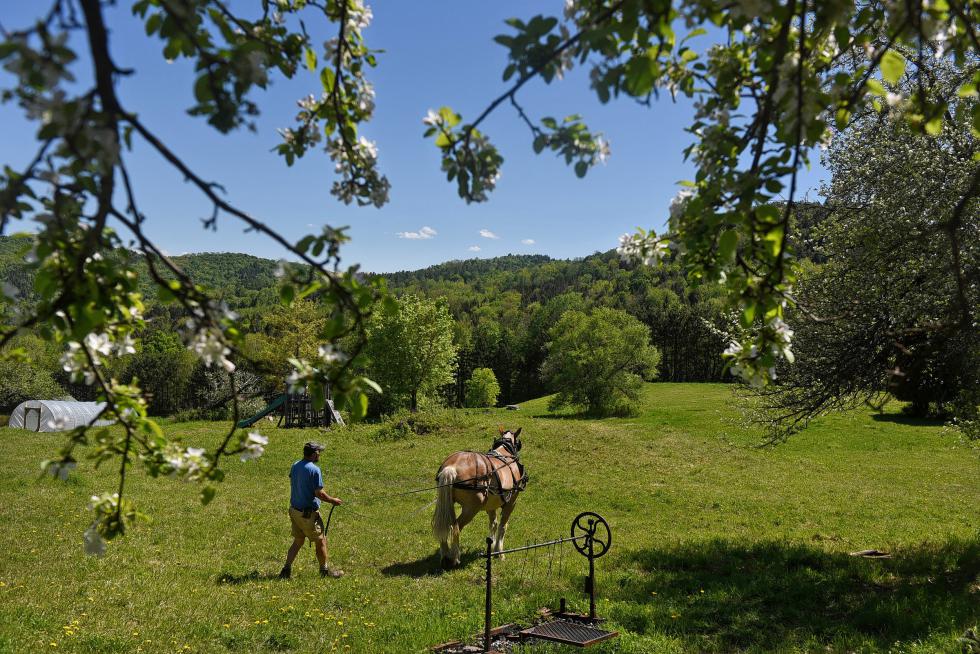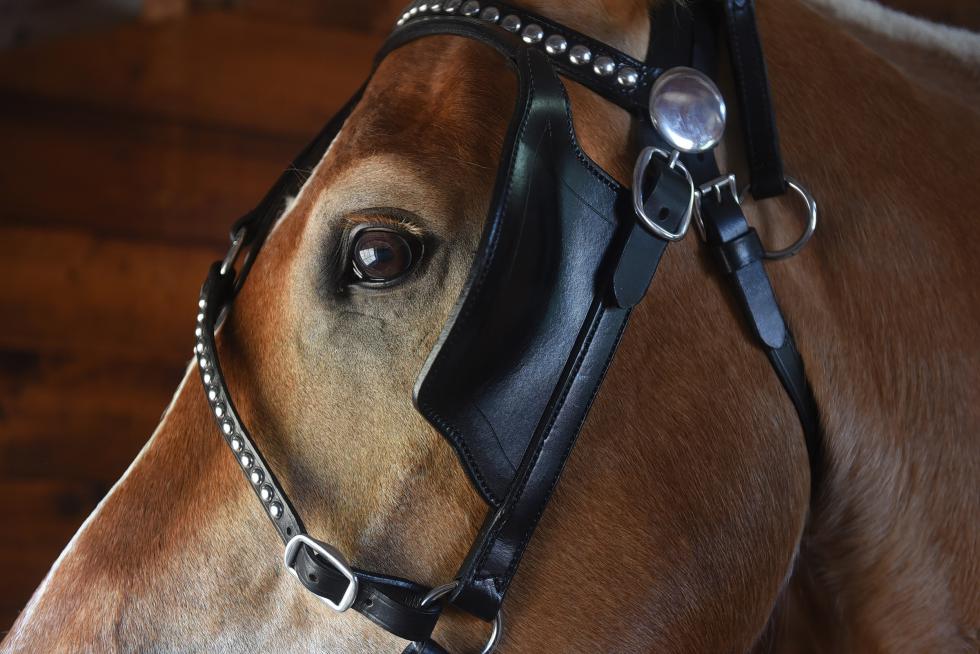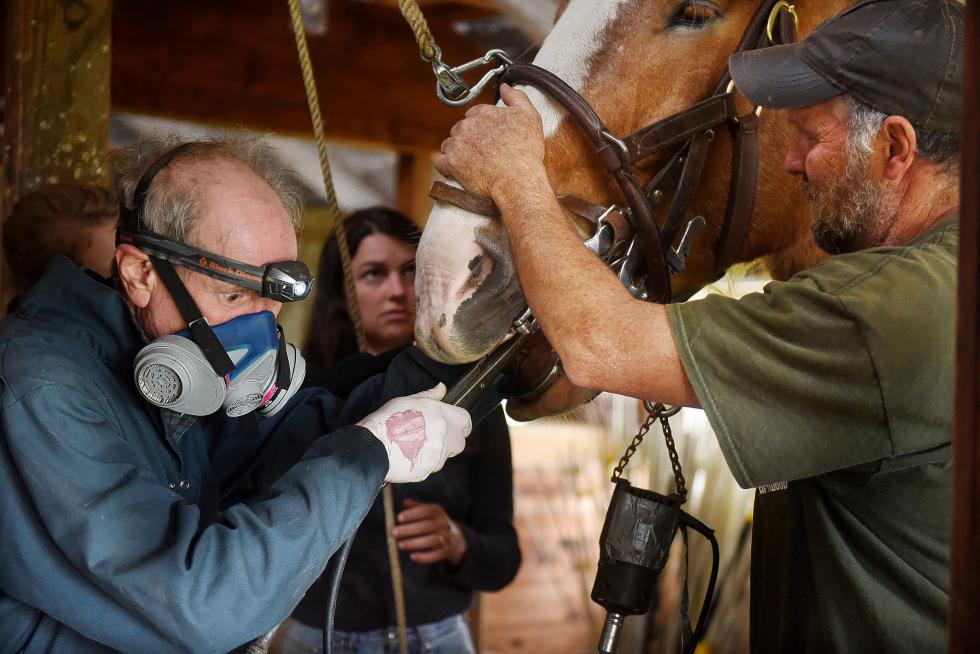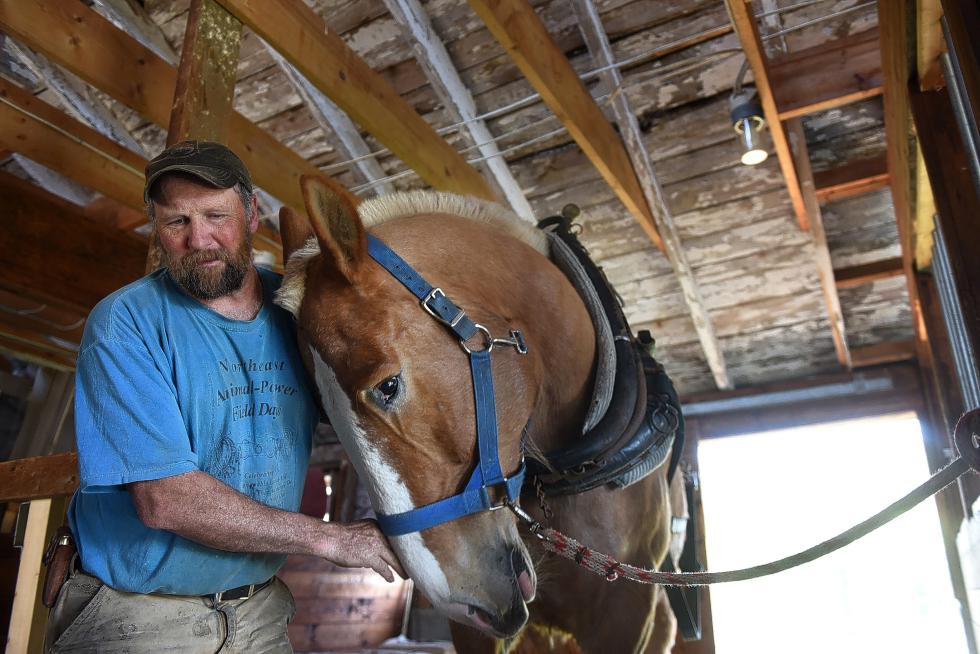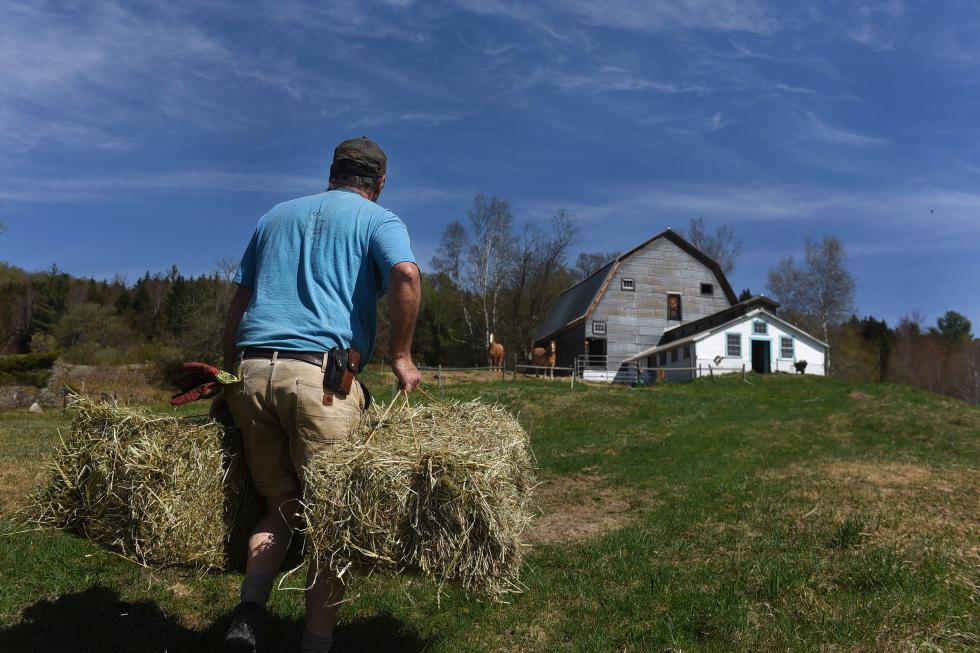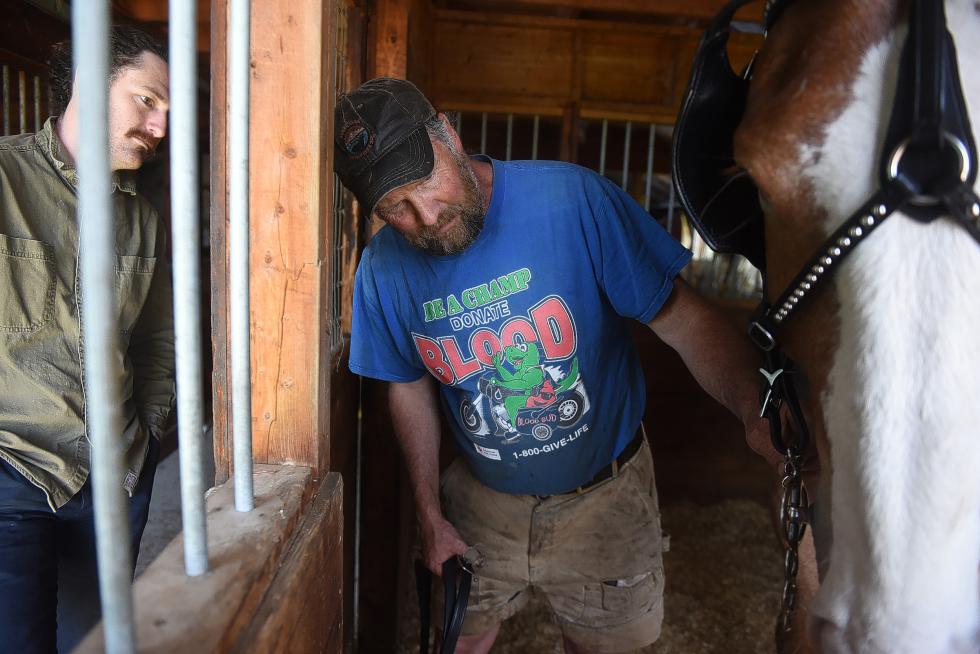 Bethel — A drizzly morning last week found Carl Russell at Stitchdown Farm, ready to trim his new draft horses' hooves. He whistled, and Tom and Mike jogged up to him. But the animals, recently rescued from a Massachusetts farm, were boisterous, jostling one other and darting around the paddock.
"You're full of beans today," Russell said before ducking into the barn. He wouldn't chase them — the attention would reward their behavior, said Russell, an experienced teamster who hopes the horses will become his new work animals. Instead, he wants them to understand he's there for a reason and show him deference.
"It's not a submissive thing," but a give and take relationship built on communication, he said. "I want them to be comfortable around me."
An animal power proponent, he's has been working with draft animals for nearly 30 years. His business, Russell Forestry Services, includes low-impact timber harvesting with draft animals, and he and his wife, Lisa McCrory, use draft animal power at Earthwise Farm and Forest, their organic farm in Bethel. The couple founded Draft Animal Power Network, a Vermont-based nonprofit, and previously organized Northeast Animal-Power Field Days.
Animal power provides environmental and financial benefits, Russell said. Because animals are far less expensive than machinery, farmers who rely on animal power have more freedom to make choices about their work.
If you buy a $650,000 piece of farming equipment, he said, "you've got to feed that beast."
Russell has done "pretty much everything you would want to do" with his current team, who are in pretty good health, he said. But at 14 years old, they are getting to the point where they could start to have medical issues and slow down somewhat. He hopes to find them a farm where they can continue to work, but with less intensity, perhaps with novice teamsters.
To replace the horses, he'd been looking for free or abused or renegade animals that people were afraid to work with. Buying a well-trained draft horse is expensive, and he would pay a lot for teaching that he could do himself. Also, there are a lot of underused or neglected work animals that deserve more, he said.
With no room at his family farm, Russell boards the horses at Stitchdown Farm on Bundy Road, owned by Rita Champion and Andrew Plotsky. The animals, thought to be 6 or 7 years old, are impressive — 17.3 hands, or almost 6 feet at the withers. Apparently brothers, they came to Russell by way of a friend after being rescued by Blue Star Equiculture in Massachusetts.
The nonprofit's goals include placing horses in loving homes where their physical and social needs will be met, according to its website, "Draft horses and other 'working' horses have, through their co-evolution with humans, developed a psychological need to be with people. They enjoy their work, whether that 'work' is in harness pulling a carriage or a plow, under saddle, or as a companion."
From their behavior, it's clear that someone had worked with Mike and Tom previously, Russell said, but he's not sure whether they were ever used as draft horses.
When they were first rescued, they were underweight, and their teeth and feet had been neglected. But thanks to food, care and medical attention, the horses on the upswing. And they're beginning to trust people again.
"I love sharing them with Rita and Andrew," said Russell, a longtime teacher and mentor to people interested in using animals to farm and log. "They've done a great job" getting them used to the routine.
The couple, who previously farmed in Oregon, moved to the property last winter. Their dream for the farm is still evolving, Champion said, but they hope to grow vegetables and flowers and raise sheep, for meat and fiber, and goats. Champion and Plotsky would like to do as much work with horses as possible, and Mike and Tom's first Vermont gig will probably be logging at Stitchdown, which has 40 acres of pasture and even more forested land. Plotsky and Champion said they're are glad for the chance to learn from Russell.
Champion grew up riding horses, but hasn't spent much time with draft animals, she said. "It's been a really good experience, just learning how to approach the horses," who are slowly becoming accustomed to being handled again.
Caring for the animals is more complex than it appears, said Plotsky, who is new to all things equine. From how to touch and brush them, to putting on a halter, to the energy between people and horses, Russell has taught him "all these little nuggets," he said. "Carl is a very patient person."
When the brothers had settled down, Russell called them again, patted their shoulders and slipped halters over their muscular necks.
"They need to be trusting of me and they need to be engaged with me," he said. "I see every single (interaction) as an opportunity to enhance that."
He led them one at a time through the narrow barn door, guiding Tom in first while Mike made the most of the short wait, chomping down on a clump tall of tall green grass outside the barn. Once the horses were in their stalls, Russell scooped up some grain, "a tasty treat for being so smart," he said as they tucked in.
Aimee Caruso can be reached at acaruso@vnews.com or 603-727-3210.