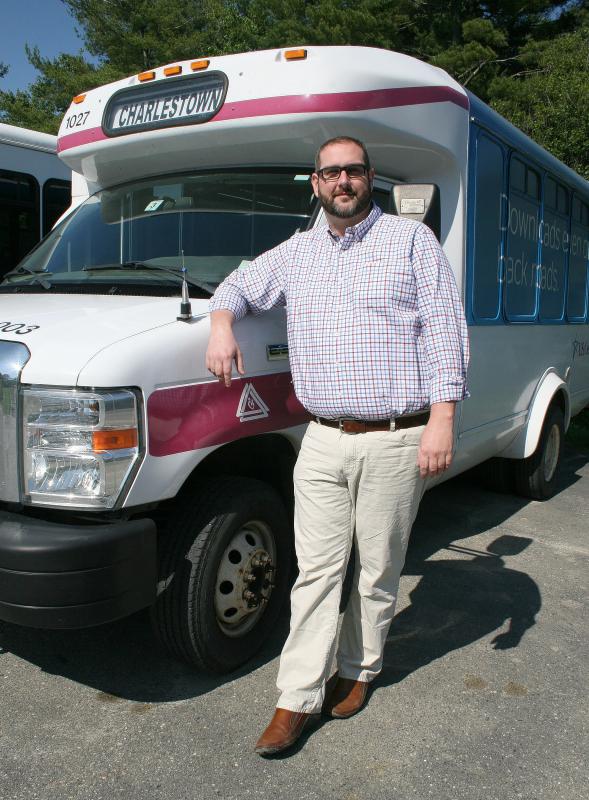 Newport — The Sullivan County group working to connect Claremont and Lebanon with a bus route along Route 120 is hoping that its new executive director will drive efforts to expand its transportation offerings.
The Community Alliance of Human Services, a Newport-based nonprofit, recently appointed Corey Gagnon to its helm. Gagnon, who hails from Portland, Maine, said he is ready to put the pedal to the metal, particularly in regard to a bus line proposed along the Route 120 corridor.
The bus would aim to streamline the commute between Claremont and the Upper Valley's largest employers, a number of which are based in Lebanon. Though he's only been in the area for a short time, Gagnon said he already has realized the importance of the proposed project.
"The bus is viable, and it really is a necessity in this area," he said. "The connection to Dartmouth-Hitchcock Medical Center (and other employers) is vital. I'm hopeful to make it happen."
Among its various programs, Community Alliance of Human Services operates Community Alliance Transportation Services, a program that offers public transportation to Claremont, Charlestown and Newport. Gagnon's appointment coincides with the completion of a strategic planning process that allowed the nonprofit to closely examine its services.
After the process wrapped up, the group's board of directors determined that "transportation is a core enterprise, one that we want to focus on moving forward," board member Rolf Olsen said.
Transportation is a service where the organization "could have a lasting and profound impact on people who have a difficult time transporting themselves — whether for work or shopping or to stay socialized and connected," said Olsen, the spokesman for Valley Regional Hospital. Proposals for the bus route have included stops at such places as Valley Regional Hospital, River Valley Community College, Cornish Flat and Kimball Union Academy en route to and from Lebanon.
Last August, Gov. Maggie Hassan signed into law a House bill authorizing public transportation to be established along the Route 120 corridor, connecting the two cities, though no money was included in the final version.No money has been earmarked since then, either.
"Ironically, nothing moves quickly in transportation," Gagnon said.
The board's search for a director began last year, Olsen said. Organization development consultant Lizann Peyton, of Norwich, was called in to assist the nonprofit in recruiting candidates for the position.
Roughly a half-dozen candidates were culled and interviewed by phone before Gagnon and another candidate emerged as the top two finalists, Olsen said.
Ultimately, Gagnon's experience gave him the boost he needed to secure the spot.
"Corey's background in transportation — especially in rural transportation — is impressive," Olsen said. "We decided he was the right candidate."
Gagnon succeeds Liz Chipman, who guided the board through the strategic planning process during her time as interim executive director. Gagnon declined to provide his salary.
Before coming to Newport, Gagnon served as operations and logistics manager for the Regional Transportation Program in Maine, where he helped develop a similar project. The key to the Maine bus' success, he said, was support. The Portland service had partnerships with the state, towns and businesses — it even had a partnership with Verizon Wireless that equipped its buses with Wi-Fi, he said.
Yet despite the partnerships and support enjoyed by the Maine operation, it still took more than five years for the route to be established.
"My concern here is that people have a really high expectation of CAT making this bus happen, and they like the idea, but the truth is buses don't run on smiles," Gagnon said. "Buses run on cold hard cash, and without money we cannot operate a bus. … We don't have the money in our operations budget to finance it ourselves right now. I think this bus could be sustainable, but it totally has to be a partnership."
And he plans to secure plenty of partnerships.
Once he lays a solid foundation, Gagnon said, he will turn his focus to reaching out and connecting with communities and agencies that could help make the bus line a reality.
"Which road you take is less important than how you get the people there," Olsen said.
Gagnon said the first step to getting the project underway is by taking a look at Community Alliance's existing transportation services. The organization soon will be issuing surveys to its riders seeking feedback on operation times, routes, how the buses are used and more. From there, he said, the group will tweak its offerings as necessary to provide the best possible service.
"I'm all about efficiency," he said. "Every day, there are small things you can change."
Although he faces several challenges in his new role, Gagnon said he feels well-equipped to help the nonprofit thrive. He holds a graduate degree from the University of Southern Maine and has spent most of the last decade working in transportation.
It's all hands on deck right now, he said, but he is encouraged by the enthusiasm and energy of the group's six-member board.
"I think this (job) is worth something," Gagnon said. "It makes me be creative; it's fun. I've always wanted to help people, and working for a small system like this makes lets me help people daily and makes me feel good. You really have to apply yourself here. I'm excited every day I come into work."
Amanda E. Newman can be reached at anewman@vnews.com or 603-727-3215.