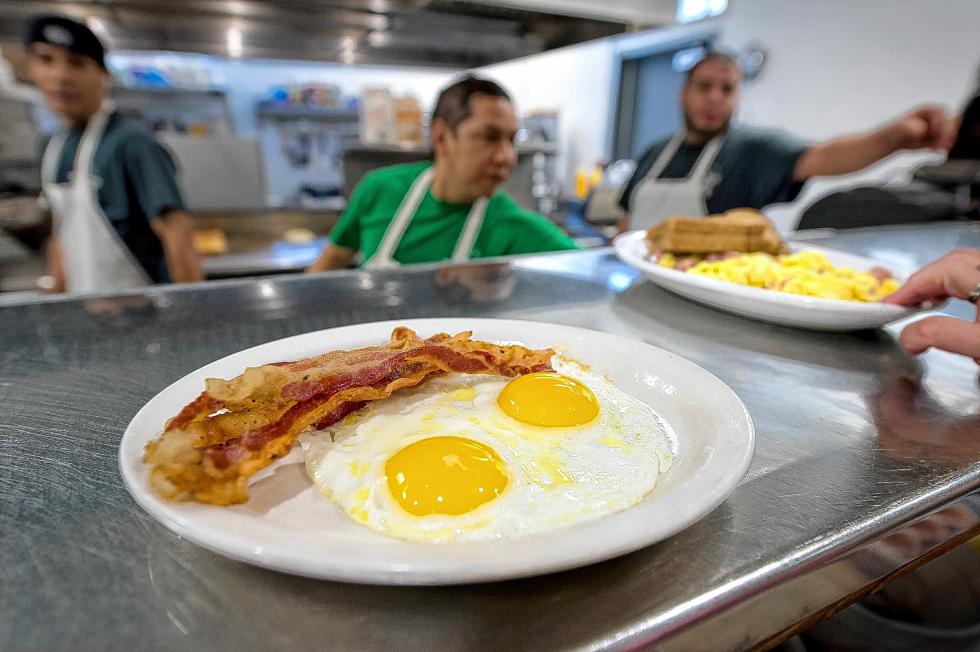 Kansas City, Mo. — Three weeks ago, if you ordered a three-egg omelet from Roxanne's Cafe in the Kansas City suburb of Parkville, you would probably get a five-egg omelet instead. Cooks weren't too concerned about how many eggs they scooped into the frying pan, and owner Roxanne Gray gladly allowed it.
Today, Roxanne's is more stringent. A three-egg omelet means three eggs. No more, no less.
"I have one cook that I can't control his egging. He's not allowed to cook any eggs right now. I told him, 'Make two scrambled eggs for me,' and he probably had six eggs in the pan," Gray said. "So it's all about portion control."
That's because egg prices for Roxanne's Cafe have escalated enormously in the past month. On May 5, Gray paid $17.55 per 15 dozen eggs. Last week, she paid $42.85.
Roxanne's Cafe is not alone. Some supermarkets have seen prices of a dozen eggs grow from 99 cents to $3 in the past few weeks. Cafes, restaurants and bakeries around the nation are feeling the pain from recent outbreaks of bird flu, or avian influenza, expanding through the Midwest. "This is the most devastating foreign animal disease that has happened in the U.S. for any species," said Jo Manhart, executive director of the Missouri Egg Council.
Farmers have lost 47 million hens and turkeys since the virus began spreading a few months ago. The country's top egg-producing state, Iowa, has been hit the hardest. More than 30 million hens in Iowa have been affected. In Minnesota, almost 9 million birds, mostly turkeys, have caught the virus.
More than 53,000 birds in Missouri and 40,000 birds in Arkansas have been affected. In Kansas, the virus has hit only 10 birds in a backyard flock. Despite the relatively small outbreak, last week the Kansas Department of Agriculture banned chickens, turkeys and other live birds from appearing in state and county fairs in 2015 for fear of spreading the virus.
The series of outbreaks has cut egg production. Recently, the U.S. Department of Agriculture released a report lowering its forecast for domestic production this year to 95.9 billion. That's a 4 percent drop from last month's estimates. The virus has struck at a time when eggs were enjoying relative popularity in the food market; last year, the U.S. produced nearly 100 billion eggs.
"Prior to this outbreak, eggs were on a roll," Kevin Burkum, senior vice president of marketing at the American Egg Board.
Consumers have become increasingly concerned with protein-rich diets, and last year each person ate 263 eggs on average, a 30-year high for egg consumption.
Burkum said that while prices are expected to hover higher than usual this summer, the American Egg Board is "cautiously optimistic" that eggs will remain attractive.
Of all the farms that have detected bird flu within their flocks, 85 percent were meant for these liquid eggs that are sent to large food manufacturers and food providers, Burkum said.
Before the outbreak, the wholesale price of a dozen breaking eggs was 63 cents. That has almost quadrupled to $2.35, according to Brian Moscogiuri, a market reporter for Urner Barry, a food industry trade publication.
Because the majority of the affected poultry were egg-laying hens, there has been "no significant impact" on meat production, said David Harvey, a USDA agricultural economist.
To help make up for the losses in production in eggs, though, the USDA recently approved a deal to import egg products from the Netherlands.
Besides restaurants and bakeries, supermarkets are also grappling with the consequences of the virus.
"We're not panicking, we're not going to run out of eggs, but we are making retail adjustments," said Gregg Frost, vice president at the Kansas City-area grocery chain Hen House. "We expect a ripple effect for eight to 12 months. It is surprising how many items use eggs."
Some of these egg products include the usual suspects — bakery items and ice cream, for example — but other goods are made with egg products as well, such as mayonnaise, marshmallow cream, makeup and shampoo.
Hen House said its cost has gone up about 40 percent in the last couple of weeks, and it has had to pass some of that on to consumers. Its suppliers have also asked the grocery store chain not to run egg promotions that could increase demand.
Tara Deering-Hansen, a spokeswoman for Hy-Vee, said there have been a few delays on larger-sized eggs but no significant shortages.
"Due to shelf life and availability concerns, we would not stockpile eggs," Deering-Hansen said in a statement. "The avian flu will have long-term effects, and we have been told to prepare for wild market fluctuations over the next few years as the industry rebuilds."