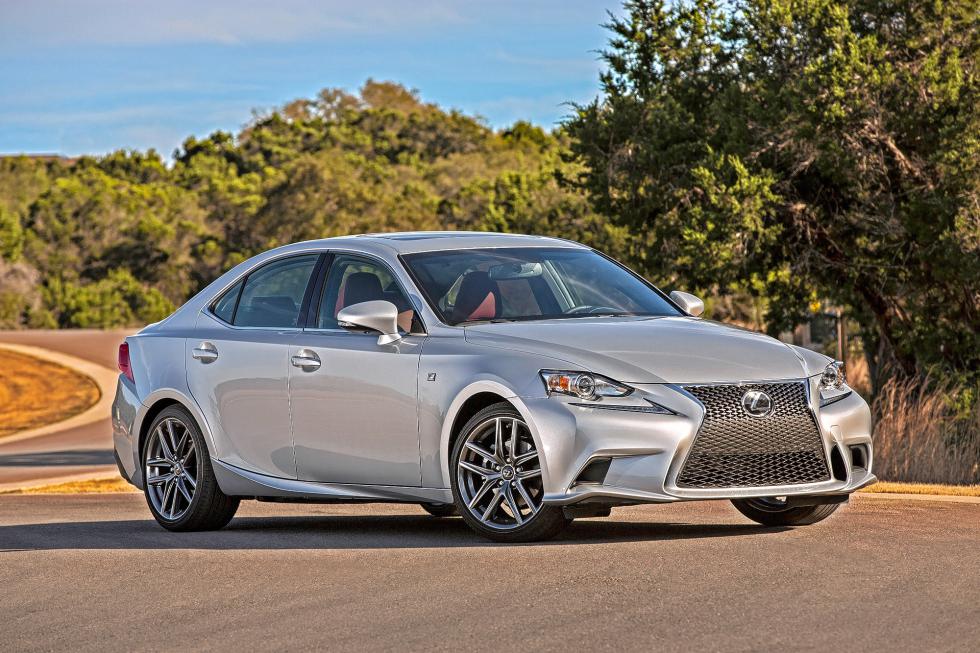 Cornwall, N.Y. — There is a lot of hubris in global automotive marketing — lots of bragging about racetrack testing, about a car's ability to hug curves and accelerate from 0 to 60 mph in six seconds or less.
The companies are so earnest and they spend so much money, talent and production time on these messages, you'd think that all of us drive on racetracks, or carefully monitor stopwatches as we move from "stop" to "go," or otherwise operate our automobiles in driving environments where speed is the only salient factor.
We don't — certainly not most of us, anyway.
I did none of that racetrack-cowboy stuff in my week and nearly 1,200 miles behind the wheel of the 2015 Lexus IS 350 F Sport all-wheel-drive sedan.
I sped, yes. It is hard not to speed on Interstate 95 and the New Jersey Turnpike, where the median traffic speed, the actual speed at which cars and trucks are moving, is about 75 mph.
But much of my driving was done in the high-road environs of New York's Bear Mountain and Storm King Mountain regions, which feature narrow, twisting roads and occasionally thick, rapidly descending fog. Going too fast here is an invitation for an altar of flowers and crosses placed along the road at the estimated point of your demise.
There is also the matter of night driving here, which is best done carefully in weather fair or foul. Darkness comes with a vengeance in these parts, wrapping the roads in a blackness that encourages you to praise God for the invention of high-intensity-discharge headlamps. It helps if those headlamps are optionally "intelligent," as they were in the IS 350 F Sport that I drove. That means the headlamps automatically, temporarily adjust to low beams on dark roads when traffic approaches in the opposite direction.
I like that feature, as I do the many other advanced electronic safety features available in the Lexus IS 350 F Sport at a price several thousand dollars below that of a similarly equipped BMW335i all-wheel-drive sedan.
Not that the Lexus IS 350 F Sport all-wheel-drive sedan is inexpensive. It starts at $45,750 and easily could reach $50,000 with options. But in the world of high-performance entry-level luxury automobiles (estimate $40,000 to $50,000), it appears to be a good deal. It certainly is comparable in value to the Audi A4 and BMW 335i.
Just don't get taken in by Lexus marketing featuring quotes from a 2013 Road & Track magazine article touting the IS 350 F Sport's mostly track performance as better than that of the BMW 335i. It is functionally meaningless bragging.
Most of us will never drive any car the way auto-magazine journalists drive test vehicles on manufacturer-sponsored track days, or in otherwise sanctioned super-high-speed driving environments (think a top speed, electronically limited, of 131 mph). Driving that way in the real world would land us in jail, in the hospital or in a grave.
What you really need to know about the IS 350 F Sport sedan is that it is the perfect traffic mate for cities such as the District of Columbia, Baltimore and New York. It fits well in those places, maneuvering easily through tight urban traffic.
The suspension system — independent, double-wishbone coil springs with electronically controlled shock absorbers and stabilizer bar up front; multilink with coil springs, electronically controlled shock absorbers and stabilizer bar in the rear — works well on reasonably maintained roads. But the system is no match for rutted, potholed urban pavement.
Would I take the IS 350 F Sport all-wheel-drive sedan over a BMW 335i or Audi A4? Probably not. BMW persona and performance are hard to beat. And Audi, hands down, offers one of the best automotive interiors available anywhere at any price.
But Lexus puts up a good argument against the BMW 3-Series in the matter of value. Lexus just seems to offer more for the money, even with options. That makes more sense to me than fast 0-to-60 acceleration times.