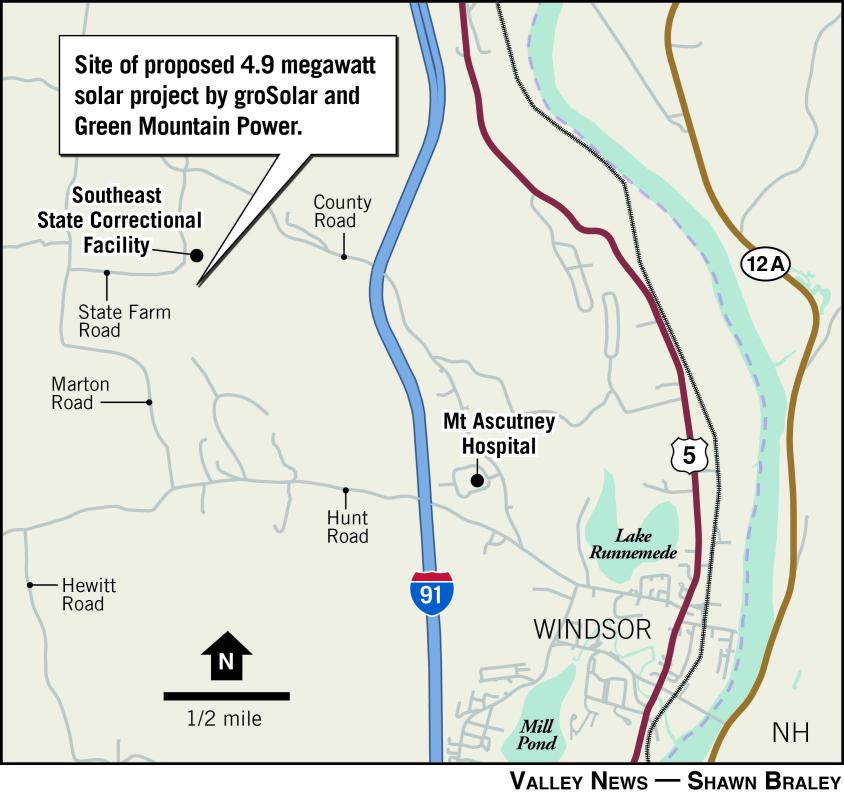 Windsor — Green Mountain Power and groSolar are proposing to build a 4.9 megawatt solar farm on 50 acres of open space just south of the Southeast State Correctional Facility in what would be the utility's largest solar project in Vermont.
Town officials said they would like to learn more about how the project may fit in with a proposed land management plan for the hundreds of acres of state-owned land surrounding the actual prison. Birders in the Upper Valley are also raising concerns that the project could take away important habitat for birds that rely on open field habitats.
The solar arrays would generate enough electricity to power about 1,200 homes, according to GMP spokeswoman Kristin Carlson.
"We are excited. We think this will be beneficial to our customers and help us achieve our renewable energy goals," Carlson said. "Green Mountain is always looking for appropriate sites for clean energy and this facility and location meet our criteria."
Several solar projects have been proposed in the Upper Valley this year, in part because developers are trying to get them done in time to qualify for 30 percent solar-investment federal tax credits set to expire at the end of 2016.
The complete proposal for Windsor won't be filed until later this summer after which a review process will commence. Construction is planned for next summer.
GMP is working with groSolar of White River Junction and a notice of an application for a certificate of public good will be mailed to the town, regional planning commission, state Public Service Board and neighbors of the property later this month, with the anticipation that a full project "petition" will be submitted to the PSB in August.
Carlson and groSolar's Executive Vice President Rod Viens said GMP chose the location because it is away from homes and populated areas.
"We looked for a site that did not have high visual impact to the neighbors," Viens said. "This is sort of a hidden site and that is one of the major criteria."
The prison property, which has long included a farm, is about 900 acres with an active wildlife and bird habitat that is popular with hunters and birdwatchers. Viens estimates about 150 acres of prison property is open land. The solar array would be located south of the prison buildings near Marton and State Farm roads.
"Aesthetically we think the project is fairly benign given the location and natural woodland buffer that will remain," Viens said in an email to the town.
Viens said Tuesday there would be "minimal" tree cutting to eliminate shade but otherwise the property will not be disturbed except for posts in the ground.
"It is mostly on all open space and the natural habitat is really not being disturbed," Viens said. "There will be no grading, nobody on site post-construction and any mowing will be done after the (bird) nesting season, probably in August."
Construction would take between 16 and 20 weeks, he said. Carlson and Viens also said GMP would pay the state education tax, about $20,000, and another estimated $20,000 in local property taxes.
Once the solar panels have outlived their usefulness — around 30 years – Carlson said GMP will be required to decommission the project and the land would likely return to its previous condition.
Carlson said the forthcoming notice later this month is to ensure that all interested parties are aware of the plan.
"It will go through a very rigorous and public approval process," Carlson said.
Windsor Town Manager Tom Marsh said he met with Viens last week, and said groSolar and GMP both want to "reach out to the town for our input." Marsh said there was a 2010 study on potential uses of the prison land and the proposed creation of a land management plan for the property but when Tropical Storm Irene hit in 2011 everything was put on hold. Eventually it was referred to the state Department of Fish and Wildlife but Marsh would like to know what became of the study.
"What happened to that plan? Was it developed and how does this project fit in with that?" Marsh said.
Meanwhile, George Clark, of Norwich, who is a member of the Upper Valley Birders and will be leading a bird walk on some of the state-owned property on Saturday, said he had heard of the project but it was too early to comment on the specifics. He also said the location is not near where their group will be walking Saturday because it is off limits to the public.
But Clark, a retired professor with a doctorate in biology who previously served as the state ornithologist in Connecticut, spoke in general terms of the importance of preserving open field habitats in Vermont.
"It is a habitat that is scarcer as far as the eastern side of Vermont is concerned," Clark said, noting that the American kestrel is one of the bird's that could be impacted by the loss of open field and brushy areas. "We would be taking off a big chunk of open space. This is one of the last open areas in Windsor County."
Clark said in the mid-1800s, Vermont was 70 percent open land and today it is 70 percent woodland with the loss of farms over the last 160 years.
As for the area proposed for the solar array, Clark said there is not a lot of good data about bird nesting or use on that area because there is no public access.
Viens said the solar developers are aware of a marshland on the property known to be a good bird habitat and said the project won't be anywhere near that area.
Patrick O'Grady can be reached at pogclmt@gmail.com.