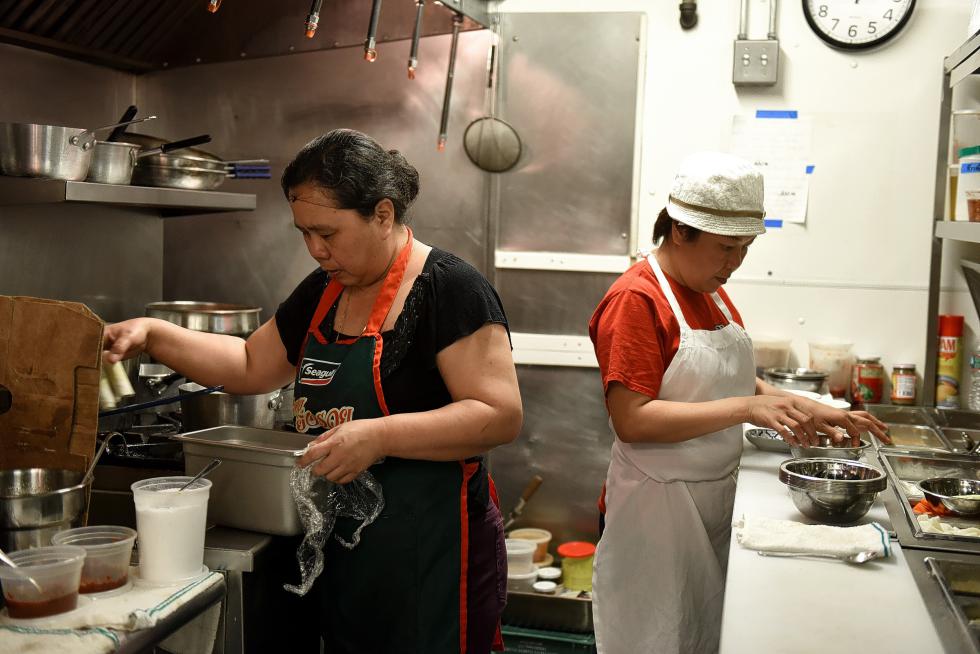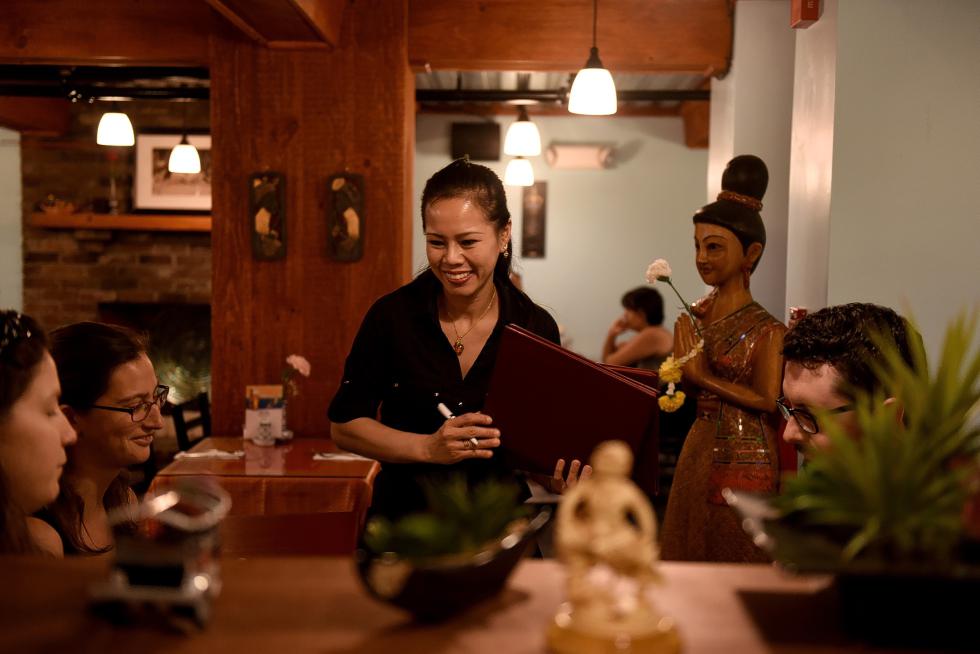 Hanover — There's a word beyond language — call it a useful noise — that stretches across disparate regions of the globe. Whether it be in Cairo, Bangkok, Phnom Penh or Guatemala City, a stranded traveler need only extend a hand and shout, "Tuk-tuk!" And to answer that call, evoking the putt-putt of a diminutive engine, a taxi little more than a covered motorcycle will appear to carry that person away.
With the opening last month of Tuk Tuk Thai Cuisine, the auto rickshaws have made their presence known in Hanover, if only symbolically: A photograph of a Thai street teeming with them greets patrons in the vestibule, and tuk-tuk figurines overlook the dining floor.
The decor, the name, and the restaurant's existence itself are all owed to the owner, Pannipa "Tuk Tuk" Pace, and her singular will and ambition.
Pranom Nisang, formerly a cook at Thai Orchid, the successor to Mai Thai on the second floor of the Lebanon Street bank building, is the head chef at Tuk Tuk. She is also Pace's mother.
"Everywhere I've had Thai food," said her husband, Ken Pace, "and nobody can hold a candle to this woman."
The head chef doesn't trust a blender. In the early morning, Ken Pace said, he often awakens to a "boom, boom, boom, boom" — the sound of Nisang's mortar and pestle. She hand-chops everything, her daughter explained one morning at the restaurant, as the clang of metal on wood emanated from the nearby kitchen. That tradition has been in place at least since Pace's childhood, which instilled in her the tenacity and the love of food that brought the restaurant into being.
As a girl, Nisang told her children, "I don't have money for you guys — I only have education and that's it."
The morning's wee hours would find Pace and her siblings slicing and dicing, a duty they had to complete before going to school. Even now, her husband said, "It's the only enforced rule here: no variation from mom's recipes. Not a teaspoon of sugar."
As a young adult, Pace studied tourism and hotel management at a Thai university, where in her final year she spent a semester training at Busch Gardens in Virginia. In 2005, she graduated and moved to the States under the auspices of an au pair program. Her dream was to open a restaurant, and so from then on, she said, "I saved every single penny."
Among other odd jobs, Pace ground through 14-hour days as an au pair, a housekeeper, a server and a cook, usually contemporaneously.
"She saved every dime. She worked every holiday. She worked every Christmas," said her husband, a carpet and tile worker whom she met eight or nine years ago in Massachusetts. "She'd be standing in the doorway every Friday with her son, with her hand out to me, saying, 'Give me every nickel. Give me every dime.' "
Eight years ago, Pace came to work as a cleaner for Kendal at Hanover, the retirement community on Lyme Road. Shortly afterward, she joined Mai Thai, where she stayed as new owners two years ago bought and renamed the restaurant.
Time passed at Kendal and at one or another Thai eatery, and Pace began to feel that she had the experience, the connections and the funds to strike out on her own.
Last August, her opportunity arrived. Around the corner from Murphy's on the Green, the popular restaurant's owner, Nigel Leeming, had decided to sell his second business, 3 Guys Basement BBQ.
"It's tough," he said of the space on Old Nugget Alley, which lacks natural light and is largely invisible from the street. "It's a secondary location for town."
Leeming's 3 Guys had lasted two years in the basement after replacing a venerable pub, 5 Olde Nugget Alley, that closed in 2010. The space had stayed vacant until the barbecue joint opened, according to Leeming.
Leeming said he had been too dependent on student business, which slackens considerably during the summer months and the between-term interims, but that he expected Pace to do well with the space.
"I think that they're going to do a really good job in that Asian (cuisine) market," he said. "I think they're quality."
Pace, for her part, said she was by no means intimidated by a challenge.
"It's my nature," she said. "If you tell me no, I have to do it."
There was competition — a Vietnamese restaurateur, a prospective Chinese proprietor, a couple of Americans from Montpelier — but it was Pace who signed the lease in March.
Not wanting a third business to fail in his space, the landlord, according to Pace, did his best to ensure her success. He gave her a break on the monthly rent, which will slowly scale up to a full $5,000, allowed her four months to renovate the place rent-free and sat down with her to go over the restaurant's business plan. With her husband's help, Tuk Tuk opened in three months, and is spending the fourth making money.
Besides her mother, Pace's brother, cousin and several Thai friends from Boston have moved with her to start the restaurant. All of them live together with the couple's two children in the hills of Vershire.
Pace arrives at around 8 a.m. each day and closes the restaurant at 10 p.m. On days when extra prep is needed, the 14-hour day extends to 15 hours, or 16.
For now, the hard work — and the gamble — may have paid off. Soon after the opening, scheduled on May 29 to take advantage of Dartmouth's graduation weekend, the restaurant was practically "bombed" by students and their families, she said.
One night last week, a Californian couple kept Pace and her staff in the restaurant until 11:30, ordering for nearly every course and a few others besides. They had a cup of chicken Tom Yum; a cup of scallop soup; one chicken Pad Thai; one bowl of potak, a spicy seafood soup; one roasted duck with "choo chee" curry (a specialty of Nisang's); one mango sticky rice; one fried banana ice cream; several drinks — three craft beers, two red Cabernets — two more ice creams, one green tea-flavored, one coconut; and a combo platter. The bill came to $135.38; the couple tipped nearly as much. They told Pace they had encountered little to match her cuisine back home.
Yet hovering over it all is the question of competition: What will 11,000-resident Hanover do with two Thai restaurants within a quarter-mile of one another?
Pace contended that there was plenty of room for both, noting that the town supports numerous coffee shops and bakeries without much trouble.
Still, Pace said she hoped to distinguish herself by making use of her network of Dartmouth-affiliated students, professors and doctors, who she says have already bought $2,000 in gift certificates to Tuk Tuk, and by offering lower prices than her former employer.
A hint of rivalry from Pace exploded into a bitter feud in a conversation with the owner of Thai Orchid, Pim Pinitmontri, who said she feared Pace's plan was to put her out of business.
From that opening poured a litany of allegations — poached workers, copied recipes, misleading conversations and allegations of skulduggery on Yelp — which, a day later, Pinitmontri's husband, Robert Lamprey, called to expand upon.
"We're kind of a niche restaurant, and I don't think there's room for two niche restaurants," Lamprey said, adding later, "We're going to wait them out."
Asked over the telephone about the quarrel, Pace handed the receiver to her husband.
"You don't know 'Tuk' from a doorknob," Ken Pace said, "so let me explain something to you: She is the most forthright, straightforward person on the planet. She would never do that, in no way, at all."
After denying everything, Ken Pace added some counter-charges of his own. In lieu of sifting through the unprovable, it may be fair to say that the check one signs at either restaurant doubles as a ballot.

Rob Wolfe can be reached at rwolfe@vnews.com or 603-727-3242.