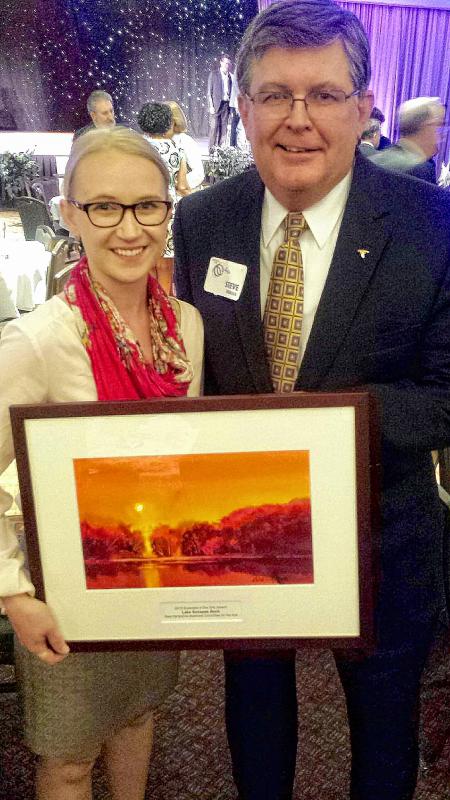 Kaitlyn Covel, manager of Lake Sunapee Bank's Main Street branch in New London, and President and CEO Stephen R. Theroux with the bank's 2015 Business in the Arts Award from the New Hampshire Business Committee for the Arts. Covel helped her branch become a "micro gallery" for local artists.
The Quechee office of Coldwell Banker Redpath has joined BETTER HOMES AND GARDENS REAL ESTATE/THE MASIELLO GROUP, and the Masiello Group has moved its operations to the former Redpath office at 1996 Quechee Main St. The combination of the two offices makes the Masiello Group one of the largest real estate offices in the Upper Valley, the company said in a news release. With headquarters in Keene, N.H., and 33 offices in New Hampshire, Maine, Massachusetts and Vermont, Better Homes and Gardens Real Estate/The Masiello Group is northern New England's largest independently owned real estate and home services company, the release said.
Stockholders of NEW HAMPSHIRE THRIFT BANCSHARES INC., the holding company for Lake Sunapee Bank, have approved changing the company's name to Lake Sunapee Bank Group. The common stock of the company will continue to trade on the Nasdaq Global Market under a new ticker symbol LSBG to reflect the name change. Lake Sunapee Bank Group is the holding company of Lake Sunapee Bank, a federally chartered savings bank with four wholly owned subsidiaries: Lake Sunapee Financial Services Corp.; Lake Sunapee Group Inc., which owns and maintains all buildings and investment properties; McCrillis & Eldredge Insurance Inc., a full-line independent insurance agency; and Charter Holding Corp., which wholly owns Charter Trust Co., a trust services and wealth management company.
Hanover-based LEDYARD FINANCIAL GROUP INC., holding company for Ledyard National Bank and Ledyard Financial Advisors, was ranked among the top 200 publicly traded community banks in the United States in the May edition of American Banker Magazine. The rankings were based on three-year return on average equity as of Dec. 31, 2014. Ledyard Financial Group ranked 195th with a three-year return on average equity of 8.8 percent. Ledyard National Bank has eight offices with locations in Hanover, Lebanon, Lyme, New London, West Lebanon and Norwich. Ledyard Financial Group Inc. shares are bought and sold through the NASD sanctioned "OTC Markets" under the trading symbol LFGP.
MASCOMA SAVINGS BANK has been allocated $55 million in federal tax credit authority by the U.S. Treasury Department's Community Development Financial Institutions Fund. The New Market Tax Credit Program enables economically distressed communities to access private investment capital by providing investors with a federal tax credit worth 39 percent of their original investment amount over a seven-year period. The program was authorized by Congress in 2000 as a federal tax incentive program to help spur investment in small businesses, nonprofits and commercial real estate developments in economically distressed communities. As a "Community Development Entity," Mascoma Savings Bank will act as a link to private sector investors, businesses and developers and serve as an intermediary in providing loans, investment or financial counseling in low-income communities. Federally subsidized tax credits work as incentives for individual and corporate investors to invest in projects that create jobs, revitalize downtown centers, provide educational opportunities and improve access to health care, among other endeavors.
DAYCO INC., of Sharon, has been approved as an "elite-level" roofing contractor for installation of Sika Sarnafil roofing systems. To earn the designation, Dayco had to complete a rigorous training and evaluation program in which each contractor is evaluated and rated annually on technical and business criteria. "Elite-level roofing contractors are the best in the business, having demonstrated an unparalleled commitment to quality and the roofing industry," Brian Whelan, senior vice president of Sika Sarnafil, said in a news release. Canton, Mass.-based Sika Sarnafil provides thermoplastic, single-ply membranes for roofing and plaza deck waterproofing applications. The company is a division of Sika Corp.
THE LYME INN has received a Certificate of Excellence award from the travel website TripAdvisor. The 5-year-old award is based on the quality and quantity of reviews and opinions submitted to the website by travelers over a 12-month period, as well as a business's tenure and ranking on the site's "Popularity Index."
ADVANCE AUTO PARTS INC. opened its first store in Springfield, Vt., at 2 Chester Road, Suite 2, beside the Shaw's Supermarket. Robert Messier is the new general manager and will work with seven other employees at the new location. Messier has been with Advance Auto Parts for two years. Company officials said they chose this location for the store because of its convenience to customers as well as the garages where they take their vehicles for repair. Advance Auto Parts provides automotive aftermarket parts to both professional installers and do-it-yourself customers. It also recycles used motor oil and batteries.
LAKE SUNAPEE BANK joined three other New Hampshire businesses as a winner of a 2015 Business in the Arts Award from the New Hampshire Business Committee for the Arts. Lake Sunapee Bank was cited for its support of organizations including the League of NH Craftsman, as well as employee board involvement with the Newport Opera House, the company said in a news release. In 2014, Lake Sunapee Bank's Main Street, New London office was transformed into a "micro gallery" to host exhibits by local artists during business hours for the Center for the Arts. The New Hampshire Business Committee for the Arts presents the awards annually to recognize and honor outstanding business support of the arts.
Claremont-based RED RIVER COMPUTER CO., which provides information technology services to the federal government, has been awarded a contract by the National Institutes of Health Information Technology Acquisition and Assessment Center to provide federal agencies with products and services related to general IT and health and life sciences IT capabilities both on-site and in the cloud. Red River joins about 70 companies, including AT&T Corp., Hewlett-Packard Co. and IBM Corp., as a contract holder for the 10-year, $20 billion contract. The company also was ranked 46th on the Washington Technology 2015 Top 100 list, up from 68th on the 2014 list. The annual list, published by the Public Sector Media Group, ranks the largest government contractors by their prime contract dollars in information technology, systems integrations, telecommunications, engineering and professional services.
BOB'S SERVICE CENTER, of White River Junction, has been named Vermont's Approved Auto Repair Facility of the Year in the Independent Shop Division by AAA Northern New England. This is the eighth time Bob's Service Center has been so recognized. The award is given to one dealership and one independent repair facility in each of the three northern New England states and recognizes service facilities that have met AAA's criteria for technician certification and customer satisfaction. Bob's Service Center, which is owned by Bob Perkins, received an overall rating of 99 percent from its customers, with 100 percent saying they would return for service and recommend Bob's to others.
Andrew Hoak, of Jeffersonville, Vt., has joined DuBois & King as a manager of the firm's Water Resources Department. Hoak is a hydrogeologist and an environmental engineer with 20 years of experience consulting on water quality, stormwater management, water and wastewater studies, and groundwater and soil remediation projects. Hoak is based out of the firm's Randolph office.
CLAY'S woman's clothing store in Hanover closed after 24 years in business, the third downtown Hanover retail business to close in recent months. Kurt Reichelt, president of the Essex Junction, Vt.-based chain of nine Clay's stores in New Hampshire, Vermont, and Massachusetts, said the lease with the Lebanon Street building's owner was expiring. Clay's West Lebanon outlet has been in business since the Powerhouse Mall first opened in the 1980s. Earlier this year, the office supply, gift shop and toy store College Supplies closed, as did the Hanover outlet of Amidon Jewelers. Two other Hanover stores, The Lemon Tree and Indigo, relocated to new locations on Main Street.
SPRINGFIELD PRINTING CORP. earned three awards at the Printing Industries of New England Awards of Excellence Competition for 2015. The awards included a Pinnacle Award (best in category) for art books for Shadows & Light: Tadao Ando at the Clark; an Award of Recognition for hardcover books for The Bodies of Mothers: A Beautiful Body Project; and an Award of Recognition for a color catalogue for the Brooklyn Historical Society. The competition attracted more than 300 entries from 40 different printing and imaging companies from throughout the region.
Beltrami Studios, an award-winning photographic studio owned and operated by Jessica Giovagnoli, has leased an 1,800-square-foot studio at Town Center Park, a mixed-use facility in Enfield. The new studio will allow for photo shoots, work areas and specialty background opportunities, according to a news release from Lang McLaughry Commercial. After minor renovations, the studio opened in June.
LEADERSHIP UPPER VALLEY, a program of Vital Communities, has graduated 21 participants. The graduation was held June 10 at Harpoon Brewery in Windsor. The leadership training program runs from September through June. It includes 10 daylong sessions focused on key aspects of community life in the region, such as economic development, education, government and politics, arts and the creative economy, communication, health and human services, environment, transportation and justice. "In contemplating the extent of all we have learned, I am left with one overarching word that describes this year: empowerment," said Havah Armstrong Walther, the class speaker for the ceremony. "Yes, we have met a hundred new and amazing leaders in our community, learned things we never knew before, and traveled to new places. However, we have also grown as citizens and as leaders ourselves." This year's graduates include: Brandy Blackinton, of Claremont Savings Bank; Bill Blaiklock, of Mascoma Savings Bank; Shawn Courtemanche, of Kendal at Hanover; Samantha Estes, of Co-op Food Stores; Nik Fiore, of Engineering Ventures; Karen Ganey, of Henderson Tree Service and Creative Lives; Shanon Hounshell, of Green Mountain Economic Development Corp.; Kathy Labbe, of Harvest Hill Assisted Living; Jim Larrick, of Mascoma Savings Bank; Paula Maville, of the city of Lebanon; Duncan McCutchan, of Jarvis Hill Farm; Theresa Minelli, of Lake Sunapee Bank; Deborah Mozden, of Turning Points Network; Miranda Pizinger, of Dartmouth-Hitchcock; Heather W. Prebish, of Recover Together; Jed Putney, of Mascoma Savings Bank; Laurie Sepulveda, of Opera North; Robert Starkey, of Hypertherm; Alijah Swasey, of Kendal at Hanover; Teresa Thurston, of The Lyme School; and Walther, of Hartford Area Career and Technology Center. More than 175 people have graduated from Leadership Upper Valley since its founding in 2007.
Items of interest to the local business community are published weekly in the Business & Money section of the Sunday Valley News, and are also collected on the Company News page of Enterprise. Email submissions to: biznotes@vnews.com. All items are subject to editing.