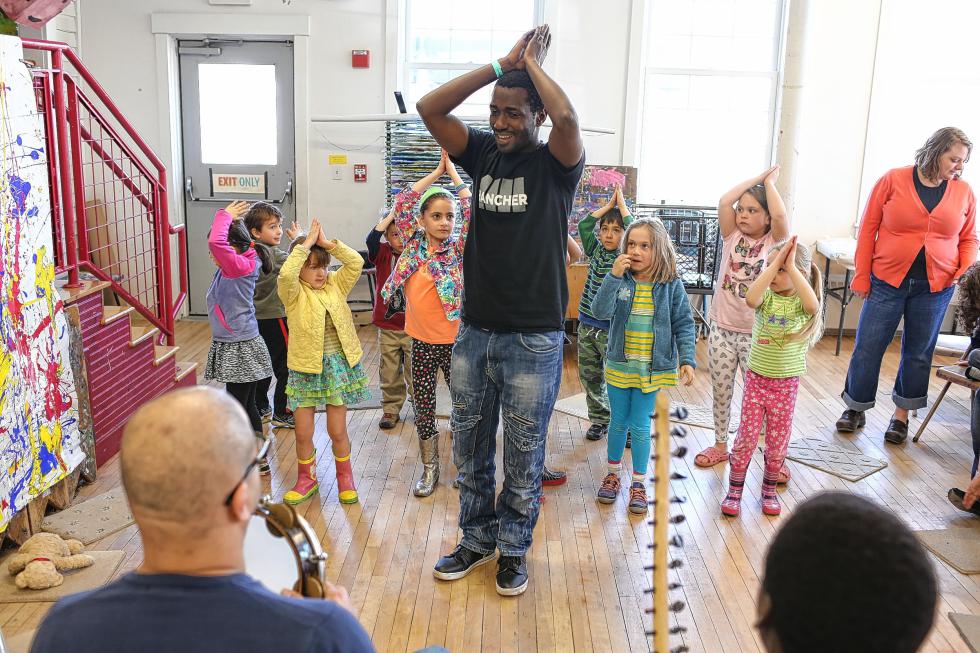 April 13-18 was a week to remember at Dartmouth's Hopkins Center for the Arts.
The Nile Project was in town, and this collective of 11 musicians from the Nile Basin dove into a slate of activities that brought them in contact not only with students and faculty from all ends of Dartmouth College but also a remarkable cross section of the Upper Valley. They met with students in a high school global studies class at Rivendell Academy; they danced and drummed with kids 5 through 14 at a vacation camp at AVA Gallery; they played to joyously wiggly preschoolers at free HopStop performances in Hanover and Claremont; performed for hundreds in ticketed concerts in the Hop's Spaulding Auditorium; and they jammed with local old-time musicians at a regular Thursday night session in a Thetford barn.
The Hop doesn't always attain this high level of cross-community involvement but, increasingly, it's the standard we try to meet. Yes, year in and year out we bring in a rich palette of great artists and ensembles from around the world. But we're not truly fulfilling our mission if the people out there — in the concert audiences, workshops, discussions and other related activities — don't resemble the Upper Valley as a whole, in age, wealth, educational level and other demographic descriptors. As one of the Upper Valley's major cultural institutions, it's our responsibility to see that everyone — not just the 1 percent — has access to expressive opportunities.
This "redistribution of cultural opportunities" underlies much of what we do. Our Arts Education programs include low-cost tickets for area schools and free monthly HopStop programs for young kids, now expanded to Claremont with the help of the Hop's Community Venture Initiative, which aims to broaden community access to the Hop.
Our Outreach Department brings visiting artists into the community, in partnership with schools, Listen Community Services, the Upper Valley Haven, the VA Medical Center in White River Junction and arts organizations like AVA, the Upper Valley Music Center and the Main Street Museum. Last year, in addition to outreach events at the Hop — public workshops, master classes and discussions with internationally known choreographers, theater artists and musicians — we also held such off-premises events as a media storytelling workshop at CATV with Argentine theater and film director Mariano Pensotti; as well as a workshop on turning combat uniforms into paper art at the VA, with soldier-turned-artist Drew Cameron.
Dartmouth students have been an important part of this effort, through programs like the Hop's Students Teaching in the Arts program, in which students create and deliver curriculum-based arts programs in area classrooms (24 Dartmouth students and nine classrooms in 2013-14); and Dartmouth Youth Winds, an annual low-cost, eight-week ensemble for Upper Valley middle school musicians, mentored by students from the Dartmouth College Wind Ensemble.
The flame was turned up a notch three years ago with the start of the Community Venture Initiative. We first looked at who we already were reaching and who was left out, and what barriers they were encountering. Ticket cost? Discomfort with downtown Hanover and the Hop? Difficulty with getting all the way to Hanover from the outlying towns that, increasingly, are where the Upper Valley's people of moderate and low incomes live? Unfamiliarity with the artists? A need for opportunities to participate and not just witness the performing arts?
CVI has included projects aimed at attracting a broad swath of people new to the Hop: "Radical Jewelry Makeover" engaged hundreds in donating junk jewelry and transforming it into new creations that were displayed and sold to benefit sustainable mining. "Bash the Trash" inspired 225 area middle and high school students and 80 community members to turn recyclables into musical instruments, which they played in four free "Trash Mob Mini-Concerts." The Community Ticket Program helps community partners (including the Haven, the VA and the Lebanon Housing Authority) to buy Hop tickets for their clients. This summer's Free For All series includes three free concerts on the Dartmouth green by Latin, zydeco and swing bands, with free pre-concert dance lessons and two free family friendly films in Spaulding Auditorium.
Other CVI projects aim deep, engaging a select group in more sustained expressive opportunities.
Last fall's Halloween-o-Thon horror film competition for middle and high school students, a joint project with CATV, featured free workshops by Dartmouth student filmmakers and screenings and a red-carpet reception in the Loew Auditorium at Dartmouth's Black Family Visual Arts Center. In February and March, area high students studying the Holocaust attended a performance by the Handel Society of Dartmouth College of a musical setting of the Diary of Anne Frank, preceded by informational discussions. This past April, slam poet Mahogany Browne and a half-dozen Dartmouth student interns spent about 50 hours over six weeks at the Junction Teen Center in White River Junction mentoring teens who wrote poems they later performed at a Friday night event at the nearby Main Street Museum.
And we're not done — not by a long shot. Watch for Hop programs that draw new people into the Upper Valley's creative fold.