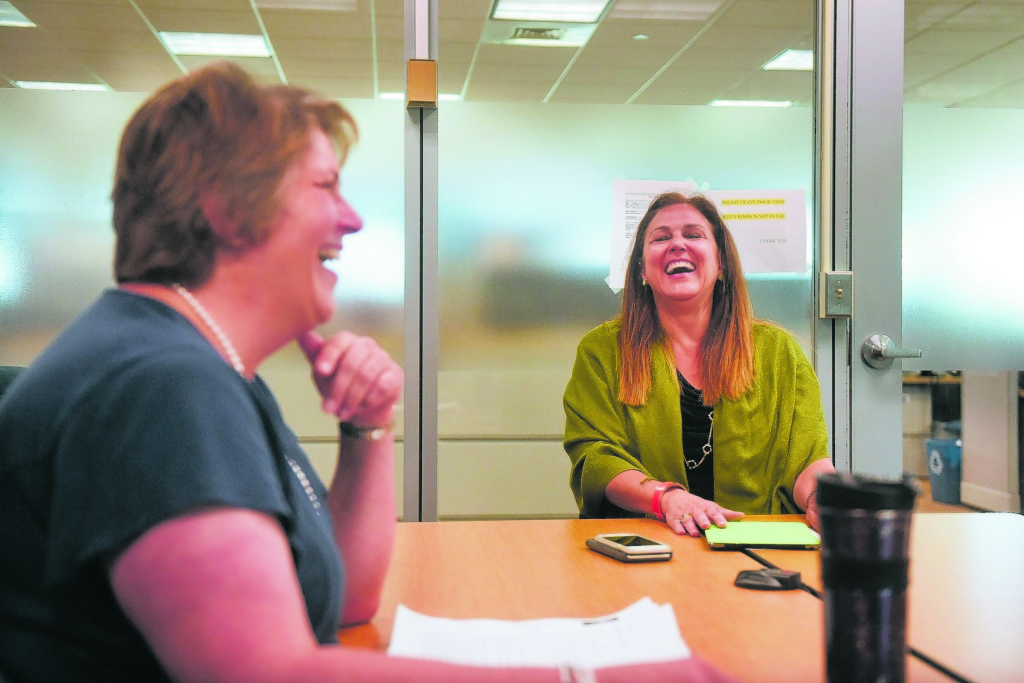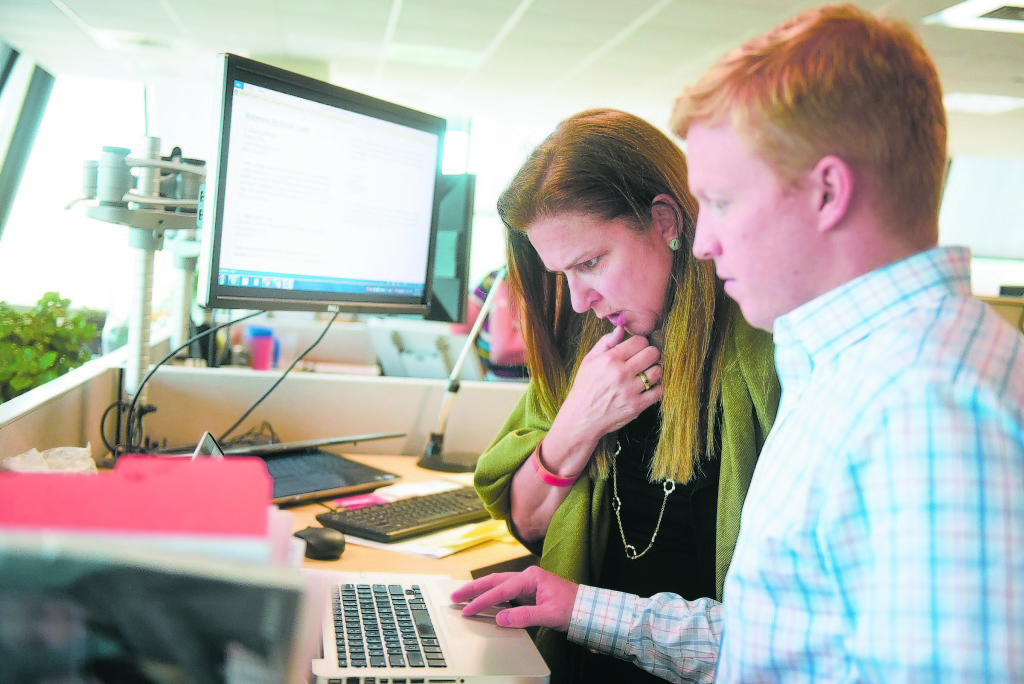 Like all states, Vermont faces its own obstacles when it comes to growing the economy. Joan Goldstein, a Royalton resident and Vermont's recently appointed commissioner of economic development, places the need for skilled workers, built space, infrastructure and affordable housing at the top of the list. A transplanted New Yorker with roots in the financial industry, Goldstein is fired up and full of ideas. But since commissioners serve at the pleasure of the governor, and Peter Shumlin recently announced he would not run again, she could have less than two years to make a dent.
It's too early to say for sure what her main priorities will be, said Goldstein, 55. But after just two months in Montpelier, it's clear her new role will share a theme with her decades on Wall Street and 10 years working with Vermont businesses.
"The job is connecting, plain and simple," Goldstein said in a recent interview on the campus of the National Life Group, home to the Agency of Commerce and Community Development and other state offices.
Since moving to Vermont with her family in 2005, she's viewed the state from many angles. She's been a Royalton Selectboard member for six years, serves on Gifford Medical Center's strategic planning committee and has held leadership roles on the boards of several statewide development organizations. From 2006-2009, she was a business and technology adviser with the Vermont Small Business Development Center. For the next six years, she was executive director of the Green Mountain Economic Development Corp., a White River Junction-based nonprofit that serves 30 towns in east-central Vermont. In the process, she's become known for her energy, perseverance and knack for helping businesses get what they need, either by connecting them to existing resources or creating new ones.
Stopping now and then for a sip of bottled water, sunglasses perched atop her brown hair, Goldstein described her vision for boosting economic growth in the state. A top priority is improving the climate for existing companies, creating workforce development programs and possibly streamlining the permitting process, a "complex web" of local, state and regional regulations.
"We need to retain and grow the businesses we have here," she said. "Once that is happening on a more regular basis, then maybe businesses from other states could come in."
To Larry Trottier, owner of L.F. Trottier & Sons in South Royalton and White River Junction, that approach makes sense.
Some state and local regulations are cumbersome for businesses to navigate, said Trottier, whose White River Junction John Deere dealership soon will move to a bigger site in Hartland. And while he's had a good experience working with a state employee on Act 250 issues, "the Act 250 folks could tell people what they could do, not what they can't do," as could planning commissions.
Trottier, chairman of the Royalton Selectboard, called Goldstein a "super" choice for commissioner.
"She's very reliable and she's very articulate and … she's a very good problem solver," he said. "The other nice thing is she has a lot of spirit and vitality. It really adds to our meetings to keep the tempo up."
He also cited her work at GMEDC, where she "made a lot of things happen."
"I'm hoping she will have the same success at the state level," he said.
'The Catalyst'
The fifth of seven children, Goldstein is the daughter of a stay-at-home mom and a butcher who later went into teaching. An early interest in economics was cemented when she heard about a friend's brother who had majored in the subject and gone on to work in Wall Street.
"I was like, OK, that's important," said Goldstein, who was born in Brooklyn and grew up in Queens. "The ability to make a living was extremely important. Coming from my family, I knew I'd have to take care of myself."
It was a good choice.
"A lot of people sort of dis (economics), like, 'Oh, it's so boring,' but I find it still to this day pretty fascinating," said Goldstein, who holds an MBA from Adelphi University and a bachelor's degree in economics from Queens (N.Y.) College.
Goldstein spent most of her Wall Street career at JP Morgan, where she started as a clerk and then worked her way up to top roles in sales, product development and client relations. Her work included calling on foreign investors who wanted their stock traded on the New York Stock Exchange and took her to financial institutions in 45 countries.
Not unlike her second career in Vermont.
In economic development, you call on businesses to understand them, to find out how you can help, she said. "It's all about figuring out what people's challenges are" and finding solutions.
As a small business adviser, one of her first clients was the Royal Butcher in Braintree, Vt.
The newly formed company was losing money and struggling to find help, said Teresa Mallette, bookkeeper and office manager. Goldstein "was the catalyst" who helped them become viable.
"Joan really stepped up and helped us with networking," Mallette said. "She would just keep giving us names and numbers and contacts."
And she was available. "No matter where she was, at any given time … she would help us," Mallette said.
With Goldstein's assistance, they got a grant to expand the company, which now employs up to 16 people, and revamped their prices, which were too low to keep the business afloat. They also narrowed their focus, eliminating a retail store and dedicating the entire building to meat processing, and became federally inspected so customers could sell their goods out of state.
The results, Mallette said, have "been wonderful."
Goldstein plans to make the same sort of connections in her new job.
"Even though we're small here, people do tend to work in their silos," Goldstein said. "You've got the object of the game and you go after it, but there's a lot to be gained from just cross-pollination, and I find that the gaps and the problems are because we're not necessarily connecting."
In that spirit, she's eyeing housing and transportation which, although outside her purview, are key factors in economic development.
"Part of what I could do is encourage the inter-agency conversations to see what we can do, how we can better coordinate to get things done," she said. "If we can bring people together, get them talking, figure out a way to bring something to fruition, I'll feel successful."
New programs also will play a part.
Her legacy at GMEDC includes diving back into the real estate business after a decade. The nonprofit bought buildings to lease to businesses that wanted to expand but were unable to purchase property themselves, such as Pompanoosuc Mills and Advanced Illumination. It's in the process of developing a light industrial office park and business incubator space in White River Junction, a project that started under her leadership, and a program that brings high school students to a course in high-tech manufacturing at GW Plastics recently graduated its first class.
Starting early is important, said Goldstein, who wants to develop the program — as well as worker apprenticeships — across the state, a process that's happening "piece by piece, bit by bit."
About 40 percent of Vermont students don't go on to post-secondary education, she said. "There are a lot of people working in very low-skilled jobs and I wonder, maybe we can change that. … Because there is another option for them if they find out early enough and change the perception of whether or not that job is for them."
An Important Incentive
When Goldstein took the $90,000 job in April, the Legislature was debating changes to the Vermont Employment Growth Incentive, which gives tax rebates to businesses that create new jobs.
Lawmakers lowered the threshold for the program, a move that has been criticized as incentivizing jobs that don't provide a living wage — the new floor is about $13 an hour. But Goldstein defends the initiative, calling it an important incentive whose benefits can't be summed up in a sound bite.
When businesses expand, they create jobs with a range of salaries, but the money qualifying companies receive back is based solely on jobs paying $13 or more, she said. And having a job "is better than not working, being on unemployment or public assistance."
And, she added, while some people argue that workers paid $13 an hour still may be receiving public assistance, it's still better to have somebody working and being trained, with opportunities for skill development.
Ultimately, the incentive program could be the deciding factor for businesses considering locating or expanding in Vermont, she said. "If not for the incentive, that job's not going to be there. So what would we prefer?"
While the House Commerce and Senate Economic Development committees were extremely supportive, there's still a lot of work to do to ensure the business community is heard in the Legislature, she said. "I think the best way to do that is bring the businesses directly to the Statehouse so they can develop relationships with the Legislature and help them understand exactly what they do."
It's a mission she embraced even before becoming commissioner.
As the head of GMEDC, she took the House Commerce and Transportation committees to visit GW Plastics in Bethel and tour the economic development projects underway in White River Junction.
"By the time we were pitching for the economic development bill and GW came to testify, the legislators understood the business, as well as its constraints and options," said Goldstein, who plans to continue bringing together lawmakers and businesses.
"Many of these successful businesses operate in different states, so the Legislature has got to understand that every business has got options," she said. While they may not leave Vermont, they may choose to not grow here, opting instead for states with more substantial workforces and better tax regimes, "so it's a competitive marketplace."
Lisa Gosselin, the previous commissioner, said the challenges facing Goldstein include attracting to the state more young people and well-paying businesses that are not dependent on large workforces.
Goldstein has done "a terrific job" with workforce education, Gosselin said, creating "a very strong connection between our educational institutions and businesses."
And in some ways, Goldstein is in a good position, said Gosselin, who became commissioner in 2013 and left in the spring to become vice president of Addison Press, her husband's company. The state now has a budget for economic development marketing and a comprehensive economic development strategy, which Gosselin oversaw.
The strategy, the state's first, lays out "a really good growth map," and some of the work has already been implemented, Gosselin said.
Goldstein, who served on the steering committee, will oversee one of the plan's initiatives, a statewide workforce needs assessment. Like the regional workforce skills needs survey she organized during her tenure at GMEDC, the statewide study likely will focus on health care, manufacturing, and professional and technical services, which in Vermont employ the greatest number people, pay the best salaries and, nationally, are expected to grow, she said.
A 'More Human Way of Being'
Recently, Goldstein has been meeting with the Department of Tourism and Marketing. The department generally markets to tourists, which she called "a good first start," but she wants to get the word out to businesses, too.
Coming from out of state gives Goldstein a broad perspective on life in Vermont, including its "human scale," which she says should be marketed as part of promoting economic development.
Living in New York City, "you tend to feel like a cog in a wheel," but Vermont is so small that one person can make a huge difference, she said. The ability to influence your town or state government is "immensely gratifying."
Also, she said, "people still don't understand there is no traffic" outside of Chittenden County. The state had long held a draw for her — she and her husband had skied there for 20 years, and her in-laws had retired there. And it's provided the authenticity she's long sought.
"The idea that people talk to each other here, it's lovely," Goldstein said. "It's a more human way of being."
And while people tend to focus on what rural areas lack, she added, even that can have a way of bringing people together. "So you don't have all these ethnic restaurants, OK. You learn how to cook Indian food and (make it at home with friends)."
For her, the best part of Vermont is strictly natural. "I love the beauty," she said.
The contrasts between the two states also evoke possible strategies for growth.
As a young person in a large urban area looking to make a living, Goldstein had access to a multi-level industry with training opportunities, educational benefits and room to grow.
"When you have huge pillar employers like the New York financial industry, you're going to find something," she said. "And there's a big labor market, so if you're not happy at one place you go to another."
"This is what we compete against here in Vermont," with its preponderance of small businesses, she said.
"There's a chief and all the different Indians," which is tough for many young people, she said. "If we could create (more) pillar industries, pillar employers, … then people will see a future."
Of course, it's not so simple.
Many agree that increasing the supply of workforce housing is vital for attracting young people and families to Vermont. According to the National Low Income Housing Coalition it's the 13th most expensive state in the country for renters. And housing in general is in short supply across the state. Yet Goldstein points to pushback against initiatives by Burlington Mayor Miro Weinberger, a 1988 Woodstock Union High School graduate who grew up in Hartland, to build housing downtown.
Housing is among the "critical issues to address" in the city, which has a vacancy rate of 1 percent, said Nathan Wildfire, Burlington's assistant director for economic development. More and more he's hearing from businesses struggling to attract and retain talent due to housing's high cost and its scarcity in the places employees want to live, "generally in walkable, vibrant downtowns."
A draft housing action plan is moving through the City Council process and related initiatives are underway, including efforts to streamline the permitting process and develop a downtown parking and transportation plan.
"Of course we want our downtown to be more affordable. … We want the economy to grow," and housing is needed at all price points, Wildfire said. "But people generally have real concerns about development," among them a fear of density and worries about traffic, parking and whether new construction will be in keeping with historic buildings.
A really good strategic plan has to consider all those variables, he said.
To Goldstein, the tension represents a statewide conundrum.
"They don't want more housing. Well, if the housing's too expensive and there's a shortage …" she said, letting the question hang. "We have to figure out who we want to be and what we want to be, because without the housing we're not going to get the workers. Without the workers, we're not going to expand the businesses. It's just this very complex sort of interdependent cycle that we need to solve."