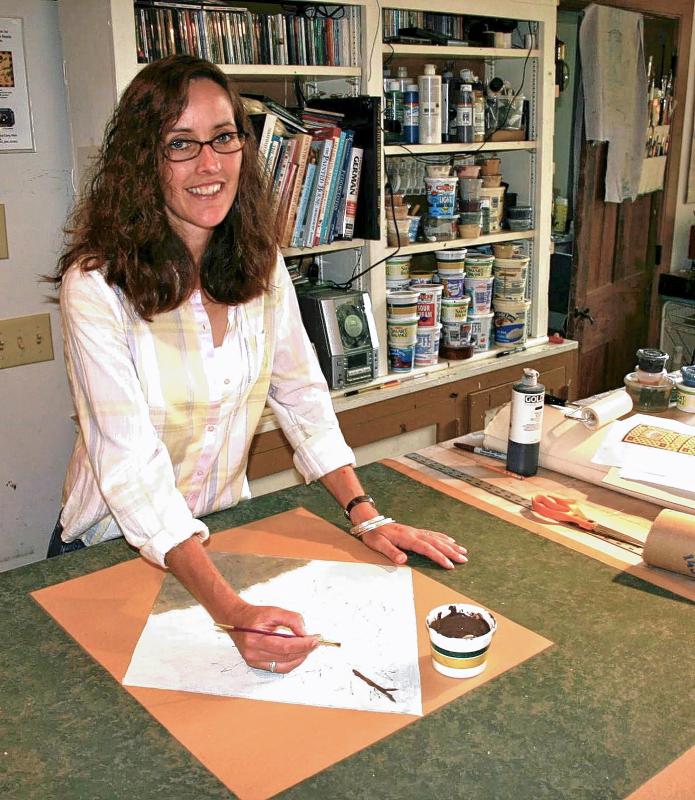 Hand-painted canvas floor coverings were not uncommon in Colonial days. They went out of vogue when mass-produced linoleum became a relatively inexpensive and practical way to cover well-trafficked floors like kitchens and hallways.
Lisa Curry Mair, the owner of Canvasworks, came upon the artisanal craft of "floorcloths" almost by accident and now sells her custom-made canvas rugs and murals to individuals and museums across the country and beyond. She works out of her rural studio in Weathersfield, where many of her works are on display.
"I love working out of my antique farmhouse, and love that Vermont supports craftspeople working from their homes. I feel privileged to live in Vermont," she said.
Mair started her business of making and selling floorcloths — "art you can walk on" — serendipitously.
She and her husband grew up in rural Canada — she in Nova Scotia and her husband on Prince Edward Island. In 1987, they moved to her parents' house in Groton, Mass., where the wooden floor in the kitchen had been badly stained. Mair created her first hand-painted canvas floorcloth to cover the stains.
The piece was admired by some friends, who hired her to make similar floor coverings for them. She created some extras and showed them at a local craft fair.
They sold out immediately, and a business was born.
She has grown the business through word of mouth and showings at juried craft fairs, and has earned a remarkable amount of unsolicited media coverage. Most recently, she was featured in a 2013 article in Upper Valley Life magazine and the winter edition of Yankee magazine.
After the birth of their daughter in 1992, Mair and her husband moved to rural Vermont so their daughter could have the benefits of a small, rural school such as they attended in Canada.
I am always curious to find out how a person's early background fits into his or her current career. Mair majored in mathematics in college and began her professional life as a children's book illustrator. She assured me there is a linear connection between mathematics and her art.
"Math taught me problem solving and art is problem solving," she said.
Creating a large canvas floor covering, such as the one displayed in the Art of Americas wing of the Museum of Fine Arts in Boston, is a lengthy process.
Mair first sketches out a design. She then creates a small model of the larger piece. The challenge for her is to enlarge the model in correct proportions so that it all fits together on the finished, much larger canvas.
"Enlarging the small-scale model to the larger size is mathematics. I always hold my breath until I am sure it will work," she said.
Anyone interested in understanding the exacting process used in creating a single floor covering can watch a video on her website, http://canvasworksfloorcloths.com. Her website is filled with information about the history of canvas floorcloths, her process, designs and products.
At present, Mair is a victim of her own success. In spite of the hours she and her part-time help work in her studio, she never seems to have enough time. With the resurgent interest in handcrafting, her work is very much in demand.
Trying — by trial and error — to figure out how she could manage her growth, she approached the Upper Valley chapter of SCORE. Together with her counselor, she realized she needed to have an accountant look at her finances, and needed to create a business plan for herself. SCORE provided a sounding board for her ideas as she started to move ahead. First, she spun off a separate business, Canvasworks Supplies, which she operates out of a separate structure across the street from her home and studio. She also sells "do it yourself" kits, with materials and instructions, from a new website, http://canvasworksllc.com. She is now seeking a manager to run that business so she can devote herself to creating the large, high-end floorcloths and murals that are her passion. Her work appeals to people who can afford the luxury of custom-designed pieces: An 8-by-10 canvas floorcloth can cost about $2,400. She told me she has created more than 1,000 floorcloths since she began.
When it was time to create a business plan, she realized that the textbook approach was not for her. She discovered the Right-Brain Business Plan course, designed for the creative entrepreneur, was just what she needed.
The plan is designed to allow her, ultimately, to sell off the Canvasworks Supplies business and fund her retirement.
Because she loves her work so much she finds it hard to say no to anyone. But she knows that the only way to manage her life, and to find time for her horses, which are her other passion, is to concentrate on the high-end business.
In a way, she has come full cycle. She began the business to support her horses, thinking it unfair to ask her husband to pay for her expensive "hobby." And now she finds it difficult to free up the time for the animals she loves, so her business plan addresses the goal to restore balance to her life.
Mair is a wonderful success story of an artist who turned her passion into a unique and thriving business.