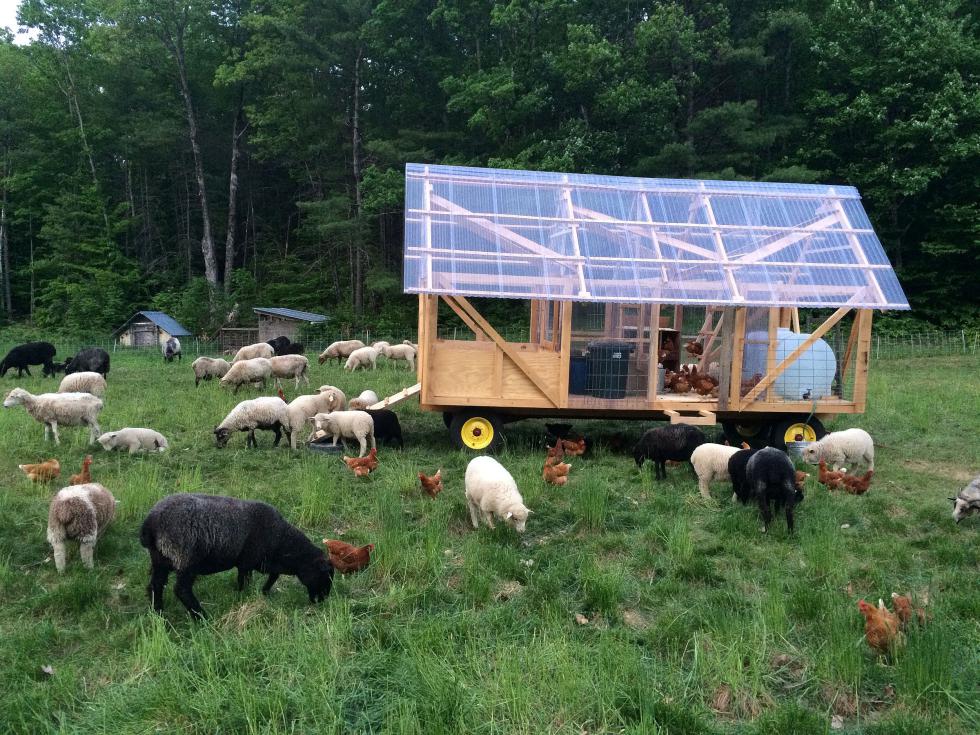 At a farmers market last summer, I overheard a woman standing in line to buy some chicken say to her companion, "Wow, this is expensive. If we had more competition around here, we'd get better prices."
I almost blurted out that I thought she had it exactly backward, that it's not the lack of farmers that is keeping prices high but rather it's the lack of high prices that's keeping farmers away. The problem, in other words, isn't on the supply side. It's on the demand side. Local meat is generally so expensive that few customers buy it and, consequently, few farmers produce it.
Given the stunning growth and success of farmers markets in the Upper Valley over the past decade, why is this so? Consider vegetables, by way of comparison.
No matter where you farm vegetables, you basically grow them the same way: You set your seeds or transplants in rows, you weed and fertilize and tend to the plants while they are in the ground, and then you come back and harvest the vegetables when they're ready. You might do these activities in a garden (hand trowel, kitchen knife, wicker basket) or you might do them on a 1,000-acre farm (GPS-controlled tractor, air-conditioned cab, veggies iced and packed in the field), but fundamentally, everyone grows vegetables the same way.
This is not to say that all vegetables are alike or that the differences between organic and conventional, between compost and synthetic nitrogen, between row covers and broad-spectrum insecticides, are trivial — either to the people who eat vegetables or to the people who grow them.
But fundamentally, the production system is similar.
Local meat, on the other hand, bears little resemblance to its commercial cousin.
In the Upper Valley, meat animals spend most of their lives outside. As a farmer, you go to where the animals are, either to bring them fresh water and food or to check on their health or to move them to fresh pasture. There are many high-tech tools that help with this process — chiefly portable electric fencing and solar-powered chargers — but in the end, the animals are outside, subject to the whims of the weather and the inefficiencies inherent in a dispersed production system.
Commercial meat, meanwhile, comes primarily from inside of buildings. The animals don't move — their feed and water are brought to them and their manure is pumped away for disposal. Ambient temperature and humidity are optimized for maximum growth; feed rations are fine-tuned without the worrisome variables of pasture quality and rainfall quantity. Slaughter often happens in the same building or in nearby facilities that are designed to efficiently handle many thousands of animals a week.
The price disparities between vegetables and meat reflects these production factors. Local vegetables might sell for twice the cost of commercial vegetables, but often they sell for more like 20 to 40 percent more, and in some cases, they may even sell for less, especially at the height of the season.
Local meat, on the other hand, never seems to sell for less than twice the commercial price, and at times it might go for three or four times more. Only people who have the financial wherewithal, and who recognize the environmental and economic benefits of a local meat economy, are likely to participate in the marketplace.
Fortunately, two factors are converging to improve the situation. The first is that our local farmers are developing new skills and techniques to bring down the cost of production.
Those large round hay bales that look like marshmallows lined up along field edges reduce winter feed costs by half and also enable some of the forage to be fermented, which has a higher nutritional value. Farmers also are experimenting with portable shelters that can be moved with the animals to fresh pasture in the summer, improving health of both pasture and animal. And finally, more farmers are co-grazing different species of animals together to reduce the cost of managing them separately.
On our farm this spring, for example, we built a "grazing hub" atop hay wagon running gear that can be towed around by truck or tractor. The hub carries 300 gallons of water, supplemental grain, a solar panel with fence charger, and all the fencing that our laying hens and feeder lambs require to graze together on our pastures. We move the hub to fresh grass twice a week, and two quick trips to the hub each day, morning and evening, allow us to check on both animal groups at the same time. We are watching to see if the savings from simplified management will more than offset the cost of building the hub.
The second factor that's favoring local meat production is that the meat-industrial complex is facing significant challenges, including antibiotic resistance among animals, polluted estuaries that require cleanup, more frequent droughts in a changing climate, and public revulsion over the confinement and abuse of animals. Disease outbreaks alone have boosted the price of pork, chicken and eggs over the past 12 months. As the price of industrial meat rises, the spread between local and industrial meat shrinks, and local meat becomes increasingly attractive.
Rising meat prices overall might not sound like solace for the consumer, but if we ate less meat and sourced more of it locally, the local farm economy would be transformed.
I keep thinking back to the woman at the farmers market last summer. My advice to her: Keep buying local meat at the price that's offered, and you'll get your wish.
As demand increases, supply will follow, and competition will bring down prices. But demand has to come first.
Only when more farmers believe that the market exists will we really start investing in (and inventing) the tools and techniques required to make local meat more affordable.