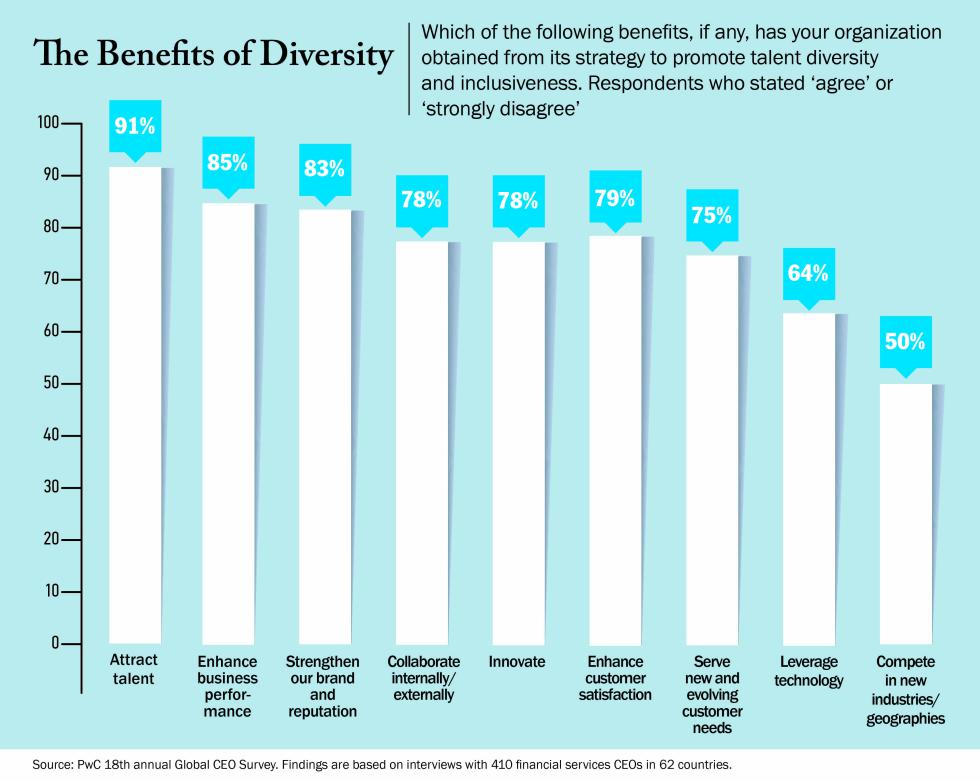 A tremendous amount of attention and ink has been devoted to diversity and inclusion in business circles in recent years. The 2015 CEO survey, conducted by PwC, a member firm of PricewaterhouseCoopers International Limited, shows that 85 percent of corporate executives think their companies' diversity strategies have improved the bottom line. Digging deeper into the data, CEOs indicate their diversity efforts have had the following effects:
∎ 91 percent believe the efforts have helped attract talent;
∎ 83 percent believe the efforts have helped strengthen their brand;
∎ 78 percent believe the efforts have helped their companies be more innovative.
There is little question that forward-thinking organizations must not only embrace but actively recruit people from different backgrounds to attract and retain talent. A 2014 survey shows that 49 percent of HR professionals expect a higher focus on employee diversity in their organizations in the next three to five years, according to the Society for Human Resource Management.
How So Here?
A common notion is that "there is no diversity in the Upper Valley," and what diversity exists is derived primarily by health care and technology workers and transient students. However, recent Census data show that Lebanon is more diverse than the state of New Hampshire at large in every minority category.
In particular, the Upper Valley has a substantial population of people self-identifying as Asian — 6.8 percent of our population, compared with 2.2 percent statewide. The area's highly technical economy, and the hard-to-fill, specialized jobs that come with it, play a large part in attracting diverse talent to the Upper Valley.
That said, the Upper Valley is not New York, Boston or even Manchester when it comes to ethnic diversity. So what is an area business that wants to celebrate its diversity to do?
We are fortunate to live in a place of tremendous natural beauty, economic resilience and tolerance. Both New Hampshire and Vermont have demonstrated their support of people with diverse backgrounds through the legalization of gay marriage, immigrant resettlement programs and attracting companies that recruit and retain talent from all over the world.
Any company that enjoys a culture of tolerance will rightfully promote and celebrate its people and its commitment. Upper Valley organizations have had great success in attracting talented people from different geographic regions or with nontraditional skills and abilities, and in transitioning veterans into the workforce.
But with an unemployment rate near 2.5 percent and ongoing economic uncertainty, employers must find a niche to attract and retain talent.
Beyond a Diversity Committee
Any company can put a statement about its commitment to inclusion and diversity on its website or in a pamphlet.
Companies that truly are successful at attracting and retaining diverse staff make intentional and visible efforts and, at times, difficult decisions to demonstrate their commitment to a diverse workforce. (See box at left.)
Kendal at Hanover has been fortunate to have a longstanding relationship with Health Care and Rehabilitation Services of Springfield, Vt., an agency that supports and promotes the independence of clients with developmental disabilities.
As with many employers, our story started with a business need. Recruiting and retaining staff for entry-level positions, such as dishwashers, cafe staff and laundry operators, has been an ongoing challenge.
A former director recognized the opportunity to invite HCRS to partner with Kendal at Hanover to find meaningful work for the agency's clients. After initial apprehension from our own staff, the HCRS clients have been embraced with open arms by employees and residents alike.
The HCRS clients express gratitude for their work and the relationships that have developed, and Kendal has benefited from their loyalty and work ethic.
The partnership has been symbiotic.
No company will be able to differentiate itself in this area without honest conversations among its leaders about how far it wants to take its commitment to diversity.
In a tight labor market like ours, these conversations are worth the time and effort.