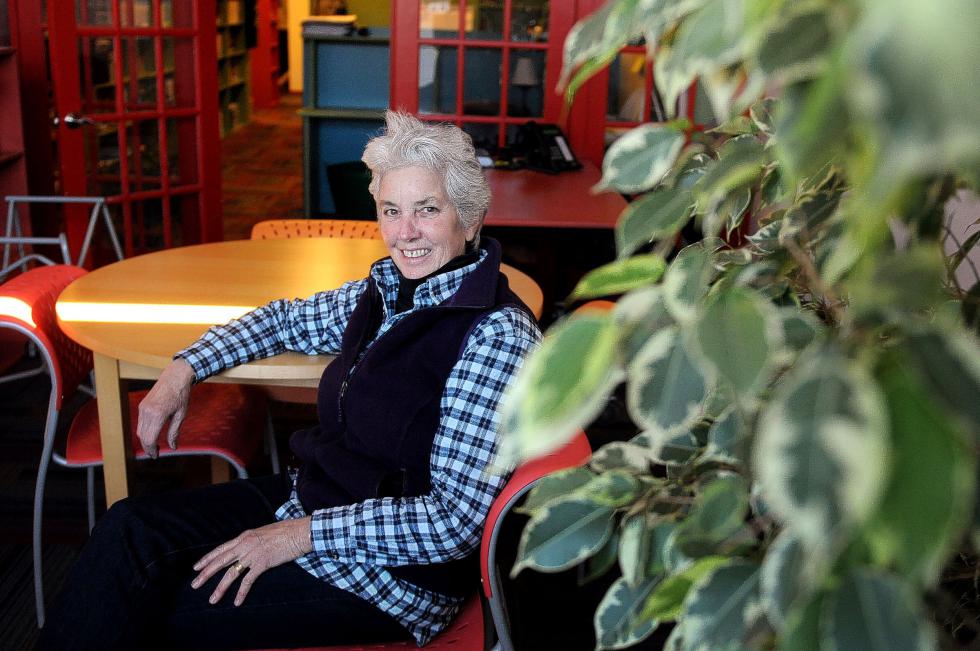 Margo Baldwin's career path has been anything but traditional. It includes studying different subjects at colleges on both coasts, a big career change, a year in Mexico and a 10-year break from her business, Chelsea Green Publishing.
Modest, Baldwin credits her husband, Ian, and their investors, employees and authors for the success of their business, which has won many awards, including Notable Book of the Year honors from the American Library Association's Booklist, which review books for libraries and booksellers; the John Burroughs Medal, which recognizes natural history publications; and the James Beard Foundation Book Award, given for books about food and beverages. In 2012, Foreword Reviews, a trade review journal that covers the independent, alternative, university and self-publishing industries, named Chelsea Green its independent publisher of the year.
But Baldwin, who serves as president and publisher, certainly is a force, leading the 31-year-old company to publish and promote important books in the 21st century and is recognized as one of the top 50 women in publishing in the United States by Book Business magazine.
Her academic path began when she studied human biology and neurobiology at Stanford University in California, and then earned her master's degree in public health at New York University. Her first job was at an addiction treatment center.
When she and her husband moved to Vermont to change careers, they created Chelsea Green Publishing in 1984, operating at first out of a white clapboard house in Chelsea (the company moved to White River Junction in 1997 and has a warehouse in Claremont). "We saw ourselves as an environmentally conscious publisher — and suggested that by the use of the word "green" in our name," Ian Baldwin recounted in their compendium, The Chelsea Green Reader, published last year.
Today, Chelsea Green is one of the original members of the nonprofit Green Press Initiative, which works to advance sustainable patterns of production and consumption in the U.S. book and newspaper industries, and the paper industry at large, and the publisher includes an environmental impact statement in each of its books.
Margo Baldwin said they started the company without a real plan and had to learn the hard way as they went along. At first their selections were hit or miss and it was difficult to turn a profit. Twice they had to go out to raise more money. At one point, the company had 35 shareholders. She said they were "teetering on bankruptcy on and off throughout the early years, especially around 1992-93."
At another point, when the couple had two children, she needed to take time out from the business. Her husband ran it for two years, and then they hired a manager while continuing to serve on the board of directors. Then came their year in Mexico, with an opportunity to give their children an immersion experience in the culture and language, but ended with the company needing to raise more money.
So, after a 10-year hiatus — from 1992 to 2002 — Baldwin decided to re-energize the company. "I did not want all our efforts to go down the drain and to end up feeling like the company was a failure."
They basically started over — with new board members, new employees and fewer publications. Baldwin had to pick winning books to turn things around.
"Publishing is a creative endeavor, not a formula," she said, with each book a risk based on honed judgment coming out of years of trial and error.
Under her leadership, and with a board of directors that included her husband, they added politics to their lineup and had their first New York Times best-seller: George Lakoff's Don't Think of an Elephant!, which looks at the language of framing ideas and values. That was followed by Naomi Wolf's The End of America, a warning about corporate state power and the erosion of civil rights.
But it was 1989's The New Organic Grower, by Eliot Coleman, which has sold more than 45,000 copies, and 1994's The Straw Bale House, by Athena Swentzell Steen, Bill Steen and David Bainbridge, which has sold 150,000 copies, that helped keep the company afloat. As Baldwin explained, "We decided to become more focused on sustainable living and the practical, how-to aspects, such as organic agriculture, permaculture, green building and renewable energy."
Baldwin has been at the helm for 13 years now, and the company is financially sound.
Baldwin said 40 percent of sales come from online sales, the company has more than 350 titles in print, and Publishers Weekly calls Chelsea Green one of the country's fastest-growing small presses with estimated yearly sales of $5 million.
As the publisher of The New Feminist Agenda by Madeleine M. Kunin, in which the former Vermont governor explains the type of support today's working women need from society, one would hope that Chelsea Green has a family friendly workplace, and it does. The company has 22 employees, about 75 percent of them women.
Employees have leave time, flex time and the opportunity to work part time. More important, these employees own approximately 80 percent of Chelsea Green — and therefore have a say in company policies — under the company's employee stock ownership plan.
"All employees are invested in our mission, and customers can buy a product from a company that shares their values," Baldwin said. "We don't want to be a big New York City publisher."
And even though the company has established an office in Burlington, Baldwin said Chelsea Green remains invested in the Upper Valley. "The business will continue to add to the creative economy in White River Junction," she said, "a town I love."