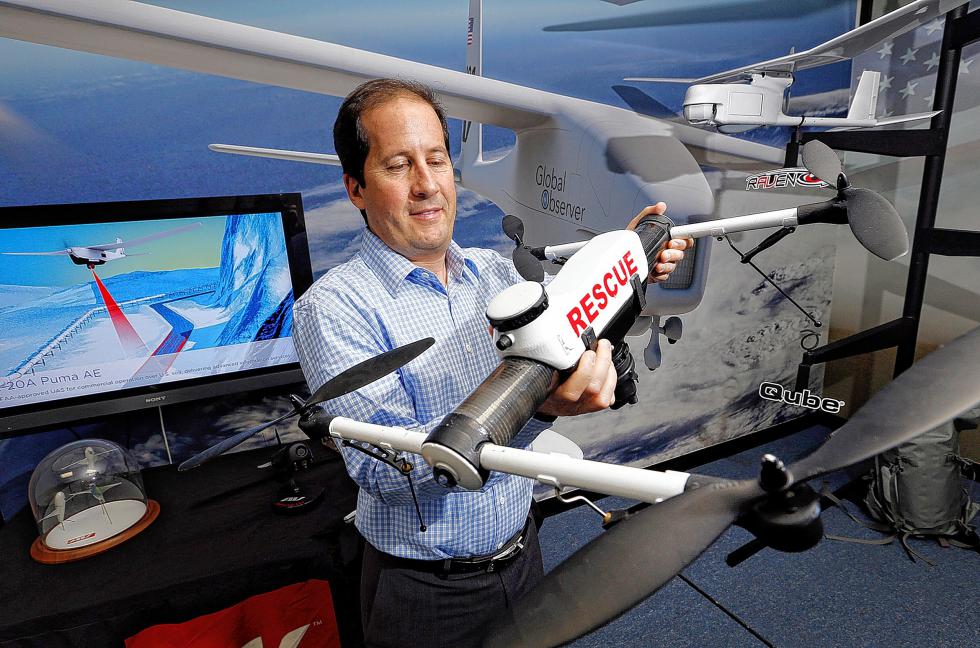 Berkeley, Calif. — As the largest American maker of consumer drones, 3D Robotics Inc. sees big opportunities in selling mini-helicopters with cameras, sensors and whirling propellers that buzz like angry hornets.
The Berkeley company expects to sell thousands of the pizza-sized drones — for about $1,000 each — at home and abroad this year. Tech-savvy customers want them for capturing wave-shredding surfing runs in the Pacific, monitoring oil and gas pipelines in remote regions, and other uses.
3D Robotics is out in front of dozens of California companies jumping into the nascent business of selling drones to consumers and commercial enterprises, just as companies in the state did earlier when the drone market consisted largely of one customer: the Pentagon. Although military drones were born in Southern California and are still built here, 3D's drones will be built outside the country.
So far, many commercial and civilian drones are being designed here but made abroad, creating high-tech engineering jobs in the U.S. while the manufacturing is in low-cost countries like China and Mexico — underscoring the challenge of creating U.S. manufacturing jobs.
The epicenter of the fast-growing commercial drone business is in Silicon Valley, not Southern California, and the new players are quite different from the giant contractors that dominate the military drone market, such as Northrop Grumman Corp. or General Atomics Aeronautical Systems Inc. They're more like the classic Silicon Valley stereotype: geeks working in garages.
"The aerospace industry isn't relevant here," said Chris Anderson, 3D Robotics' chief executive. "What we do is more like a smartphone with wings rather than a pilot and a plane."
Many of the commercial drone companies are so new that it's hard to predict where they will locate manufacturing operations, but they are unlikely to create thousands of well-paying factory jobs, like the aerospace industry of a bygone era.
Competition from Chinese manufacturers has already pushed 3D Robotics and some other American drone companies to make their hardware in other countries. Anderson's company has an engineering center in San Diego, but manufactures its drones in Tijuana, Mexico, and Shenzhen, China, where there is cheap labor. The strategy mirrors that of Apple, which designs its iPhones in California but manufactures them in China and other countries.
3D Robotics' main competition is Chinese company SZ DJI Technology Co., the largest commercial drone manufacturer in the world. The firm makes the red-and-white quadcopter called the Phantom, which recently gained fame when one landed on the White House lawn.
"We're California. We're a high-cost state," said Colin Snow, a drone industry analyst. "Capital goes where it gets the highest return."
How fast the drone business will grow could depend on when and how regulations are loosened.
It is still illegal to fly a drone for commercial purposes without a permit. Almost daily, pilots have reported drones flying dangerously close to their aircraft, and the Federal Aviation Administration has said its priority is keeping the nation's skies safe.
While the FAA continues to debate new rules for the operation of commercial drones that it proposed in February, the agency is issuing an increasing number of permits to companies that have shown regulators they can fly safely. So far, the FAA has issued 548 permits, including to companies using drones to film commercials and movies, along with more industrial tasks.
Silicon Valley's deep-pocketed venture capitalists are pouring cash into drone startups. So far this year, venture capitalists have invested $172 million in drone companies, according to CB Insights. That's up from $107 million for all of 2014.
Jon Callaghan, CEO of True Ventures, an investment firm in San Francisco, said his company has provided more than $100 million in early capital for companies involved with drones.
"Once you see a larger number of these vehicles allowed into U.S. airspace, that will unlock a huge wave of investment," Callaghan said.
Developers already have created hundreds of kinds of drones in a variety of sizes, ranging from pocket-sized to one that Facebook is designing to have a wingspan greater than a Boeing 737.
3D Robotics is among the leaders in the fast-growing industry. Since Anderson co-founded the company in 2009, its four-propeller and six-propeller helicopters have gone from kids' toys to high-tech tools.
Before Anderson was CEO of 3D Robotics, he was editor in chief of Wired magazine. He began building drones with his children in the mid-2000s and soon started an online community called DIYdrones.com.
The company has grown to about 200 employees. Many are engineers who work on software, writing computer code and solving mechanical problems in a workplace familiar to other Silicon Valley startups: an open floor plan, free of cubicles or offices.
3D Robotics' drones can fly on pre-programmed routes and stream back video to users' smartphones or other devices.
The company uses open-source hardware and software, meaning it doesn't patent its technology and welcomes garage tinkerers. Customers often offer recommendations on how to improve the technology.
"Innovation often comes in the hands of customers," Anderson said.