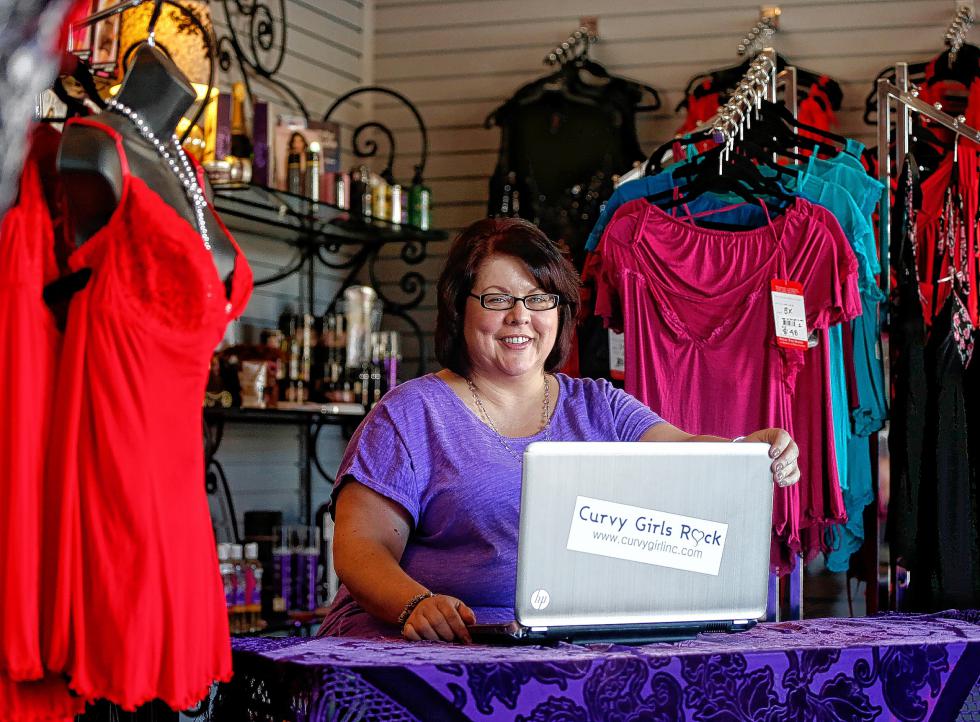 San Jose, Calif. — Chrystal Bougon remembers the days when customers walked through the door of her plus-size lingerie shop in San Jose and uttered the phrase, "I saw you on Facebook."
Now the small business owner rarely hears those words.
Concerned that people will leave the site if shown too many ads, Facebook this year began filtering users' News Feeds to eliminate many of the unpaid status updates they receive from businesses they've "liked." As businesses vie for limited space on the social network, that's made it far tougher for them to reach customers without paying.
"The philosophy behind Facebook is that the user comes first. If people can't have a great experience on News Feed then the businesses trying to reach them won't be able to reach them," said Elisabeth Diana, a Facebook spokeswoman.
But the change is a hard hit to some small business owners such as Bougon, who don't have a lot of money or time to spend on social media. After years of building up their fanbase on Facebook, they're seeing more of their posts get lost in a stream of text, photos and videos — unless they pay Facebook to deliver their message.
"People said they want to get my content. They signed up for my page and then Facebook changed the rules later and said you've got to pay," Bougon said.
About 185,000 people have liked Curvy Girl Lingerie on the social network, but Bougon's posts about the store's bestsellers, body image and more are reaching only a fraction of her fans on News Feed — and the number has dwindled significantly over the past year. To reach 20,000 to 54,000 of the people who like her page, she would need to pay $200 for a post. More than a year ago she could reach about 50,000 people on the site for free.
The situation also underscores a challenge for social networks such as Facebook, which need to convince small businesses that spending money to advertise on their websites is worth it, while making it easier for them to test out new tools at a low cost, said John Swanciger, CEO of Manta, an online small-business resource.
Facebook, for example, started offering Bluetooth devices to businesses at no cost so they can test out a feature that shows users tips at the top of their News Feed about a landmark or business they're visiting.
"Small business are going to invest in social. They're going to play there and they're going to be cautious about it," Swanciger said.
With about 1.4 billion people using Facebook, the social network is still the top choice for small businesses, according to an April survey by Manta.
But the survey also showed that about 59 percent of small-business owners don't think they see a return on their investment from their social media efforts and remain divided on whether to spend money on these websites.
ECOlunchbox owner Sandra Harris, who runs a business that sells plastic-free lunchboxes, isn't convinced that spending more money on Facebook will help her drive sales.
Business owners can pay to "boost" their Facebook posts, promote their page or buy other types of ads to reach more people on the site, but the price varies based on factors including what the post is about and who the business is trying to reach.
Like Bougon, Harris said she's turning more to Facebook-owned Instagram, where it is easier to reach fans for free.
"As those platforms become heavily monetized, small independently owned businesses like mine have to go to the new next thing. We can't afford to spend money for unproven (return on investment)," Harris said.
Other small businesses said the changes have made them think twice about what they post on Facebook and if it will be interesting enough for others to share.
"It's more about how you create relevant content just because there are so many people shouting," said Andrew Chau, owner of Boba Guys, a gourmet boba milk tea business in San Francisco.
Chau pointed to a recent post on Boba Guys' Facebook page where he linked to an article about the 11 best boba tea spots in San Francisco, including his company. The post reached about 8,000 people, a significant number for a page that has about 11,000 likes.
It can be tough, though, to grab a person's attention on the site. At any given time, Facebook's News Feed displays about 300 out of more than 1,500 stories a person logged into the site could see from friends, businesses and more. On average, a Facebook user reads only 100 of those stories, the social network says.
So far, Facebook doesn't appear worried that the News Feed changes will drive small businesses away.
In the past year and a half, the number of active advertisers — businesses that have advertised in the past month — has doubled to 2 million, Diana said.
The social network doesn't break out how much money it makes from small businesses, but made $3.32 billion in advertising from January to March.
"That's an indication to me that businesses are seeing their business objectives being realized through Facebook," Diana said.
Yet for small-business owners, navigating social media sites and their algorithms can feel like screaming from a mountain top, wondering if anybody is out there.
On a recent day, Bougon expressed her frustrations on Facebook.
"It's like no one is seeing our posts at all," she wrote in a status update.
Then she waited to see if the comments and likes came.