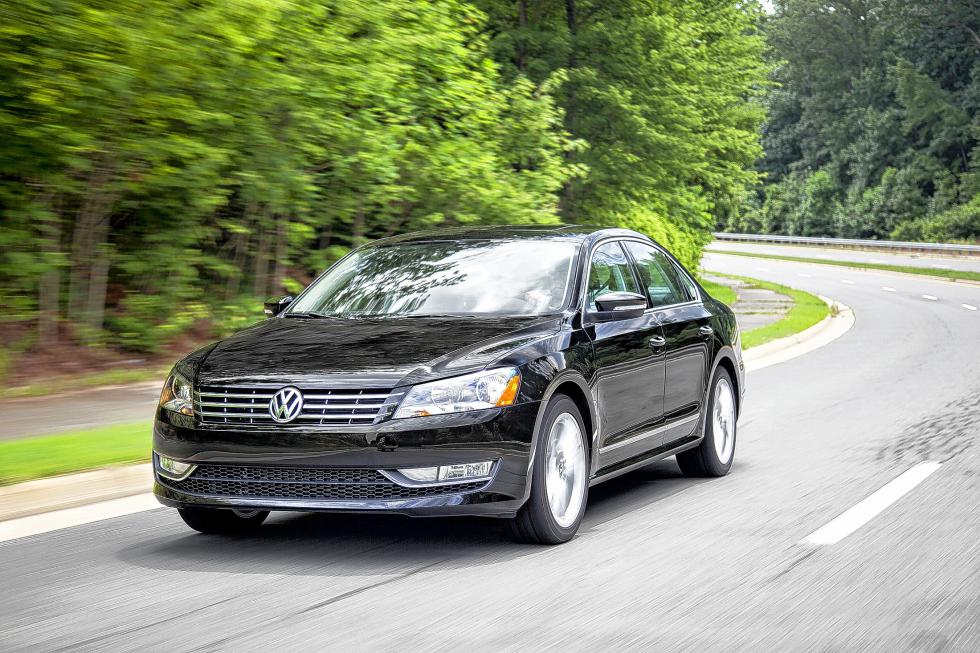 The Volkswagen Passat sedan, now in its eighth generation of service, is passe.
You'll note that I used the word "service" instead of "life" or "existence" in referring to the car's age. That is because there is nothing passe about the Passat's continued reliability, safety, durability and overall performance.
That is especially true of the model driven for this week's column, the 2015 Passat TDI SEL Premium, a diesel-powered, front-wheel-drive, midsize family sedan assembled in Chattanooga, Tenn.
If the final assembly point surprises you, it shouldn't. Volkswagen, like most global automobile manufacturers, tries to build its vehicles where it sells them. It is good economics and even better politics, and it partly explains why the Passat, in production in one form or another since 1973, visually appears to be growing a bit long in the tooth, particularly in cabin design.
I was surprised by several passengers, including my lovely wife, Mary Anne, who remarked that the Passat's cabin "feels old" or "seems dated" in comparison with those of other new cars, particularly those produced by Hyundai and Kia of South Korea.
I believe the critics have a point. Hyundai and Kia are geniuses at presentation. Their cars look good and feel fresh and different inside and out. You are excited to get into them, even if you wind up not liking them, because of their high initial appeal.
Not so the Passat. In terms of styling, the car is old-school, conservative. It is so mainstream and inoffensive in design, it could be sold in the middle of a war zone to combatants on both sides.
Volkswagen seems to be doing exactly that. Passat sedans are available all over the Middle East, and in China and Africa, as well as Europe and North America. It is a family sedan difficult to dislike — comfortable, practical, safe, fuel-efficient and reasonably affordable for many of the world's gainfully employed buyers.
After the first 110 miles of a nearly 300-mile drive from our eldest daughter's home in Cornwall, N.Y., to our residence in Virginia, the Passat-styling complaints disappeared. Criticism was replaced by compliments such as: "Wow, this car really has a nice ride" and "You still have three-fourths tank of fuel? That's pretty good!"
That actually is very good for a midsize sedan carrying two adults, an 80-pound chocolate Labrador, an estimated 200 pounds of cargo and running at an average highway speed of 75 mph. The car was delivering its promised 42 miles per gallon on the highway, or better. And it was not a wimpy performance for the sake of fuel efficiency.
The Passat's 2-liter, low-sulfur diesel engine, linked to a six-speed automatic transmission, yields a maximum 150 horsepower and 236 pound-feet of torque.
That torque, the engine's twisting power that moves the front wheels, is the thing, especially on steep climbs. It is relentless. It moves the car with neither whine nor groan all the way to the top of the hill.
The Passat might not be fashionable in terms of current styling trends. I don't really care. The car takes seriously adult concerns about safety, reliability and fuel efficiency. I appreciate that. I think it looks okay, too.
But I long for the day when automotive diesel technology — machines and fuel — will be priced more reasonably in the neighborhood with gasoline products.
Auto industry experts contend that diesel is at least 30 percent more efficient than gasoline. Hooray for that! But diesel fuel still costs about 30 cents more per gallon than regular gasoline in many places. And diesel cars aren't cheap. The Passat TDI sedan starts at $27,095 — some $5,655 more than the price of the base gasoline Passat.
That is something to think about when calculating fuel-cost savings.