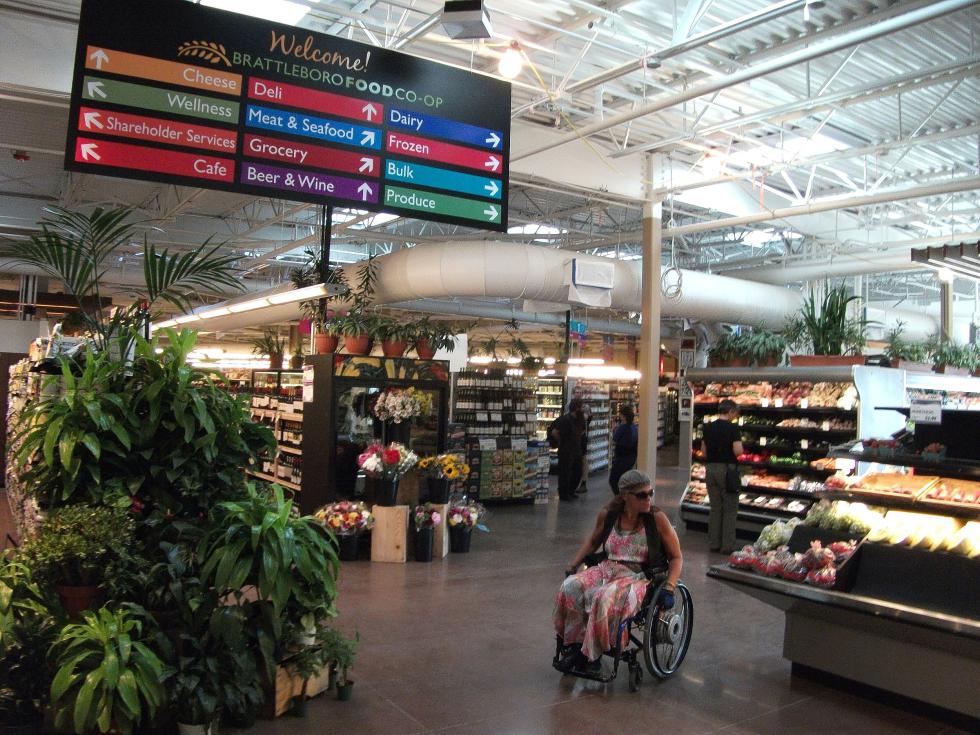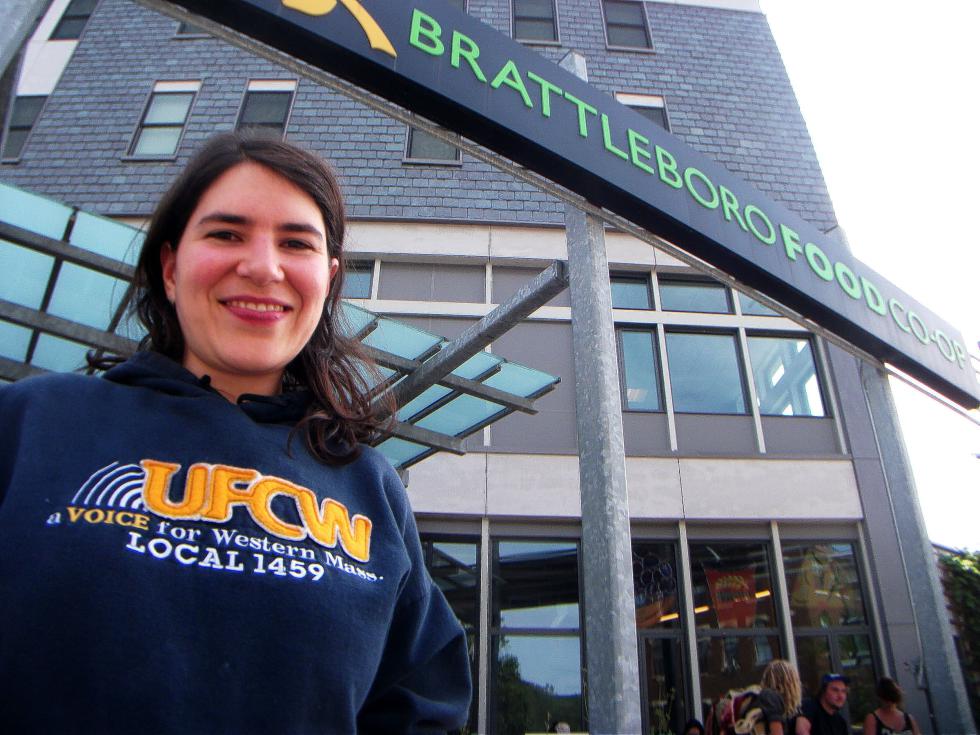 Brattleboro, Vt. — When the Brattleboro Food Co-op in southeastern Vermont's largest town moved from its old Eisenhower-era shoebox of a building to a new $9 million, four-story block in 2012, everyone noticed the difference.
But when co-op workers voted to join a union the same year? Customers didn't see any changes.
"Just a couple of days ago, someone said, 'Are you going to unionize soon?' " said Greg Howe, a 16-year veteran of the deli department. "They haven't seen any obvious differences. It looks like the same store with the same pricing and shopping patterns."
The store's labor and management, however, have felt plenty of behind-the-scenes shifts.
"It wasn't a wage or benefit struggle, it was about working conditions and people having a voice," said Howe, who now belongs to the United Food and Commercial Workers branch that employees at New Hampshire's Lebanon Co-op Food Store will consider joining on Monday.
Brattleboro co-op workers, like those in Lebanon, proposed a union after an escalating series of personnel disputes between labor and management.
Yet walk into the Brattleboro co-op today and you might be surprised by General Manager Sabine Rhyne's response to an inquiry about events since. The store's top leader, rather than decline or deflect a potentially sensitive question, instead points to Ruth Garbus — the one wearing a UFCW Local 1459 button at the help desk — and gives a reporter permission to ask anything.
"The campaign up to the vote was the hardest part — it created the most divisiveness," said Garbus, a shareholder services assistant. "There was some ugly stuff that happened, but I am glad that we have worked — not perfectly, but as best we could — to maintain our integrity and stay kind and respectful."
Three years after the vote and one year after approving an inaugural contract, Brattleboro's 160-employee, 6,700-member co-op is again reporting business as usual. Customers rolling carts out of the downtown store look perplexed when asked how the union has altered their shopping experience.
"The union issue hasn't been something that people have been buzzing about," said Shanta Evans-Crowley, a local marketing consultant and coordinator of the town's annual Slow Living Summit. "I've had friends who work here, but most of us in the community are more interested in the new building."
Talk to staffers and supervisors, however, and they agree the union vote and subsequent path toward unification has taken time, perseverance and patience.
Just as Lebanon workers initially met with representatives from another labor union after seeing their organizing efforts in some Vermont co-ops, employees of the Brattleboro co-op did the same thing after watching the UFCW organize at several nearby northern Massachusetts co-ops.
Brattleboro workers faced unique circumstances, including the 2011 shooting of a store manager by a disgruntled colleague and the 2012 opening of a new market where annual sales total nearly $19 million. But their primary concern wasn't sparked by wages but instead worries about management.
Howe recalls a longtime deli department colleague being asked to accept a severance package even though he didn't want to leave (and ultimately still works at the store).
"He is a person who asks questions, and that was considered a threat," Howe says. "People realized workers were vulnerable and they needed the protection of banding together."
In both Brattleboro and Lebanon, moves to fire or remove workers from the payroll without explanation caused colleagues to discuss the fact Vermont and New Hampshire are "employment at will" states where an employer can terminate a staffer for any reason other than race, color, national origin, religion, sex, age or mental or physical disability. (Vermont has some additional protections, including sexual orientation, gender identity, place of birth and ancestry. Vermont also makes it illegal to discriminate based on credit history or for having made a worker's compensation claim. And New Hampshire law protects workers who report their employers' illegal activity or refuse to participate in such activity.)
"We are tired of working in an environment that takes such pride in calling itself a cooperative, but does not include staff in the cooperative community vision," a group of Brattleboro workers said in a 2012 statement announcing their intention to organize.
"We feel that we have the right to work in an environment in which the safety and well-being of staff is seen as a priority," they continued, "and in which employees are valued as the engine without which this business could not operate, and are treated with due respect."
Brattleboro co-op leaders didn't voluntarily recognize the union but said they would support whatever the full staff decided. Lebanon Co-op store officials have said they will accept the vote results, as well.
"We know that we live in a passionate community," Rhyne, then the Brattleboro store's shareholder and community relations manager, posted on the store's Facebook page. "Know that we support all of our employees' right to choose whether or not to unionize, one by one, in a democratic process. This is consistent with the cooperative principle of one member, one vote."
Even so, Garbus remembers the weeks leading to the balloting as "highly charged." The Brattleboro co-op, like the Hanover Consumer Cooperative Society that runs the Lebanon store, hired the law firm of Downs Rachlin Martin to represent it before the National Labor Relations Board. Although people on both sides aimed not to upset customers, staffers and shoppers could feel the tension inside the store.
On Nov. 14, 2012, eligible Brattleboro employees voted, 74-45, to join the union. End of story? It was only the beginning. Both sides had to start negotiating their first employment contract.
"Part of what happens for workers when you unionize," Garbus says, "is you have to take on more responsibilities for your own issues and those of the store." During negotiations, the Brattleboro store had to lay off 11 employees and cut hours for others to offset a temporary increase in building costs and decrease in sales that led to a more than $500,000 shortfall.
"That was a truth we had to swallow," Garbus says.
But Brattleboro staffers didn't want to see cuts to their health insurance, fearing such action would save the store $14,000 yet set a precedent in future negotiations. As a result, both sides had to negotiate for nearly 18 months.
Last July, after assistance from a federal mediator, Brattleboro workers approved a three-year contract by a 57-23 vote. Although neither side publicized specifics upon passage, the agreement replaces an old merit-based pay system with one featuring a built-in percentage increase, maintains health benefits and clarifies standards for working conditions.
Consider Brattleboro's starting minimum wage. Before the union contract, it was $10.59. After, it increased 2.75 percent to $10.89 and since has risen to $11.19.
The Lebanon store, asked for comparable numbers, said, "Starting wages at the co-op depend on many factors, including department, prior experience and starting responsibilities."
However, Hanover Co-op spokesman Allan Reetz said the average hourly compensation for clerks/cashiers at its stores is $13.07 plus $7 per hour in average benefits, based on a 30-hour per week position. The benefits include health-care coverage (employee contributions are capped at 2 percent of wages, with a $10 weekly minimum), dental, disability, life insurance, a 401k plan with 3 percent contribution from the co-op for employees working more than 20 hours per week, and a store discount of 20 percent on groceries.
Co-op employees also can get up to $800 in tuition reimbursements, Reetz said, which is not factored into the Co-op's estimate of $7 per hour in average benefits.
Back at the Brattleboro deli counter, Howe appreciates the addition of employee union representatives and a labor-management committee "where people bring forward things that could be improved and work collaboratively for positive change."
"Things are not happening behind closed doors," he says, "and staff now have a place to go at times they feel they need it."
Brattleboro isn't the only Vermont co-op with a union. Montpelier's Hunger Mountain Co-op joined the United Electrical, Radio & Machine Workers of America just weeks after Burlington's Onion River Co-op City Market did in 2003.
Several people in Brattleboro were reluctant to talk about the issue. Some current board members referred a reporter to the new president. A phone message and emails left for her were not returned. Few will say anything negative. Then again, few will say anything at all — a testament to the fact they either haven't experienced problems or don't want to add to a touchy chapter ("the divisiveness," one notes, "inevitably leaves lasting scars") in the store's 40-year history.
That leaves the anything-but-stereotypical union voice of Garbus — a 33-year-old musician with several glowing New England press notices — to recall how she meditated before each contract negotiation session and now simply thinks about "moving forward."
"I don't want it to be 'us' and 'them,' " Garbus says. "I want it to be cooperative."
In the Upper Valley, several co-op workers have said publicly they are satisfied with current conditions, and the union vote Monday involves staffers only at the Lebanon store, not affiliates in nearby Hanover — set to finish a $5.3 million renovation this fall — or White River Junction.
Kevin O'Connor can be reached at kevinoconnorvt@gmail.com.