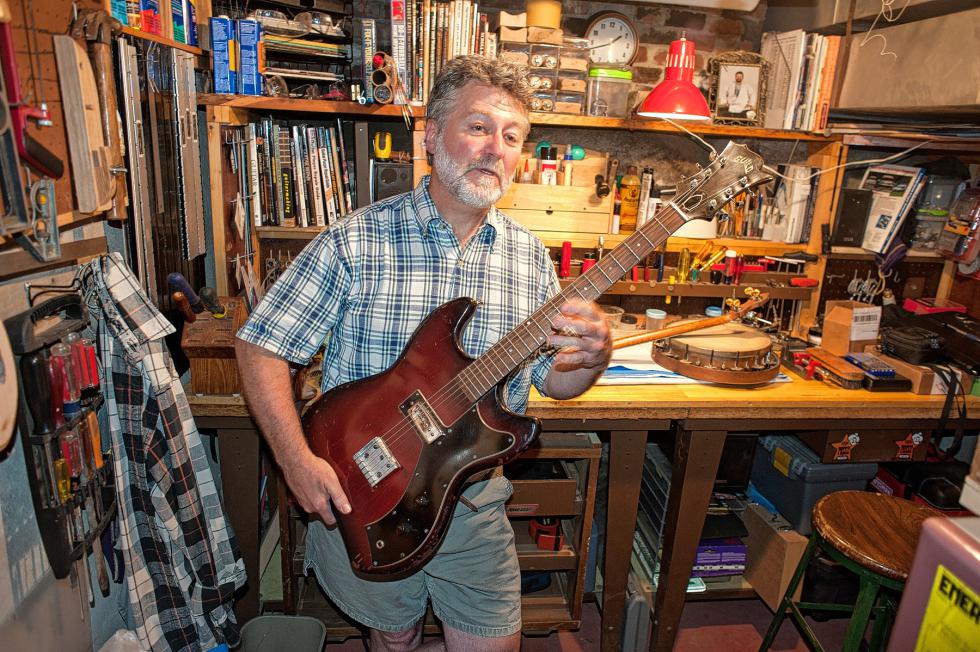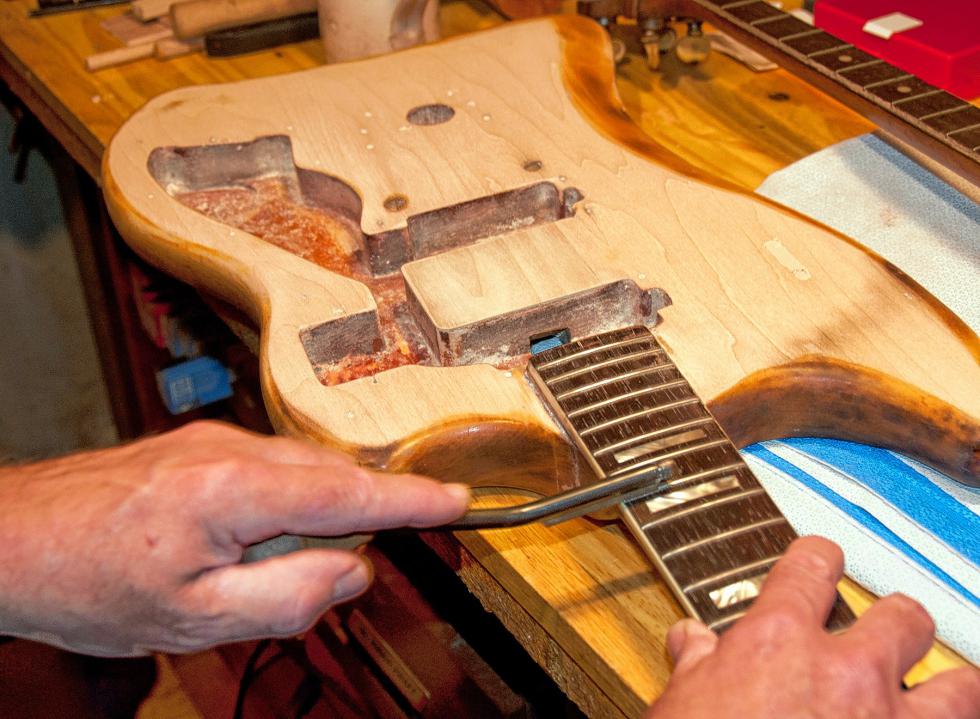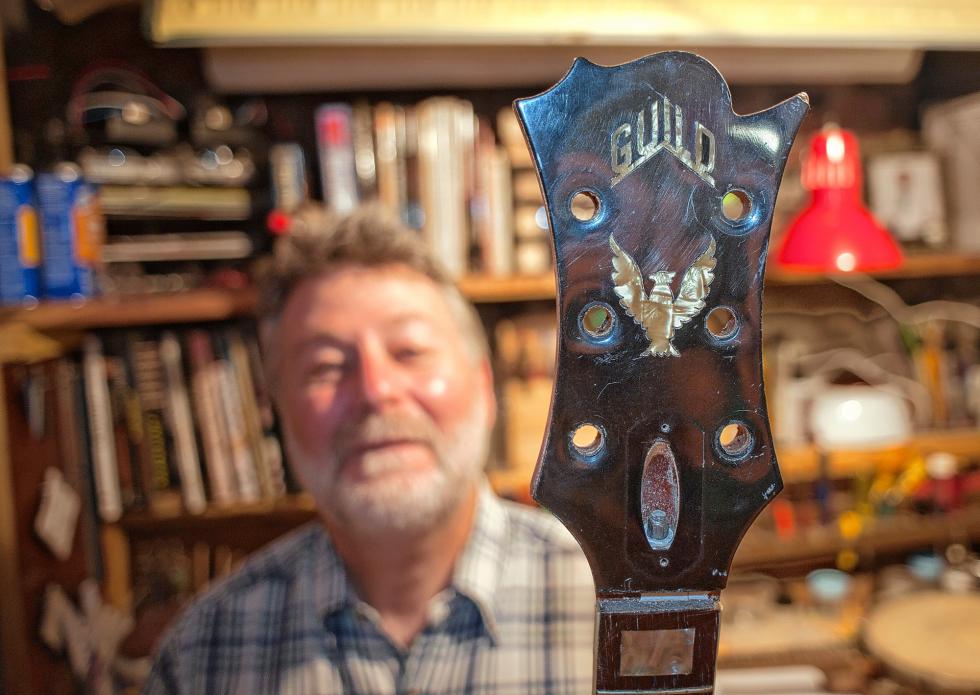 Fires, bad paint jobs, long-term disregard, the guitars and basses that find their way to Will Morneault's workbench have endured any number of indignities. Others have been loved so hard they need a little tender, loving care. Nearly all are older, some with value as collectibles. Yet when a newly spruced up guitar or bass is returned to its owner, it won't be hung on a wall "like a trophy," Morneault said. "They're going to take it out and beat the crap out of it."
And that's music to the 59-year-old Lebanon resident's ears.
Most of his customers are doing gigs on a regular basis, said Morneault, a musician who plays with local bands Mo'Combo, Soul Fix and the Little Town Horns.
"I know the kind of joy and fun I have when I play one of mine," he said. And he's happy to share the good vibes. When his customers are on the gig, "they know anything they need to do, it's going to work great."
Morneault works full-time as an equipment technician at Dartmouth-Hitchcock Medical Center. His repair business has grown into a good paying sideline, but it emerged in the wake of a family tragedy.
Growing up in Rochester, N.H., Morneault tagged along with his father, a "class A shop rat" whose garage is still too full of tools to accommodate a car. After high school he attended art school for a while but left to work full-time as a musician. He repaired his own instruments, often turning to his youngest brother, Mike, for help.
An excellent woodworker who specialized in Shaker furniture, Mike was also "a genius with wood finishes," Morneault said. "You'd think a clear finish is a clear finish," but the color changes over time, making it tough to blend newly finished areas with original sections.
Music fell off as he raised a family and threw himself into a career as a graphic designer. But in 2002, Mike was killed by a drunken driver. After that, Morneault started questioning what he was doing. He hadn't played a gig in years and was putting in "hundreds of hours a week" at work, he said. "Was it really worth it?"
He broke out his guitars, only to discover they were in need of some serious attention. So he gathered his tools from his father's and friends' houses and went to work, expanding on the skills that had served him so well all those years ago. A year and a half ago, he opened Mike's Guitar Rescue, named for his brother, a warm-hearted bear of a man whose photograph graces Morneault's workbench.
The shop is tucked away in the basement of the house he shares with his wife, Kathryn, although on good weather days, it spills out into their yard, where the saws, sanders and other tools might do double duty when he tackles his honey-dos and repairs at the same time.
Some jobs turn around quickly, while others take months or even years to wrap up. A set-up, sort of a general tune-up, might cost between $75 and $300, depending on what needs to be done. Many of his customers, including Mike Colburn, are people he met while playing.
Colburn has been in bands for more than 45 years, including a six-year stint as a full-time musician. He's currently with The Better Days Band, whose local venues include the Salt hill pubs. Like most of Morneault's customers, Colburn has a fleet of instruments: His include three acoustic and seven electric guitars. Morneault has worked on half of them, doing anything from replacing frets to installing pickups to resetting or replacing a bridge. "I intend to have him look at my other five guitars as well, when funds allow," Colburn said in an email.
He goes back to Morneault because he does excellent, thorough work "and he's very affordable," said Colburn, who has worked with Morneault at DHMC. Also, he added, "he's a heck of a nice guy!"
Onstage, Morneault goes by Will Michaels, a nod to his brother, who was his biggest fan, he said. And he plays only instruments he's repaired or rebuilt himself.
"You'll never see me out there with a new guitar," said Morneault, who also gives lessons. "It's just not my lot in life."
Yet that doesn't seem to trouble him.
One of his favorite guitars is a "primitive" 1963 Guild S-50 Jet Star he picked up online for a good price. Likely a factory second, it wouldn't stay in tune, so he replaced the original tuning machines with reproductions and made some other improvements. He plays slide on it during gigs.
"You have to know where all the sweet spots are," he said. He especially likes it for "anything nasty" coming out of eastern Texas or western Louisiana that calls for raw primal energy "and a sustaining tone that goes on forever."
But he'll never touch up the finish.
"I love it just the way it is," he said. "I like all the nicks and scratches. It's all honest wear."
Finding a Groove
As a full-time musician in the 1970s and early 1980s, Morneault often gigged 20 or 30 nights in a row. He didn't have enough guitars to part with one when it was being fixed, so he set up his vises and tools in the hotel room and did the work himself.
In 2004, when he started playing in the Upper Valley, he renewed the hobby. He reconditioned his old guitars and built a few from spare parts. Eventually, he got a feel for it, and other musicians began asking him about the instruments at gigs. It wasn't long before he started taking on repair jobs, figuring it would help him buy more tools and "maybe hunt down some rare parts for these things I'm trying to bring back to life."
Now, Morneault generally spends 15 to 20 hours a week in his shop. He doesn't advertise.
Not a Solo Act
He's been fixing guitars for a long time, but Morneault still reaches out for help. Sometimes he looks to his father, a retired automotive paint technician who lives in Rochester, N.H. And because finding parts for older instruments can be a struggle, he and his cohorts keep in touch. One guy he deals with has a machine shop and fabricates hard-to-find bridges and tremolo systems.
"There's just a network of us little shop guys out there all over the place," Morneault said. "You get to hook up with all kinds of really cool (people)."
Laying it Down
When it comes to the repair process, communication is key. "The work is really serious. The players are looking to get specific things taken care of," Morneault said.
When they are planning the work, he talks with customers about their expectations and whether they jibe with the instrument they have.
"You have to be truly honest with people," he said. "These are very expensive instruments. Nine out of 10 times they're not replaceable, even if they have insurance."
Some instruments might have been good candidates for complete restoration but were heavily modified, kicked around or just neglected and became severely damaged over time, he said in an email. "These are the ones where the actual condition will weigh heavily into what can actually be done to make it playable again. You cannot turn something into something it is not, and you must accept it for what it is if you want to be able to play it."
The pedigree on the instruments can make his work nerve-wracking. Morneault described repairing one vintage guitar as "one successive oh s— moment after another."
But the business has its rewards.
"When I can give somebody's instrument back to them, and they start to play it, and all I hear is, 'Wow,' " he said, "I know I've done my job."
Guitar Riffs
How many instruments have you fixed since you started your business?
Since I made the business official, 23 instruments for customers have been through the shop. Before the business was an entity, out of necessity I built three for myself and repaired two of my older ones so I could continue gigging. There are three of my own that I am restoring to "best possible" with no time table and obviously no budget.
What is the rarest instrument you're worked on?
The rarest one is the 1965 Thunderbird.
The most expensive?
Probably a 1968 Les Paul Standard
The most beautiful?
A Paul Reed Smith CE 24. This one had a translucent green finish over a flame maple book matched top and was absolutely stunning to look at, especially after all of the gold hardware and fittings went on.
Which was your favorite? Why?
Probably that same 1968 Les Paul, because it had been through sone trials and tribulations and had been a "working man's guitar" all its life. Really, it was a partnership between the owner and myself deciding what would need to be done on this one, and the results were phenomenal and the work went along in a very orderly manner.
Which one took the longest to fix? Why?
That 1965 Thunderbird. I've been working on it between other projects for almost two years. I have no idea when it will be finished. It will take its own time to come back out to play.