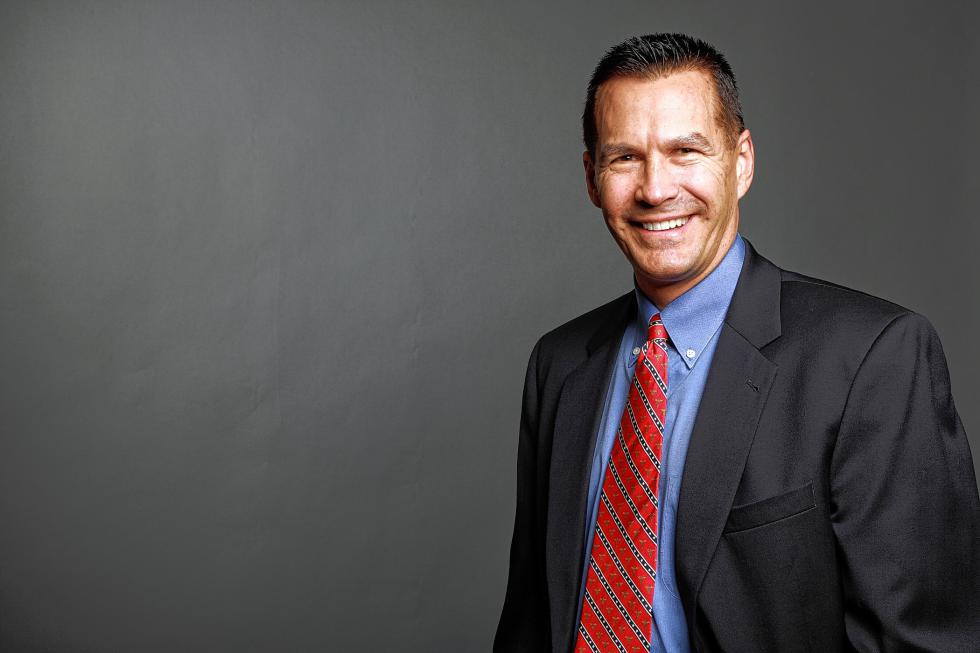 Over a lunch of sandwiches, potato chips and cookies, Brenan Riehl, the CEO and president of GW Plastics, said the key to his company's growth and success in the high-tech contract manufacturing field is being close to his customers, wherever they are.
For a few minutes, after entering the GW Plastics manufacturing facility in Bethel, I thought I had been transported to a high-technology engineering plant in Switzerland: Tall, computer-driven machines hum softly as they fabricate components to tolerances many times smaller than a human hair. Yellow robotic arms lift the finished components and hold them up to electronic eyes that examine them for defects.
The humans who are around — dressed as I am, in surgical clothes, cap and mask — move silently to peer into the machines to ensure all is well.
Outside, just a few hundred yards away, farm tractors haul hay bales and tractor-trailer trucks lumber through town. But inside this space-age factory, all is quiet.
Every now and then my guide, Brenan Riehl, president and CEO of GW Plastics, breaks the silence. "We have invested over $20 million in our Vermont facilities just in the last five years," he said as we watched another robot tirelessly flex its "arm" for the umpteenth time and close its "fingers" around a shiny new part destined for a laparoscopic surgical instrument or perhaps a seat-belt retractor that ultimately will find its way into a high-end German car.
GW Plastics was founded in a converted Bethel dairy barn in 1955 by John Galvin and Wes Westgaard (the "G" and "W" in the company's name), who moved to Vermont for its quality of life and their love of fishing. In 1983, Riehl's father, Frederic, a successful plastics industry executive, put together a group of the company's managers and investors and bought GW Plastics from its owner, Standard Oil of Ohio.
"At great personal financial risk, my father and others bought what was then a struggling company a year after I graduated from college," said Riehl, now 55, who has a degree in economics from St. Lawrence University. GW Plastics employed around 150 people then.
In 1988, when his father called to ask if he would like to join the business, the younger Riehl, then working for GE Plastics, agreed. He's been with GW Plastics ever since, taking over as president and CEO in 1998. His father serves as company chairman.
Today, GW Plastics is a global business with six locations: two in Vermont (Bethel, the company's headquarters, and Royalton), and one each in Texas, Arizona, Mexico and China. It employs about 1,000 people — 300 in its Vermont locations — and has revenues approaching $150 million. It manufactures precision thermoplastic and silicone components and assemblies for products made by some of the world's biggest and most successful health care, automotive and consumer-industrial companies, such as Johnson & Johnson, Medtronic and Bosch.
"The company's growth has largely been organic and GW Plastics has been profitable since it was purchased in 1983," Riehl told me.
"Most of our customers are Fortune 500 or 1000 global companies that make highly engineered medical devices or automotive safety critical systems. They want their suppliers to be close to them, so we can collaboratively help them design, manufacture and introduce their products to the marketplace. That is how we grew into a regional company, a national company, and then a global company."
Most people assume that an American company that expands to Mexico or China does so to reduce labor costs. "While that may be true for some manufacturers, it is not always the case for contract manufacturers such as ours," Riehl said. "Labor costs are not what drive highly automated companies like GW Plastics overseas. We are there to be close to our customers."
In fact, Riehl said, GW Plastics' global expansion has allowed its Vermont operations to become even more important.
"Vermont is our headquarters and center of gravity. It's where our engineers help our customers to design new products, tool them up, and validate the production methods that we will use in our operations, to manufacture them globally. In many cases, these products end up being produced in our Vermont locations," he said. "It seems counterintuitive, but without setting up strategic manufacturing locations overseas to support our multinational customers, GW would not have been able to increase our employment in Vermont."
Riehl and I have been munching our way through lunch in one of the company's meeting rooms. The Power Lunch interview usually takes place in a restaurant, to get my guest away from his or her offices, but in this case it would have been hard to mix sandwiches and chips with a romp around the yellow robots, so Enterprise gave me dispensation to let Riehl foot the bill this time. And I gave myself dispensation to indulge in a delicious chocolate chip cookie! I am usually careful in these lunches to give my interlocutor enough time to have his or her lunch. In this case there was no need for concern. The CEO finished before I did — cookie included. "My wife, Shari, tells me I eat too fast!" he said with a laugh.
Riehl credits his father for creating one of the company's greatest assets: a capable, independent board of directors, which included a number of members from the "Greatest Generation" — veterans of World War II — who brought integrity, responsibility, loyalty and respect for people to the company, Riehl said. It was a hugely sophisticated board for a small company, and that created a culture of professional management and employee respect that persists to this day.
"Earlier this year, we recognized an associate who retired after 50 years of service with the company," Riehl said, "and we have numerous employees that have been with us for 20, 30 and 40-plus years."
Riehl is all business, but does confess to being a runner, downhill skier and golfer, "in order of frequency and competency," he noted. When he is not poring over The Wall Street Journal, he prefers reading books on history. "Thanks in part to our board, I became intrigued with stories of the famous World War II campaigns, Battle of the Bulge, D-Day."
I ask him what it is like to run a global manufacturing company in the Green Mountain State. "Vermont is a challenging place to do business, with expensive housing costs, high personal and corporate taxes, declining population, and high energy costs," he told me. "But it is a small state, so you can collaborate, if you choose, with the state's key decision-makers to help them understand that, in this globalized world, companies in Vermont face great challenges to remain competitive. We have chosen to do that and have now been here for decades."
From his tone, I can tell that his intention is for GW Plastics to stay in Bethel for decades to come.