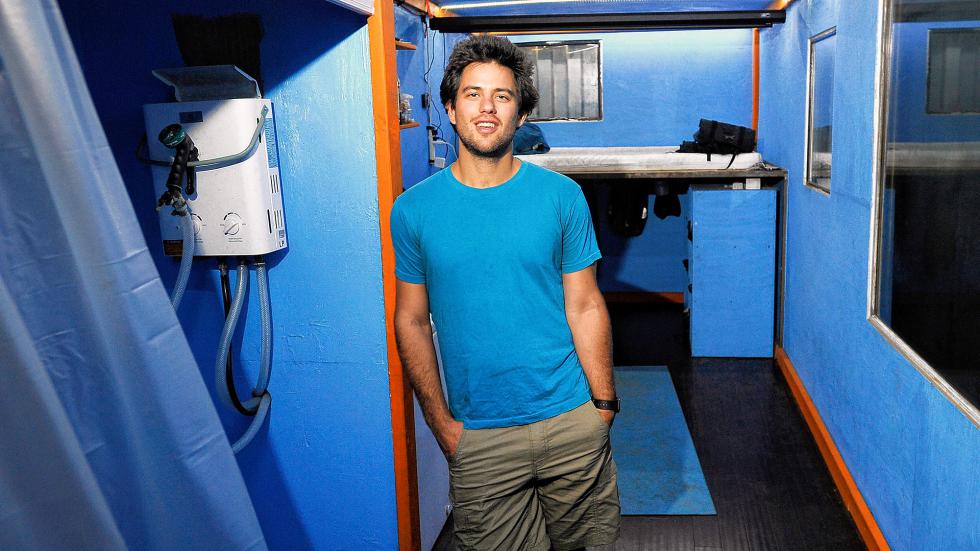 Luke Iseman has figured out how to afford the San Francisco Bay area. He lives in a shipping container.
The Wharton School graduate's 160-square-foot box has a camp stove and a shower made of old boat hulls. It's one of 11 miniature residences inside a warehouse he leases across the Bay Bridge from the city, where his tenants share communal toilets and a sense of adventure.
Legal? No, but he's eluded code enforcers who rousted what he calls cargotopia from two other sites. If all goes according to plan, he'll get a startup out of his response to the most expensive U.S. housing market.
"It's not making us much money yet, but it allows us to live in the Bay Area, which is a feat," said Iseman, 31, who's developing a container-house business. "We have an opportunity here to create a new model for urban development that's more sustainable, more affordable and more enjoyable."
That's a towering goal where costs are so high people of average means get inventive or get out. The median rent in June jumped 16 percent from a year earlier in San Francisco to $4,272 and climbed 15 percent to $3,237 in the metro area, Zillow Group reported Thursday. The median sales price is $1.14 million in the city and $660,000 areawide.
The market is so crazy it's spawned innovations that keep inspectors up at night. Garages are converted to studios, offices to lofts, living rooms to rentable units, many without permits. As many as 60,000 San Franciscans live in illegal housing, according to the Department of Building Inspection.
"People have to get creative," said Patrick Carlisle, chief market analyst for Paragon Real Estate of San Francisco. "They do what they have to do."
Thanks to the tech boom, 10 jobs are added for every new residence, according to Carlisle, with the pressure reaching crisis proportions and, for some, creating opportunities.
In Mountain View, home to Google and LinkedIn, John Potter advertised a backyard tent on AirBnB for $900 a month, spurring a dozen copycats. He got a cease-and-desist order because the tent was an unlicensed structure, but is undeterred. "My next thing is a tree house," said Potter, 22, who runs an animal photography studio and avoids the housing- price problem by living with his parents.
A Coleman tent might be a stretch, but across the region "zoning restrictions are unnecessarily tight and don't reflect the way people live," said Jake Wegmann, a urban planning professor at the University of Texas in Austin who has studied unpermitted housing in California.
Authorities should lighten up and let more enterprising fixes fly, Wegmann said. "If we're concerned about housing affordability, this is the cheapest way to add housing."
In fact, San Francisco authorities often look the other way, and that's a challenge for property owners struggling to adjust to the new economics, including a partnership led by John Gall, a former St. Louis Cardinals outfielder.
The partnership sued the city in May after being barred from evicting tenants living in an office building it owns that's three blocks from Twitter Inc.'s headquarters and isn't zoned for residential use. "Now the building is a hostage," said Andrew Zacks, Gall's lawyer. "The city has this housing crisis and has adopted these policies to essentially force an owner to let people live there."
San Francisco officials sees things differently. "The first priority should be protecting and preserving all affordable existing housing," said Ivy Lee, a spokeswoman for city Supervisor Jane Kim, one of the defendants. "It should be a last resort to take those units offline."
Instead of trying to reap higher returns from commercial tenants, Lee said the partnership should work with the city to make the units in the building legal for residential uses.
Chandra Xian Redack is one, paying $830 a month for a studio. If she's kicked out, "everything's out of my range," said Redack, 59, a grocery-store customer service representative who's lived there since 2004. "I'd like to stay in San Francisco if at all possible, but I'm not sure I can."
As always, what's hardship for some is profit for others. New Avenue Inc., founded in 2009, sells project-management software for property owners who want to create what it calls accessory dwellings, and can hardly keep up with demand. One client spent about $100,000 to transform his one-car garage in Berkeley, adding French doors, wood floors, a kitchenette and bathroom, and rents it for $850 a month.
That's relatively cheap. In Los Altos, Brandon Williams crams 14 tenants into a four-bedroom, two-bathroom house — where monthly rates for a bed start at $1,000.
He leases the bungalow from a Chinese venture capitalist for about $6,800, which he can more than double when all the beds are occupied. Google interns and low-budget startup entrepreneurs from Russia and Japan sleep like 19th-century sailors in rooms with as many as six bunks, sharing pizza dinners and video games in a living room decorated with photos of tech icons Steve Jobs, Steve Wozniak and Sergei Brin.
"This is scalable," said Williams, 28, a freelance electrical engineer. "I know a guy who has about 12 of these."
Across the bay, Iseman collects $1,000 a month for each of the 11 structures parked in the 17,000-square-foot warehouse he rents for $9,100. Tenants include a Facebook Inc. engineer, a SolarCity Corp. programmer and a bicycle messenger.
Iseman used to pay $4,200 a month in San Francisco's Mission District for a two-bedroom apartment with a slanted floor and mosquito-breeding puddles.
His cargo house faces one of the warehouse doors, which rolls up to reveal a concertina-wire-topped fence and graffiti- splattered industrial landscape.
He bought his metal box for $2,300, delivery included, then cut out windows with a plasma torch and installed a loft bed, shower and bamboo flooring. He estimates his all-in cost at $12,000, and plans to sell refashioned containers for about $20,000 through his company, Boxouse.
"What we're doing is converting industrial waste into a house in a couple of weeks," said Iseman, who also founded a pedicab fleet. Meanwhile, he doesn't plan on seeking city approval for cargotopia, whose location he asked not be identified. "I'd rather ask forgiveness than ask permission."